Markets
It's time for your mid-week markets primer. I'm Jessica Menton, catching you up on the action as futures rise following yesterday's
volatile
trading session.
More inflation data is on the docket, with a fresh reading on consumer prices ahead. We're also eyeing
Tencent Music's IPO
this morning, which marks one of the biggest U.S.-listed debuts in recent years.
But first, I explain why small-cap stocks have become the latest trade to come under pressure amid the recent market turbulence.
Latest Market Turmoil Jolts Small-Cap Stocks
The Russell 2000 index has shed 15% so far this quarter, falling behind the S&P 500 and the Dow, which have shed 10% and 8%, respectively.
Shares of small U.S. companies have underperformed their larger peers in recent months, a shift from earlier in the year when investors
flocked to small caps
as a shelter from trade-related tensions.
Fears about slowing economic growth and higher interest rates, along with tariff concerns, have dogged the broader stock market since the start of the fourth quarter.
Those issues have particularly
dented the appeal of small caps
, which often struggle for traction as economic expansions have neared their end, partially because they get hit hard by pressures like rising wages and borrowing costs.
The Russell 2000 index of small-capitalization stocks has slumped 17% from its Aug. 31 all-time high and closed Tuesday at its lowest level since September 2017. After a nearly 10-year bull run, the index is the only one of the major U.S. stock benchmarks teetering on the brink of a bear market—typically defined as a fall of at least 20% from a recent high.
In comparison, the S&P 500 is off 10% from its September record, while the Dow industrials have tumbled 9.2% from its October high.
Small-cap stocks are also correlated to the rising and falling of an economic tide. Shares of small caps went into a freefall as banks were reining in credit ahead of the financial crisis in 2008, one of the early indicators of the recession, said Tom Essaye, president of investment research publication the Sevens Report.
Another reason the outlook has soured for small caps: Small companies tend to be more reliant on borrowed capital than larger firms. The Russell 2000's debt burden is more than double that of the S&P 500, according to Lindsey Bell, an investment strategist at CFRA Research.
The Federal Reserve is widely expected to boost interest rates next week and continue raising them in 2019. But officials have recently signaled a more patient approach to policy in the coming year.
A more dovish Fed would likely put pressure on the dollar, as higher borrowing costs make the U.S. currency more attractive to yield-seeking investors, according to Talley Léger, investment strategist at Oppenheimer Funds. That, in turn, would give large caps a leg up against small caps because a weaker greenback would give multinationals a boost, making U.S. exports relatively less expensive in world markets.
For more on which small-cap stocks investors are eyeing, read the full story here.
The Nasdaq Composite is up 1.9% so far in 2018 but is on pace for its worst year since 2011. Still, the tech-heavy index is on course to end higher for the seventh straight year, which would mark its longest annual winning streak ever.

Shares of General Electric ended Tuesday down 2.5% at $6.76, their lowest close since March 2009. The stock has plunged 61% in 2018, putting shares on pace for their worst year on record.

On this day in 1914, the New York Stock Exchange reopened after closing in July amid jitters over the outbreak of World War I. By the end of 1915, the stock market had risen nearly 82% as Western Europe supplied its war effort with American-made goods and weapons.
The U.S. consumer-price index for November, out at 8:30 a.m. ET, is expected to be unchanged from a month earlier. Core prices, which exclude food and energy, are expected to tick up 0.2%. That would put headline prices and core up 2.2% from a year earlier.
Crude-oil inventories for the week ended Dec.7 are slated for 10:30 a.m. The Energy Information Administration's weekly data are projected to show a 2.8-million-barrel decline in stockpiles, according to the average forecast of 13 analysts and traders surveryed by the Journal.
The U.S. federal budget statement for November is out at 2 p.m. The Congressional Budget Office estimates a $203 billion deficit for November, up $64 billion from a year earlier.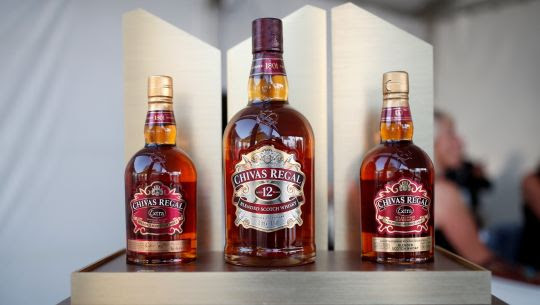 Pernod Ricard, which produces Chivas Regal blended Scotch whisky, has lost market share across various segments and has "significant room for improvement," said Elliott Management Group. PHOTO: BENOIT TESSIER/REUTERS
What We've Heard on the Street
Microsoft
:
Shares of the software giant are on track to rise for the seventh consecutive year, which would mark the longest such stretch of gains for the company ever. Shares have soared 27% in 2018.
American Eagle Outfitters
:
The apparel retailer's fourth-quarter profit outlook fell short of Wall Street estimates late Tuesday. The stock has slumped 23% so far this quarter.
Dave & Buster's
:
The arcade and restaurant chain said Tuesday that its comparable-store sales fell 1.3% in the third quarter, sliding more than analysts' projections. The stock has lost nearly 8% this year.
Source: WSJ