Markets
Good morning. I'm Amrith Ramkumar, breaking down today's markets news after another
wild afternoon
following the Fed's latest interest-rate increase and projections.
Stock futures are pointing to small opening rises after all three major U.S. indexes closed at their lowest levels in more than a year and the 10-year Treasury yield logged its lowest settlement since May. And crude-oil markets are
taking another beating
.
Investors are parsing just-released earnings from Walgreens, and Nike is scheduled to post results after the closing bell.
Plus, I look at what U.S. energy companies can do to stem a recent stock-price rout.
Stocks around the world dropped and the dollar sank on Thursday as investors reacted harshly to the Federal Reserve's latest interest rate increase and policy guidance.
The view from Asia: Why the Yen Hasn't Been a Safe Bet
Another Setback for Battered Energy Stocks
The latest crude-oil slide is fueling fears about the group's profitability.
The latest slip for U.S. energy stocks is raising questions about whether oil-and-gas producers can stem the rout.
Shares of energy companies
largely missed out
on a robust oil-price rally in the first nine months of the year. The S&P 500 energy sector peaked in May, with a year-to-date gain of 8.6%, when oil was trading at about $70 a barrel. The shares failed to rally higher even as U.S. crude prices surged above $75 in early October.
The lag in energy stocks was a sign of investor skepticism about the rally
as the U.S. produced record amounts of crude and overtook Saudi Arabia and Russia as the world's largest supplier earlier this year, analysts say.
But energy stocks have also been hit hard during the ongoing
oil-price rout
, with shares down 23% since the start of October and flirting with their worst quarter in a decade. Crude is off 36% in the quarter, on track for its largest such drop in four years, while the broader S&P 500 is down 14% and heading for the largest quarterly decline since 2011.
A
wide range
of energy companies have slumped. Oil-field services companies Halliburton and Schlumberger are down more than 40% for the year, while exploration and production companies including Devon Energy and Cimarex Energy have also tumbled that much in 2018.
Some investors are wary that U.S. producers can stem the tide, with many needing to churn out oil to remain profitable and boost supply to pay down debts.
"People appear to be pricing in things never getting better," said Patrick Kaser, a portfolio manager at Brandywine Global. "It's been very painful."
U.S. crude has slumped below $50 a barrel this week, with a recently announced production cut from the Organization of the Petroleum Exporting Countries failing to quell oversupply fears. Anxiety about slowing demand in a weakening global economy has exacerbated those concerns.

Some energy companies are starting to respond, with analysts questioning whether they can make money at these low oil prices. Diamondback Energy cut its 2019 production targets late Tuesday, citing the oil-price slump and cash-flow estimates.

In at least one encouraging sign for energy bulls, Diamondback shares rose 3% Wednesday, making the stock one of the S&P 500's best performers.

"It's a sign that managements do understand that there are expectations and not just to focus on growth—that spending does factor in," Mr. Kaser said.
So far this month, the S&P 500 has on average closed 1.5% below its intraday peak, the largest such gap since August 2011, according to Dow Jones Market Data.

The Nasdaq Composite is now down 18% from its August record, coming closer to entering bear-market territory—a 20% drop from a peak. Meanwhile, a 0.2% fall for the S&P 500 industrials group will put the sector in a bear market. It would join the financials, materials, energy and communications-services sectors.

On this day in 1994, Mexico devalued its currency and announced that the peso would be allowed to float freely in value. Stock and bond markets in emerging economies around the world collapsed, and U.S. bank stocks dropped 2% on fears that defaulting loans would decimate their profits. Over the next six weeks, the Mexican peso would lose 40% of its value—choking the Mexican economy in the short run, but in the long run setting it free.
U.S. jobless claims, out at 8:30 a.m. ET, are expected to increase to 215,000 from 206,000 a week earlier.
The Philadelphia Fed manufacturing survey for December, also slated for 8:30 a.m., is expected to rise to 15.0 from 12.9 a month earlier.
The Conference Board's leading economic index for November, out at 10 a.m., is expected be unchanged from the prior month.
U.S. natural-gas inventories will be published at 10:30 a.m. Stockpiles are expected to have fallen by 136 billion cubic feet during the week ended Dec. 14, according to the average forecast of nine analysts and traders surveyed by the Journal.
Japan's consumer-price index for November is released at 6:30 p.m.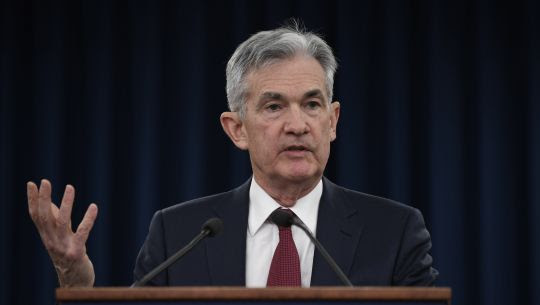 Federal Reserve Chairman Jerome Powell speaks during a news conference in Washington on Dec. 19. PHOTO: LIU JIE/XINHUA/ZUMA PRESS
What We've Heard on the Street
"Investors are essentially asking the Fed to focus on market turmoil and overseas growth worries and ignore the two things it is mandated to follow, U.S. inflation and employment."
—Heard on the Street columnist Justin Lahart