Markets
Happy Friday. Amrith Ramkumar here with The Wall Street Journal, setting up today's trading as we wrap up another choppy week for markets.
Adobe and Costco are down premarket after earnings, with U.S. futures falling as major indexes set to erase most of the week's advance. We'll get monthly figures on retail sales shortly.
And I look at a flurry of corporate buyback announcements so far this month as companies react to the stock market's recent slide.
Companies Turn to Buybacks Amid Stock Rout
A handful of large firms have risen recently after repurchase pledges.
Shares of several U.S. companies have rallied following recent announcements of increased share repurchases, a welcome development for investors bruised by recent market volatility.
Facebook, Mastercard, Lowe's, AbbVie and United Rentals are among the companies that have unveiled bigger or resumed stock buybacks this month as the S&P 500 heads toward its worst quarter since 2011.
Buybacks make corporate profits
appear stronger
by lowering the number of shares outstanding, buoying per-share earnings even without overall profit growth.
Corporate demand can also lead to stock-price gains.
Analysts credit record buybacks for helping lift major indexes during the latest leg of the bull market. S&P 500 companies spent a record amount on buybacks in the third quarter, with the total at roughly $200 billion, according to S&P Dow Jones Indices.
"Corporations have been a large, incremental buyer. That's had a very large impact on equity market returns over the last few years," said Wasif Latif, head of global multiasset investing at USAA Asset Management. "It seems like that large upward pressure is going to continue to be there."
Facebook has risen 5.5% this week after the social-media company said it
approved a plan
to boost its buyback program by $9 billion. The advance has helped the company pare some of its recent slide, though anxiety about slowing user growth and heightened regulations has still sent Facebook's stock down 18% for 2018.
Lowe's and United Rentals have also trimmed some of their year-to-date declines since their buyback announcements earlier this week. Mastercard shares have fallen since the firm's latest repurchase commitment amid
changes
to the credit-card company's fee structure for merchants. The stock is still up 31% this year.
And drugmaker AbbVie rebounded from its lows of the day Thursday after it revealed an increase to its buyback program during afternoon trading.
Although analysts say buybacks can give shares a short-term boost, some are concerned that companies prioritizing spending on repurchases rather than investing in their businesses could contribute to an expected pullback in economic growth.
Some companies have
cited uncertainty
about tariffs as a factor affecting spending decisions, slowing down the pace of spending on equipment, factories and other capital goods even with the U.S. economy doing better than it has in years by many measures.
"That still hasn't been sustained enough to give corporations the confidence to invest in real projects, so they continue to do stock buybacks," Mr. Latif said.
Are corporate stock buybacks making you feel better or worse about the stock market? Let the author know your thoughts at amrith.ramkumar@wsj.com. Emailed comments may be edited before publication in future newsletters, and please make sure to include your name and location.
Natural-gas inventories fell by 77 billion cubic feet in the week ended Dec. 7, government data showed Thursday, less than analyst forecasts for a 85 bcf drain but still enough to leave stockpiles in the U.S. about 20% below their five-year average. Natural gas edged down 0.3% Thursday but is still up 40% for the year and one of the market's best-performing assets in 2018.

The S&P 500 has moved less than 1% on a closing basis in four consecutive sessions for the first time since Oct. 9.

Shares of Canadian cannabis company Tilray have fallen 25% to $75.52 this week, bringing them 65% below their September peak on a closing basis. The stock is 75% off its intraday high of $300.
European Union leaders meet to discuss Brexit, budget, migration and other issues.
U.S. retail sales for November, out at 8:30 a.m. ET, are expected to rise 0.1% from the prior month.
U.S. industrial production for November, scheduled for 9:15 a.m., is expected to rise 0.3% from a month earlier.
Markit's U.S. flash manufacturing index for December, slated for 9:45 a.m., is expected to inch down to 55.0 from 55.3 at the end of November. The flash services index is expected to slip to 54.5 from 54.7.
The Baker-Hughes rig count will be released at 1 p.m.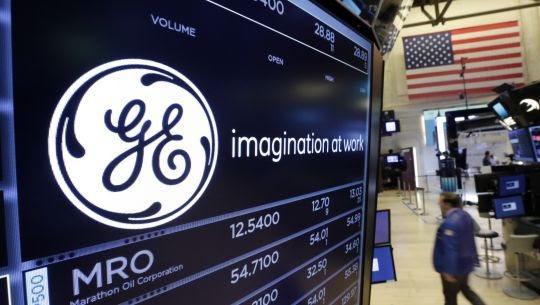 Once the most valuable U.S. company, General Electric's complex restructuring has raised questions about the firm's true worth with investors pummeling its stock and bond prices recently. PHOTO: RICHARD DREW/ASSOCIATED PRESS
What We've Heard on the Street
"The fate of Brexit increasingly looks like it will be decided dangerously close to the March 29 deadline—too close to give businesses time to plan for anything but the worst."
—Heard on the Street columnist Jon Sindreu