---
11:50
The outlook for oil prices is bleak, according to analysts at Cantor Fitzgerald Europe.
Ashley Kelty and Jack Allardyce write:Crude prices took a battering on Monday as the 'Santa rout' continued to hit the markets. With investors spooked by fears over weakening demand and the near term supply glut, prices fell sharply in thin volumes.
The sharp drop even after the impending imposition of new quotas by OPEC+ continues to worry the cartel, with the UAE Energy Minister Suhail al-Mazroueei reportedly claiming that OPEC+ will hold an extraordinary meeting to discuss increasing the cuts and/or extending the period of the new quotas (beyond the four months currently in place).
The latest attack by President Trump on the leadership of the Federal Reserve led to sharp falls across the board, as investors worry about the potential for a recession in 2019. This latest Twitter outburst (does Trump do anything else?) led to the president of Rosneft to directly blame Trump for the fall in oil prices, and warned that oil prices may remain in the $50-$53 range in 2019.
Fundamentals in the oil market look bleak, with slowing economic growth and weaker than expected demand pushing the market firmly into bear territory.

11:04
Lower oil prices are weighing on the FTSE, with Brent crude down 1.7% at $53.54 a barrel on renewed fears of a supply glut.

11:04
Since you're here … we have a small favour to ask. Three years ago we set out to make The Guardian sustainable by deepening our relationship with our readers. We decided to seek an approach that would allow us to keep our journalism open and accessible to everyone, regardless of where they live or what they can afford.
More than one million readers have now supported our independent, investigative journalism through contributions, membership or subscriptions. We want to thank you for all of your support. But we have to maintain and build on that support for every year to come.
The Guardian is editorially independent – our journalism is free from commercial bias and not influenced by billionaire owners, politicians or shareholders. No one edits our editor. No one steers our opinion.
If everyone who reads our reporting, who likes it, helps to support it, our future would be much more secure.
For as little as $1, you can support the Guardian – and it only takes a minute. Thank you. Make a contribution - The Guardian
10:52
FTSE hits fresh two year low
The FTSE 100 is currently down 36 points or 0.5% at 6,650.44 - the lowest since early August 2016 in the aftermath of the Brexit vote.
Here are the biggest fallers as it stands: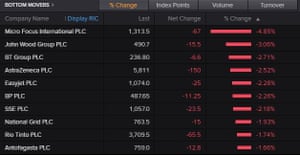 10:25
A quick update on the pound, which is roughly flat against the dollar this morning, at $1.2634.
Against the euro, sterling is down 0.3% at €1.1091.

10:05
Russ Mould, investment director at AJ Bell, ponders what history might tell us about current market volatility:The FTSE 100 is treating a 5% surge in America's S&P 500 benchmark with a good degree of caution and it is easy to see why, even if that was the eighteenth biggest single-day gain in the US index since 1970.
Encouragingly, three of the seventeen other 5%-plus daily advances came immediately in the aftermath of the 1987 Crash, when buying did prove a good plan, and two more in March 2009 when the S&P finally hit bottom as the Great Financial Crisis began to abate.
But history also shows eight of the 5%-plus gains came during the bear market of 2007-2009 and three more during the market downturn of 2000-2003, to suggest there is still a risk that this year's Boxing Day bonanza could be no more than a wicked bear trap set to lure investors into more trouble.
That may explain why the FTSE 100 is hardly responding at all and investors and traders alike will be looking out for a couple of further definitive signals before they decide it really is time to buy on the dips following this year's Christmas sell-off.

09:31
US futures are also down, after yesterday's major rally on Wall Street:
09:27
Wall Street's Boxing Day surge has failed to materialise in Europe, where markets are now mixed:
Germany's DAX: -0.6% at 10,572
France's CAC: +0.7% at 4,660
Italy's FTSE MIB: -1% at 18,216
Spain's IBEX: +0.1% at 8,491
Europe's STOXX 600: -0.1% at 335
09:02
Gatwick Airport stake sold to French group Vinci
Gatwick Airport is back in the news today but thankfully it's not drone-related.
US investment fund Global Infrastructure Partners (GIP) is selling a majority stake (50.01%) in the UK's second biggest airport for £2.9bn to France's Vinci Airports.
Gatwick adds to Vinci's extensive network of airports, including Lisbon, Porto and Funchal in Portugal, and Lyon-Saint-Exupéry and Nantes Atlantique in France.
Nicolas Notebaert, president of Vinci Airports, has his sights set on growth:As Gatwick's new industrial partner, Vinci Airports will support and encourage growth of traffic, operational efficiency and leverage its international expertise in the development of commercial activities to further improve passenger satisfaction and experience.
08:36
Peter Tuchman: Wall Street's most famous face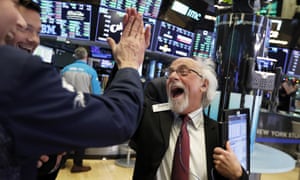 One man who has tracked the ups and downs of Wall Street more than most is Peter Tuchman – the most famous face on the trading floor of the New York Stock Exchange.
Headline-grabbing swings in US markets are often accompanied by photos of Tuchman, whose ability to capture the moment in a series of dramatic expressions and poses is second-to-none.
Dominic Rushe, business editor for Guardian USA, has interviewed the man himself in the must-read piece below:

Updated
08:19
The Boxing Day surge on Wall Street was not attributed to any one factor, but was probably helped by a Mastercard report which showed a jump in consumer spending over the holiday season.
Stephen Innes, on the Singapore trading desk of currency specialist Oanda, gives his take:Thankfully for investors, the relentless selling on the back of risk-off sentiment which prevailed leading up to Xmas has mercifully halted as US stock markets recorded significant gains with the Dow surging over 1,000 points while adding the most significant points gain in history.
It didn't take much to persuade the bargain hunters into action as early retailer reports are all pointing to a strong holiday season while investors took comfort in Kevin Hassett's, chairman of the White House Council of Economic Advisers, affirmation that Jerome Powell's job is "100 per cent" safe.
The surge in online purchases over the holiday season should be a reminder for the markets never to underestimate the purchasing power of the US consumer, as Mastercard payments tracking between November 1 and Christmas Eve leapt 5.1% from a year ago.
This data comes at the perfect time and will provide a huge relief for investors who had to watch with sheer horror the Christmas Eve plunge. There was a good buzz to buy the dip given the US underlying data suggested the latest rout was far too extreme and unwarranted.

08:07
FTSE 100 opens up 0.5%
And we're off...
Most major European markets opened higher but Germany's DAX and Italy's FTSE MIB are lacking in festive cheer:
Europe's STOXX 600: +0.5%
07:56
Wall Street surge brings relief to battered markets
Good morning, and welcome to our rolling coverage of the world economy, the financial markets, the eurozone and business.
European markets are reopening today after the Christmas break and investors will be hoping to see some of the festive cheer seen in the US on Boxing Day spreading to this side of the Atlantic.
Wall Street had a major post-Christmas rebound on Wednesday, with the Dow Jones rising more than 1,000 points or nearly 5%, in the biggest ever one-day gain.
Full story here:
Asian markets followed Wall Street higher, with the Nikkei in Tokyo rising 3.9% on Thursday, taking it out of the bear market it entered on Christmas Day with a 5% drop.
The post-Christmas rally in the US followed the worst-ever performance on Christmas Eve.
When UK markets were last open on the 24th, the FTSE 100 hit its lowest close since September 2016, down 35 points or 0.5% at 6,685.
There isn't much data due today, but we do have US weekly jobless claims figures at 1.30pm UK time.

Updated