Recently, there's hardly been a day when something negative about the social media giant Facebook (NASDAQ:) hasn't made headlines. Last Friday it was a post from the company, revealing that a software bug gave outside developers broader access to the photos of millions of users.
Earlier this week it was another revelation about the Russian manipulation of the last US election via the platform, in a report commissioned by the Senate Intelligence Committee. The report said that Facebook-owned Instagram played a much bigger role than the company had previously admitted, giving an impression that the CEO and founder, Mark Zuckerberg, tried to downplay the utility of his site as one of the most prized assets for the Russian manipulators.
And just yesterday, the New York Times
reported
:
"For years, Facebook gave some of the world's largest technology companies more intrusive access to users' personal data than it has disclosed, effectively exempting those business partners from its usual privacy rules."

In short, the past 12 months have seen a growing mound of devastating news emerge about Facebook. From the Cambridge Analytica scandal, to repeated missteps on everything from violent extremism within Facebook's internet walls to the departure of multiple senior executives, each event played a role in damaging the company's reputation as one of the safest social platforms.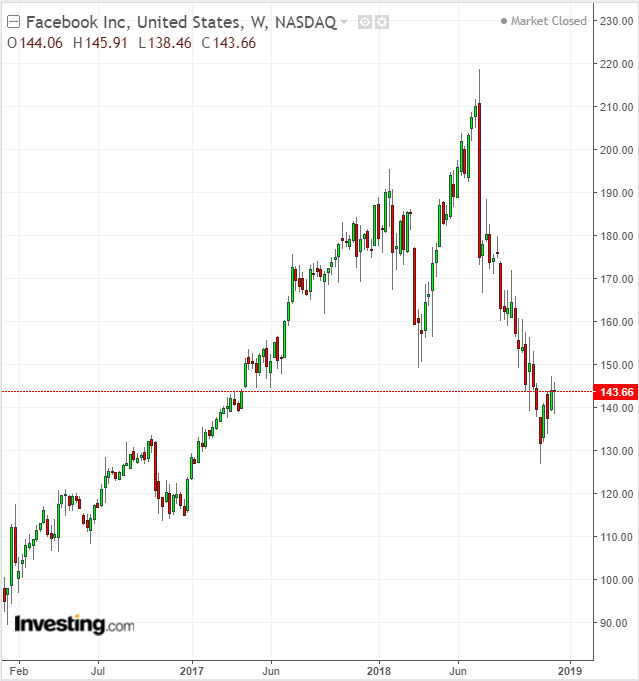 FB Weekly
This continuous barrage of negative headlines over the past two quarters hasn't helped the company's stock recover from its deep slump. After all the upheaval technology shares faced in 2018, Facebook is emerging as the biggest loser within the FAANG group, which includes Amazon (NASDAQ:), Apple (NASDAQ:) and Google (NASDAQ:). Facebook closed yesterday at $143.66, having plunged almost 21% from where it started at the beginning of the year, and off 34% its 52 week high.
This huge underperformance is one major indicator that investors not only doubt the efficacy of Mark Zuckerberg's leadership, they also remain leery of his ability to steer the company out of this mess. As well, they're also anticipating the real possibility of tighter regulations by the US government. That would alter the company's business model, which the social media giant used to create unprecedented wealth for itself and for millions of investors since its 2012 IPO.
Chances Bleak For 2019 Turnaround
In our view, the next two quarters will be crucial for Facebook. The company needs to show investors it has dealt with and moved past all the crises it faced during 2018. At its core the company still has enough financial firepower to outperform competitors.
But if engineering a meaningful turnaround could be difficult, the bigger challenge for Zuckerberg will be how quickly he can restore investor confidence in his leadership and prove there are no additional negative surprises ahead. In our view, these big unknowns have damaged Facebook more than its .
As we discussed in an article , Facebook's rival Twitter (NYSE:) has done a much better job on this front. That's been proven by how handsomely investors have rewarded Twitter for its openness even this highly uncertain environment for growth stocks.
Once all the bad news is out of the way, we believe Facebook is in a much better position to recover and resume its growth trajectory, especially when it's still running the world's most popular social platforms, including Instagram and WhatsApp. That said, it's tough to put together a bullish case for Facebook stock for 2019.
As the company increases its spending to make its properties more acceptable to regulators, politicians and especially users, investors shouldn't expect the kind of margins they once saw. The most profitable regions for Facebook—the US, Europe and Canada—are unlikely to see user growth in 2019. In Europe, a recently adopted digital privacy law is threatening to crimp growth, while the number of daily users of Facebook and its Messenger app have already plateaued in the US and Canada.
As its old platforms mature in terms of user growth, Facebook is itself cautioning investors that new growth drivers, such as private messages on WhatsApp and Messenger, web videos on Facebook, and video-and-photo diaries called Stories on Instagram and Facebook, will take time to bring in sales at the rate which investors saw during the last boom.
Bottom Line
The increasing threat of government regulations, Facebook's network weaknesses, and potentially slowing global growth are the three main risks to the company's recovery in 2019. These factors are likely to keep the company's near-term growth under pressure and further delay a stock price recovery. In this environment, we see Facebook shares remaining vulnerable to further weakness, at least during the first half of 2019.
Source: Investing