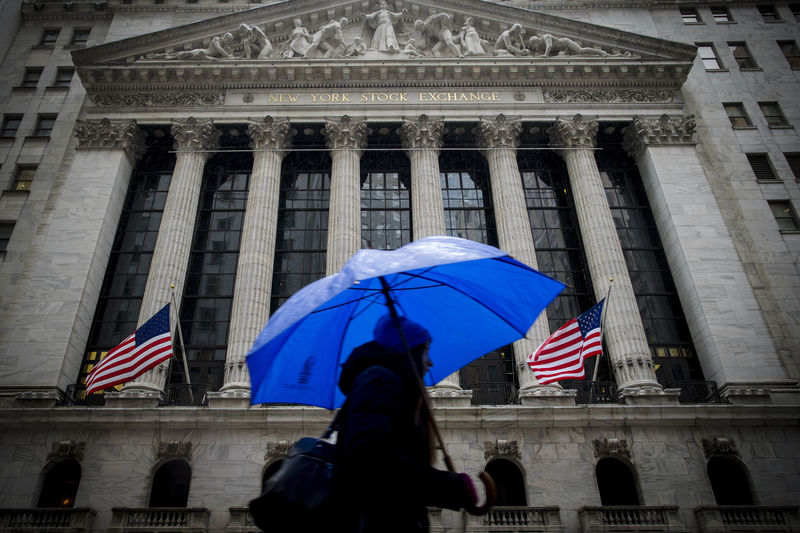 © Reuters.
Investing.com - Here are the top five things you need to know in financial markets on Monday, November 19:
1. U.S. Futures Point to Lower Open
U.S. stock futures pointed to a weaker start to the , as investors watched further developments in the ongoing trade dispute between the United States and China.
Markets stateside will remain closed on Thursday for the Thanksgiving holiday and Friday will be a half-session day on Wall Street.
Market sentiment remained cautious in the wake of tension between U.S. Vice President Mike Pence and Chinese President Xi Jinping at the at the in Papua New Guinea over the weekend.
At 5:35AM ET (1035GMT), the blue-chip were down 55 points, or about 0.2%, the dipped 5 points, or around 0.2%, while the tech-heavy indicated a loss of 6 points, or roughly 0.1%.
On the earnings front, L Brands (NYSE:), Urban Outfitters (NASDAQ:),
Intuit
(NASDAQ:), Pure Storage (NYSE:), and Agilent Technologies (NYSE:) were among the major companies scheduled to report their latest quarterly financial results, as the third-quarter earnings season winds down.
Elsewhere, European stocks started the week on the , though gains were limited as
Renault
(PA:) shares sank on media reports its CEO would be arrested on suspicion of under-reporting his salary.
Earlier, stocks in Asia closed .
2. Apple Cuts iPhone Production
Apple (NASDAQ:) has in recent weeks for all three iPhone models launched in September, the Wall Street Journal reported, citing sources.
Lower-than-expected demand for the new iPhones and Apple's decision to offer more models has made it more difficult to anticipate the number of components and handsets the company needs, according to the paper.
The iPhone maker shocked markets a few weeks ago with a lower-than-expected sales forecast for the Christmas quarter, prompting a number of suppliers to issue warnings that pointed to weakness in new iPhone sales.
Shares, which ended last week down more than 5%, were down another 1% in pre-market hours to $191.55.
3. Dovish Fed Knocks Dollar
Away from equities, the dollar against a currency basket, adding to Friday's losses amid uncertainty over the pace of future U.S. interest rate hikes.
The , which measures the greenback's strength against a basket of six major currencies, edged down 0.15% to 96.21, its weakest level since Nov. 8.
The dollar was shunned following dovish comments by Federal Reserve Vice Chair Richard Clarida on Friday, who said he saw some evidence that global growth is slowing.
Clarida also noted that U.S. interest rates are nearing Fed estimates of a neutral rate, and added the central bank needs to be data-dependent when hiking rates in the future.
Separately, Dallas Fed head Robert Kaplan said Friday he is seeing a growth slowdown in Europe and China.
The comments were seen as an indication that the Fed may pause its rates hikes sooner than had been anticipated.
New York Fed President will speak later on Monday and traders would be waiting to see if he echoes the same theme as his colleagues.
Policymakers are widely expected to raise interest rates next month for what would be the fourth time in 2018 and currently have plans for three further rate hikes in 2019.
In the bond market, U.S. Treasury prices edged lower, pushing yields higher across the curve, with the benchmark inching up to 3.09%.
4. Brexit Turmoil Persists
Uncertainty over a smooth Brexit deal remained at the forefront.
British Prime Minister Theresa May will from business leaders for her contentious draft European Union divorce deal on Monday as dissenters in her own party scrambled to trigger a leadership challenge.
May will defend her plan, which sparked an exodus of senior ministers last week, in a speech to the CBI business lobby group's annual conference, saying Britain would embark on an intense week of Brexit negotiations to try to thrash out the details of its outline future relationship with the EU.
"We now have an intense week of negotiations ahead of us in the run-up to the special European Council on Sunday," May will say, according to advance extracts.
The EU is due to hold a summit to discuss the deal on Nov. 25.
The pound inched up 0.2% to 1.2860 against the dollar () and gained 0.2% against the euro to 0.8882 ().
5. Oil Climbs Amid OPEC Supply Cut Hopes
In commodities, oil amid expectations that the Organization of the Petroleum Exporting Countries (OPEC) will cut production next month to tighten supply and prop up prices.
U.S. futures were up 51 cents, or roughly 0.9%, at $56.97 a barrel. International futures rose 21 cents, or 0.3%, to $66.97 per barrel.
OPEC officials have been making increasingly frequent public statements that the cartel and its partners would start withholding crude in 2019 to support the market. Saudi Arabia, OPEC's de facto leader, wants the cartel to slash production by about 1.4 million barrels per day (bpd), according to reports last week.
Despite that, market sentiment remains weak amid signs of surging U.S. oil production. Global oil prices have lost roughly a quarter of their value since early October in what has become one of the biggest declines since a price collapse in 2014, with surging supply and the specter of faltering demand scaring off investors.
Source:
Investing