Markets
Hello. Amrith Ramkumar here with The Wall Street Journal, getting you up to speed on today's markets news.
Stock futures are sliding after Monday's
rise
for major indexes. Investors are monitoring speeches from Fed officials, and Salesforce.com posts quarterly results after the bell.
Plus, I explain why tepid global economic data are increasing attention on an end-of-week Group of 20 summit. President Trump told the Journal
he expects to move ahead
with boosting tariff levels on $200 billion of Chinese goods to 25%, calling it "highly unlikely" that he would accept Beijing's request to hold off on the increase.
Global Growth Figures Keep Missing Expectations
Data are increasing focus on trade tensions between the U.S. and China.
The Citigroup Economic Surprise Index for developed markets, a measure that tracks whether economic reports are meeting projections, has fallen to its lowest level in almost six months.
The gauge is in negative territory, meaning data are broadly starting to come in below economists' expectations. A similar index for emerging markets has been in negative territory for the most part since June.
President Trump and Chinese President Xi Jinping are
expected to discuss
the U.S.-China tariff fight that has dragged on for much of this year. The negotiations represent a wild card for the markets because a resolution to the trade dispute could brighten the outlook for the global economy. If Messrs. Trump and Xi fail to reach a deal, that could continue to add pressure to equity and commodity markets, analysts say.
The G20 meeting is "a sizable macro event," said Michael Hans, chief investment officer of Clarfeld Financial Advisors. "It's important from a confidence perspective."
Worries about the global economy have sent U.S. stocks and oil lower in recent weeks. Even though many stocks and commodities rose on Monday, the S&P 500 is 8.8% below its September all-time high. Meanwhile, oil and several industrial metals are in bear markets, down more than 20% from recent peaks, a sign that sentiment has declined sharply.
IHS Markit said last week that its composite Eurozone Purchasing Managers Index fell to its lowest level in almost four years. Data earlier this month showed economic output in Japan and Germany
contracted
in the third quarter, while in October consumer spending in China hit its slowest pace in five months.
The U.S. has been a rare bright spot for the global economy this year, but some analysts expect its growth to slow as a boost from recent tax changes fades.
Economists expect the second reading of third-quarter U.S. growth to come in at 3.5% Wednesday,
in line with
preliminary figures from last month. That's down from 4.2% in the second quarter, and some expect the pace to cool even more in the future.
"People have been paying attention to the global slowdown for foreign markets all year," Mr. Hans said. "It's coming to the forefront now simply because the U.S. had been carrying the ball."
Are you adjusting your portfolio because of weakening global growth? Let the author know your thoughts at amrith.ramkumar@wsj.com. Emailed comments may be edited before publication in future newsletters, and please make sure to include your name and location.
Microsoft is close to becoming the most valuable U.S. company for the first time since 2003, according to Dow Jones Market Data. If the software firm eclipses Apple in market value, it would knock the iPhone maker off the top spot for the first time since 2016, when Google parent Alphabet briefly topped Apple. Apple is valued at $829 billion, while Microsoft is at $817 billion and Amazon.com is at $773 billion.

Bitcoin is down more than 42% this month, on pace for its worst month on record, according to Dow Jones Market Data.

The S&P 500 consumer discretionary sector rose more than 2.5% in a single session for just the fourth time this year on Monday. The group added 2.6%, lifted by retail stocks as shoppers spent billions of dollars online and in stores over Thanksgiving weekend.
Fed Vice Chairman Richard Clarida speaks on data dependence and monetary policy at 8:30 a.m. ET.
The S&P/Case-Shiller home-price index for September is out at 9 a.m.
The Conference Board's consumer confidence index for November, out at 10 a.m., is expected to fall to 135.8 from 137.9 a month earlier.
The Chicago Fed's Charles Evans, Atlanta's Raphael Bostic and Kansas City's Esther George speak at the Clearing House's annual conference at 2:30 p.m.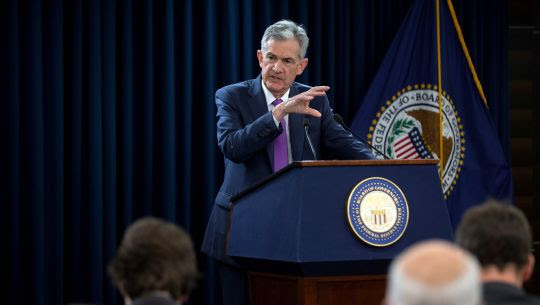 Federal Reserve Chairman Jerome Powell has compared the task of interest-rate policy-setting to walking in a room with no light. PHOTO: ALEXANDER DRAGO/REUTERS
What We've Heard on the Street
"Campbell Soup has struck a deal with activist hedge fund Third Point that looks quite similar to what the soup maker offered not long ago. But Third Point's message has still resonated and hopefully will be absorbed by Campbell's board and management."
—Heard on the Street columnist Aaron Back