---
Good morning, this is Eleanor Ainge Roy bringing you the main stories and must-reads on Friday 23 November.
Top stories
The Business Council of Australia has blasted the Morrison government's energy plan
, declaring it will exacerbate sovereign risk, interfere with market outcomes and
discourage investment in critical infrastructure
. The BCA has used a submission to the Treasury to launch an excoriating critique of the government's price regulation measures, and the so-called "big stick" divestiture policy.
The proposed introduction "of these heavy-handed, intrusive treasurer-ordered remedies in the energy sector sets a dangerous precedent for other sectors of the economy and threatens our economic attractiveness by sending a signal to the world that investing in Australia comes with considerable risks", the Business Council said.
Europe must get a handle on immigration to combat a growing threat from rightwing populists,
Hillary Clinton
has said, calling on the continent's leaders to send out a stronger signal showing they are
"not going to be able to continue to provide refuge and support".
In an interview with the Guardian,
the former Democratic presidential candidate praised the generosity shown by the German chancellor,
Angela Merkel
, but suggested that immigration was inflaming voters and had contributed to the election of Donald Trump and Britain's vote to leave the EU. "I think Europe needs to get a handle on migration because that is what lit the flame," Clinton said.
The oil and gas giant Woodside Petroleum has applied for environmental approval to build one of Australia's biggest emitting industrial developments
– a liquefied natural gas plant 425km north of Broome –
without a plan to reduce or offset its greenhouse gas pollution
. Documents submitted to the federal government for the
long-mooted
$28bn Browse LNG project show the offshore part of the development alone is expected to emit up to 200m tonnes of carbon dioxide over 50 years, peaking at 7m tonnes a year. The total pollution from the development could be significantly higher once processing the gas for export – usually the most emissions-intensive part of LNG projects – at an existing plant at Karratha is factored in, though Woodside
has flagged
it is considering
running that plant
on renewable energy.
Guardian Australia's Deaths inside project, which tracked Indigenous deaths in custody since 2008,
has won the innovation award
at the 63rd Walkley awards for excellence in journalism.
The
Deaths inside project
showed that, since the royal commission released its 339 recommendations in 1991, there have been 407 Indigenous deaths in custody. In other Walkley awards, scoop of the year went to "Bundle of Joyce", the front-page story in the Daily Telegraph. Louise Milligan's ABC Four Corners report on Sydney man Luke Lazarus, who was found not guilty of sexual assault on 18-year-old Saxon Mullins, won the public service journalism award, and the Gold Walkley went to the Australian's Hedley Thomas and Slade Gibson , for their true crime podcast,
The Teacher's Pet
.
As the Victorian election campaign draws to a close,
the seat of Morwell in Victoria's south-east
has 11 candidates split on energy policy
. Conservatives promise – with few details – a new low-emissions coal-fired power station, while progressives say it's a pipe dream. The electorate sits on hundreds of years of brown coal, the heart of electricity generation for Victoria for generations.
Sport
Once one of Australia's biggest sporting success stories
, Jarryd Hayne has seen his star wane as serious allegations loom once again. Matt Cleary charts the astronomic rise and off-field fall
of one of the rugby league's most promising talents
. "Media, associates, opponents, would tell you he's something of an odd bird, a strange cat," writes Cleary. "Teammates describe him as equal parts generous and selfish."
Guardian Australia cartoonist David Squires reflects on a tumultuous week in Australian football,
and the FFA annual general meeting
.
Thinking time
Last year more than a billion people watched the Victoria's Secret fashion show
, described by one fashion editor as "the worst job I've ever had" – a relic from a bygone era. The show's uniformly tall and thin models seem an anachronism in a world that increasingly celebrates body diversity, and stories of starvation diets, obsessive training and no plus-size models are uncomfortable realities for its stars. Victoria's Secret sells a dangerous fantasy –
is it time for its reign of the underwear world to be over?
The courtroom was eerily quiet on the day David Eastman's murder conviction began to unravel
. It was late summer 2014 and, outside the walls of the ACT supreme court, the city was flooding. Torrential rain and wild storms were bringing trees crashing down on to houses. The end was in sight to its
almost six-month inquiry
into Eastman's 1995 conviction for the assassination of Colin Winchester – the Australian federal police assistant commissioner who commanded the ACT's police force. It was a crime for which Eastman had spent almost 19 years behind bars and a case that, for many years, gripped the nation. Guardian Australia's Christopher Knaus was there for the final verdict,
and examines Eastman's story with fresh eyes
.
"Amazon's ecommerce arm relies on the fundamental truth that people's love for good deals on plastic crap will almost always override any concerns about worker mistreatment or environmental hazards,"
writes Eleanor Robertson
, after recounting the trials of her failed attempt to buy hair curlers at a local mall. Robertson writes that the disappearance of local retail jobs in favour of Amazon comes with a high risk of rising unemployment and underemployment but any negative consequences arising from this are purely a matter of political choice. "Amazon's recent decision to raise the wages of its US and UK employees demonstrates that, regardless of its size, it is still vulnerable to pressure from organised labour, activists and politicians in exactly the same way as other companies."
What's he done now?
Donald Trump has politicised a Thanksgiving call with a US general in Afghanistan,
in what is traditionally a politics-free
symbolic gesture. The president used the call to berate federal judges, complain about the migrant caravan and trot out his trade policies, saying: "Every nation in the world is taking advantage of us."
Media roundup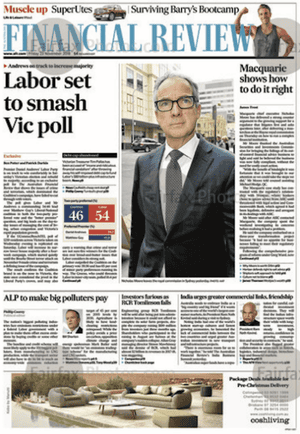 The state once considered the jewel in the Liberal party's crown
looks set to stay comfortably with Labor
in this weekend's Victorian election, the
Australian Financial Review
predicts, drawing on a poll. The
Herald Sun
splashes with its take that
the election is now "Dan's to lose"
. Australia's population
will reach 30 million people by the early 2030s
, decades earlier than predicted, the
Australian
reports. Melbourne's growth will outpace Sydney, and the ACT will be home to more people than the entire island of Tasmania. One of Australia's oldest engineering and construction companies, RCR Tomlinson,
has gone into administration
,
the ABC
reports, just months after raising $100m in fresh capital from shareholders. The demise has stunned investors and shocked the company's 3,400 workers.
Coming up
Today is the final day of campaigning in the Victorian state election.
The Asic chair, James Shipton, gives a second day of evidence to the banking royal commission's final hearing.
Source: The Guardian