The Greens are once again trying to get a code of conduct into the Senate. Richard Di Natale is giving notice of this motion:
I give notice that on the next day of sitting I shall move that—
(1) That the Senate adopts the following Code of Conduct, to be introduced into the Standing Orders –
The (House of Representatives and the) Senate have reached agreement on a Code of Conduct which is to apply to all members of Parliament.
Members of Parliament recognise that they are in a unique position of responsibility in influencing the nature of civic conduct in Australia.
Members of Parliament recognise that their words and actions in the Senate (and the House of Representatives) influence issues in the public debate. These Include issues relating to multicultural affairs, migration and citizenship, gender equality and professional conduct in the workplace.
Members of Parliament acknowledge that parliamentary privilege protects the right of members to participate freely in debate in the Parliament without fear of prosecution.
Members of Parliament recognise the need to exercise their valuable right of freedom of speech in a responsible manner and a failure to do so may have serious implications for individuals and groups of the Australian community and may diminish the social cohesion that is essential to our national character.
THE CODE
1. Uphold the honour of Public Office
a. Members of Parliament will take all reasonable steps to represent public office in a manner that is consistent with the values of respect and inclusion.
b. This includes behaviour and language during parliamentary proceedings, including interactions with parliamentary and electorate officer staff.
2. First Peoples of Australia, the Aboriginal and Torres Strait Islander peoples
a. Members of Parliament recognise the value and contribution of the First Peoples of Australia, the Aboriginal and Torres Strait Islander peoples.
b. Members of Parliament recognise that with the exception of Aboriginal and Torres Strait Islander peoples, Australia is a nation of migrants.
3. Respect Australians' diversity
a. Members of Parliament recognise that Australia has been enriched by the
diversity of colour, ethnic origin, culture and religious belief that exists within our nation.
b. Members of Parliament recognise that principles including respect for religious and cultural diversity, tolerance, and justice should be upheld in parliamentary debate in a respectful manner.
4. Respect gender equality and diversity
a. Members of Parliament recognise that women and LGBT+ individuals are more likely to experience gender inequality and discrimination in the workplace.
b. Members of Parliament recognise that the Australian Parliament, including the Senate and House of Representatives Chamber, is the primary workplace for elected representatives.
c. Female and elected representatives from LGBT+ communities should be free from gender and sexuality based bullying, harassment or abuse of any kind in their workplace.
5. Reject discriminatory or exclusionary statements
a. Members of Parliament will not knowingly humiliate or degrade an individual or community based on their colour, national or ethnic origin, culture, religious belief, gender or sexual orientation.
b. This includes acts which are intended to incite hatred or create fear of a community.
(2) That this resolution be communicated to the House of Representatives for concurrence.

01:20
Why is Labor so exercised over the sitting week claims from Christopher Pyne?
Well it's the vibe, it's Mabo, it's the constitution.
In that, the constitution, as my resident constitution expert reminds me, won't let the parliament sit beyond the 15th of April, which is the last date Scott Morrison has to call the house of representatives election. (He will call both houses at the same time, but there is a bit of extra time before, constitutionally, the Senate has to go to the polls)
tl:dr – constitutionally, the parliament can not sit beyond April 15, without an election.

01:09
Anthony Albanese
told Adelaide radio 5AA why he thought next year's parliamentary sitting calendar put out by the government was rubbish:
The fact is that – I've done the sitting timetable on six occasions and what you do is you look for when Australia Day is, and parliament comes back the week after Australia Day. That's the normal process. The parliament also sits in March. There is either five or six sitting weeks in the schedule prior to April, and there is no reason why you can't have five or six sitting weeks prior to the April budget. The only reason why there is not, is because they are running from democracy.

Christopher Pyne
said it was totally different next year because of the April budget. Or something:
The budget has been brought forward a month. So it's actually a completely different sitting schedule. There are 17 sitting weeks next year, which is the average, is the norm and everyone knows that – 17 sitting weeks next year.

Albo says there are 10 sitting days until August. Pyne says he has his "maths completely wrong".
But that's because
Scott Morrison
all but said the election would be in May. It's just whether it is 11 May or 18 May which is the issue. He want the budget handed down before the election, and that is happening on 2 April. There are two sitting weeks scheduled before then. Then it's budget week. And then, presumably, parliament is dissolved for the election. Ipso factso – that's not a lot of sitting days before the election.
Updated
01:09
We have some news…
… three years ago we set out to make The Guardian sustainable by deepening our relationship with our readers. The same technologies that connected us with a global audience had also shifted advertising revenues away from news publishers. We decided to seek an approach that would allow us to keep our journalism open and accessible to everyone, regardless of where they live or what they can afford.
And now for the good news. Thanks to the one million readers who have supported our independent, investigative journalism through contributions, membership or subscriptions, The Guardian has overcome a perilous financial situation globally. But we have to maintain and build on that support for every year to come.
Sustained support from our readers enables us to continue pursuing difficult stories in challenging times of political upheaval, when factual reporting has never been more critical. The Guardian is editorially independent – our journalism is free from commercial bias and not influenced by billionaire owners, politicians or shareholders. No one edits our editor. No one steers our opinion. This is important because it enables us to give a voice to the voiceless, challenge the powerful and hold them to account. Readers' support means we can continue bringing The Guardian's independent journalism to the world.
If everyone who reads our reporting, who likes it, helps to support it, our future would be much more secure. For as little as $1, you can support the Guardian – and it only takes a minute. Thank you. Make a contribution. - The Guardian
00:58

Paul Karp
Something we missed on Tuesday afternoon: the education minister,
Dan Tehan
, has announced the next round of Australian Research Council grants after a controversy about
the Coalition vetoing $4m of grants in previous rounds
and
Labor's Kim Carr criticising them for delays
.
The Universities Australia chief executive,
Catriona Jackson
, noted that three researchers whose grants had been vetoed by the former education minister
Simon Birmingham
were successful in this round.
"Of course, that still leaves eight research grants that were rejected by Senator Birmingham that remain unfunded by the ARC," she said.
Tehan said those three grants had been successful this round because they are "now markedly different".
Carr said they had been approved after "minor changes to titles":
ACU – Masculinity and social change in Australia (previously A history of men's dress)
UNSW – Rioting and the literary archive (unchanged)
ANU – Art of cultural diplomacy (previously Louis XIV prints, medals and materials in the global exchange)
Updated
00:51
Ayes 97
Noes 5
That is not a vote result you see every day in this place.
Labor did a deal with the government to ensure that the legislation would get through.

Updated
00:49
Funny scene in the House right now – it has divided on the social services amendment bill, which will make new migrants have to wait even longer for access to Newstart and the like and the whole chamber, except for five crossbenchers, is voting for it.
Updated
00:30

Paul Karp
The Big School Walkout for Climate Action has come to Parliament House – and the students are now being let in after a misunderstanding with the police.
An organiser,
Georgie Burgess
,
told Guardian Australia that police had believed the students were coming to protest and conduct a sit-in at parliament but the children were just joking.
"Our plan is to have calm, polite conversations with politicians – we do not want to have any protesting inside the house," she said.
Carys
, from Dickson College, said the students "have come out to show politicians that climate change is an issue that we can't ignore any more, so much so that we need to strike from school, we need to stop our learning, because our future is at risk".
Us kids we really need them to help us because they have our futures in their hands, we're going to ask them whether they're willing to say no to the Adani coalmine, whether they've going to reduce our carbon emissions to zero, whether they are committed to make us a greener country and world leader in climate action, which we are not at the moment – we are the laughing stock of the world.

The students – from Dickson College, Orana Steiner school and Chapman primary school, among others in the ACT – are now entering the building.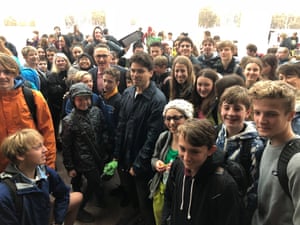 Updated
00:17
Scott Morrison
said school students should be in school.
The Greens passed a Senate motion which basically said go well, protesting school students and stick it to the man.
Then some students turned up at Parliament House and were delayed from entering by police, who have since permitted them entry.
It's quite the lesson in democracy so far.
Updated
00:12
If only there was a forum for parliamentarians to parley that wasn't social media ...
Updated
00:11
00:07
A spokesman for the prime minister says there is no concern about the lack of a formal sit-down with
Donald Trump
at the G20 (remember there are opportunities for lots of "informal chats" at dinners and in corridors and at photo ops and things).
The PM will no doubt have the opportunity to touch base during the G20 meetings.

But given we have no pressing bilateral issues at the moment, and the PM had an extensive opportunity with Vice-President [Mike] Pence, there is no pressing need for a formal bilateral at this stage.

The relationship is being well-managed.

Julie Bishop
also spoke on this:
I'm not involved in the prime minister's scheduling, nor that of President Trump, so I'm sure if the meeting can take place, it will, but if scheduling conflicts occur, that's what happens in some of these meetings. The G20 meetings are hectic. They are, from my experience, very busy and you don't always meet with every one of the other leaders at that time, but there are many opportunities for world leaders to meet, and the Australia-US relationship is strong and deep and it will continue, whomever is in the White House, whomever is in The Lodge.

Updated
00:01
Julie Bishop on Dutton: 'Every member has a responsibility to ensure they are eligible'
Julie Bishop
has held a short press conference in Canberra before her donation of her now infamous red shoes to the Australian Museum of Democracy.
She had a bit to say about all the shenanigans, and it is best to let her say it. Or not say it, as the case may be *cough
Peter Dutton
referral cough*.
On whether
Peter Dutton
should be referred, and whether
Christopher Pyne
should threaten the crossbench with referrals:
This is a matter for themselves to be eligible to sit in the parliament ... I wasn't present when Christopher Pyne spoke with or spoke about Kerryn Phelps: I'm not aware of the terms of what he said, but my point is every member has a responsibility to ensure that they are eligible to sit in the parliament. Every member should take their advice. Where there is doubt, then in the past, the people have referred themselves or have been referred. So it is a question for everyone to look at their own eligibility. I've certainly considered mine, and I'm perfectly satisfied that I'm eligible and have always been eligible to sit in the federal parliament.

On
Julia Banks
and women in the Liberal party:
Julia informed me after she had made the statement in parliament. In fact, she informed a number of us after she had made her statement …

Well, it was apparent to everyone who follows politics that she was not happy with the leadership change in August. She put out a statement at the time, so you only have to read her statement that she was obviously not happy with the outcome of that issue …

It is quite evident that there are now a number of women sitting on the crossbench who hold what were once considered safe Liberal seats and that of course is a matter of concern, and I know the party is concerned about that.

In the case of Julia Banks, I'm disappointed that she felt the need to leave the Liberal party, and she had got to that point. However, knowing her as I do, she obviously gave it a lot of thought and she must believe that this is how she can best represent the interests of the people of Chisholm. I believe I can best represent the people of Curtin by being a member of the Liberal party.

On
Kelly O'Dwyer's
reported comments that the Liberal party is now viewed as "homophobic, anti-women, climate-change deniers" and on the number of women in the Liberal party:
I understand that they were comments that were attributed to Kelly O'Dwyer. I'm not aware of whether she actually said them. They were attributed to her by someone who was apparently at a meeting, but I think Kelly has expressed before her concern about the level of female representation in the Liberal party.

Indeed, she set up a fighting fund to which I've donated money to support women who are contesting marginal seats because she believes that more money is needed to support them and I agree. So, Kelly has long been on the record expressing her concern about the level of female representation on the part of the Liberal party …

What I think is interesting about today is that we have an initiative in the parliament called Girls Taking Over the Parliament ... they have come to parliament to see how it operates, to see what opportunities there are. There are bright young women "taking over parliament", so there clearly is a need for us to discuss the level of representation of females in the parliament. There is a need for us to increase that. When I talk about a nation not reaching its potential unless is fully harnesses the efforts and energies and skills of 50% of the population, that goes for organisations as well, and that includes the Liberal party.

On
Barry O'Sullivan's
comments yesterday in the Senate:
I wasn't there, I didn't hear them. I have heard fleetingly reports on it, so I won't give a running commentary on what goes on in the Senate, but we all have to take personal responsibility for our behaviour, and of course we should be respectful towards each other whether it's in the parliament or outside the parliament …

I wasn't here in Canberra yesterday. I had a pair. I was attending a number of meetings in Sydney that were very important, so I wasn't here. I'm not going to give a running commentary on what every senator says in the Senate. My overall point is that we take personal responsibility, each of us, for the way we behave.

Updated
23:41
Mathias Cormann has got the call-up for the G20.
He will replace the treasurer, Josh Frydenberg, who now has to remain in Canberra, because, well, it is all a bit of a garbage fire at the moment.

Updated
Source: The Guardian