What's News
Good Morning
Here's what we're watching as the U.S. business day gets under way:
Google exposed user data. The company
revealed the private data
of hundreds of thousands of users of the Google+ social network then opted not to disclose the issue this past spring, fearing regulatory scrutiny and reputational damage.
RIP Google+, we hardly knew ye. The company's decision to shut down the platform confirmed the limited success of the
oft-derided Facebook challenger
.
It may be time to Google "political savvy." For all the brilliance housed at Google's Silicon Valley headquarters,
political astuteness
seems in awfully short supply.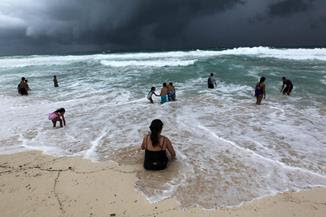 Hurricane Michael is gathering strength. A state of emergency has been extended to 35 Florida counties. Expected to strike by Wednesday, the storm could be the most destructive to hit the Panhandle
in decades
, said the governor.
Hedge funds are retreating as markets advance. Three have closed in less than a week as investors question a
once-highflying industry
plagued by weak returns. Hedge funds often charge a 2% management fee and a 20% cut of performance gains.
In these districts, school's out on Fridays. More schools across the country are shifting to a
four-day week
to cut costs and attract teachers, implementing a schedule once primarily used by rural districts but now moving into suburban and urban areas.
President Trump apologizes to Brett Kavanaugh for his "pain." With the new justice
taking the bench today
, the Nixon-era dream of a
conservative-dominated Supreme Court
is fulfilled.
The economy is roaring, but you can't tell from campaign ads. According to advertising data analyzed by the Journal,
health care reigns
supreme for Democratic campaigns, while Republicans tout the tax legislation President Trump signed into law late last year.
As Pakistan starts talks, emerging markets look to contain damage. Pakistan's decision to start bailout talks with the
International Monetary Fund
is the latest in a series of threats to hit emerging markets challenged by weakening currencies and rising U.S. interest rates.
The second spy-poisoning suspect is identified as a Russian military doctor. A London-based investigative journalism group says that Alexander Petrov is actually Alexander Mishkin, a doctor
employed by the GRU


What's Trending





PHOTO: QILAI SHEN/BLOOMBERG NEWS


Chinese exporters are trying to dodge U.S. tariffs—in 18,927 ways. There are thousands of individual codes to identify goods the U.S. imports, and switching them around is an increasingly popular way some exporters are ducking tariffs. The plywood industry is a case in point.


President Trump says he has no plans to fire Rod Rosenstein. The president and his deputy attorney general met on Air Force One and spoke for 45 minutes. The meeting came after a tense period in which officials said Mr. Rosenstein offered to resign and expected to be fired.


Tensions between the U.S. and China broke out in Beijing. A rare public confrontation between two top U.S. and Chinese diplomats signaled a new level in worsening relations between the world's two biggest economies.








Interest groups are vying for Trump's TV attention. Lobbyists in Washington are targeting programs the president watches, such as "Fox & Friends" and Sean Hannity's program on Fox News, to grab the attention of the world's most powerful TV viewer.


Elliott Management is going on a charm offensive. Known for its acrimonious activism, the hedge fund is softening its image to cultivate better relations with index-fund investors and companies it targets amid a changing landscape.

The limo in an upstate New York crash had a failed inspection. The driver of the limousine also didn't have the necessary license, according to Gov. Andrew Cuomo, who added that authorities still didn't know the direct cause of the incident that claimed the lives of 20 people.


Hope Hicks is landing a post-White House job at Fox. The former communications director will become the chief communications officer of Fox, the new company that will make up 21st Century Fox's entertainment and news assets not being sold to Disney, such as Fox News and Fox Sports.

Facebook launches portal video-chat devices for the home. The camera detects how many people are in the room and automatically pans out and zooms in based on the crowd. A microphone array detects and amplifies the voice of the person speaking even if that person moves.








Cocaine, reefer and the F-word: Sometimes Alexa goes a little crazy. As smart speakers can handle a growing array of tasks, they sometimes freak people out, seeming to enter conversations uninvited, playing music unprompted and turning on other gadgets at random.






Trade Watch




Highlights from our economic coverage


The U.S. trade deficit widened in August, as a strong domestic economy boosted Americans' purchases of foreign goods. The result: international trade will likely be a drag on economic growth in the third quarter of the year.

While U.S. tariffs haven't reversed the trade gap, the White House hopes they will force companies to rethink investment strategies. Using tariffs to make it more expensive for companies to export from China, Trump trade warriors figure, will encourage foreign firms to take their know-how out of the country.

White House officials also are betting that the U.S.-Mexico-Canada Agreement will give them more ammunition in their high-stakes battle with China. The pact removes the possibility of a North American trade war and will make the continent a more attractive place for investment.

Want more on trade? Sign up to get our daily Real Time Economics newsletter delivered to your inbox for the latest insight and analysis.

— Jeffrey Sparshott


Chart of the Day











Bond market freaking you out? According to the Journal's James Mackintosh, the good news for shareholders is that the overall market is most likely fine. The bad news: FANGs and other acronym stocks that have been leading indexes higher may be in trouble. Global stocks were muted Tuesday, as investors continued to weigh the impact of rising bond yields on market sentiment.

News From Other Sources

British Airways loses New York crown to Norwegian. The low-cost carrier has overtaken British Airways as the biggest non-U.S. airline on trans-Atlantic routes to and from the New York area, in the latest illustration of the airline's move into British Airways territory.


via Reuters

Sony commits to successor for PlayStation 4. The president of Sony has confirmed that the company is working on a successor to the PlayStation 4, as speculation intensifies over whether traditional gaming consoles have a future.


via the Financial Times

Hubble telescope is hit by a mechanical failure. The space telescope is operating with only essential functions after it lost one of the gyroscopes needed to point the spacecraft.


via BBC

This Day in History




Oct. 9, 1914



German forces capture Antwerp in First World War


The Belgian city of Antwerp surrendered to German forces on a Friday afternoon after a German bombardment. After hoisting a white flag on a cathedral, negotiations continued for 5½ hours, the Journal reported on Oct. 12, 1914. "It is stated that the Germans occupied the city of Antwerp late in the afternoon." One refugee recounted the events:

"The town was burning at several points when I left. It was like a hell. Awful, screeching shrapnel filled the air. One house after another took fire...Women dragged children or aged and infirm relatives after them in hopeless despair. I saw one woman drop exhausted, but with her last bit of strength push her two children on toward what she thought was safety."






THE WALL STREET JOURNAL


—Compiled and edited by Phil Nobile in New York and Cicely K. Dyson in London