Markets
Welcome to your daily dose of markets from The Wall Street Journal. I'm Jessica Menton, here with your morning update.
We're keeping our eyes on technology stocks amid a
recent slump
that has pressured major U.S. indexes.
Also in focus: rising bond yields. The U.S. bond market will reopen after being closed Monday for Columbus Day. Wall Street is also monitoring speeches from a batch of Fed officials throughout the day. Investors are looking for any adjustments in central bankers' views on inflation and the Fed's interest-rate path after a bond selloff sent Treasury yields to multiyear highs last week.
Meanwhile, our
Stephanie Yang
takes a look at how a shale play is quietly staging a comeback this year.
The Hottest Oil Trade Is No Longer in Texas
By Stephanie Yang, oil reporter
A shale play that was left for dead has come roaring back in 2018.
The Bakken, which stretches from Montana to North Dakota, had long been considered by some in the energy industry to be played out.
Now the region is experiencing a comeback, luring investors as crude prices have surged. Oil production in North Dakota has climbed to all-time highs this year, hitting 1.27 million barrels per day in July.
That's leading to outsized gains for producers concentrated on the Bakken. Whiting Petroleum, which has operations in North Dakota, Colorado and Texas, is up 82% year to date. Continental Resources and Oasis Petroleum are up 28% and 58%, respectively.
"It's interesting times in North Dakota," said Pablo Prudencio, an analyst at energy consultancy Wood Mackenzie. "The Bakken has a story of its own right now."
Mr. Prudencio pointed to several factors that have contributed to the Bakken's recent rise. U.S. oil futures surpassing $70 a barrel have spurred more drilling across the country. But cheaper acreage and improved crude transportation have made the area more attractive than some other major shale fields.
While the Permian basin in Texas has attracted attention as the nation's most prolific oil basin, constraints to getting crude out of the region have dampened enthusiasm for those producers.
Permian producers Diamondback Energy and Concho Resources have risen 7% and 5%, respectively, while the SPDR S&P Oil and Gas Exploration and Production ETF, or XOP, is up 17% year to date.
"As folks were getting more concerned about pipeline capacity [in the Permian], the capital started to move away," said Dane Gregoris, senior vice president at RS Energy Group.
Regional oil prices in North Dakota have stayed stronger than in Midland, Texas through much of the year, where transportation bottlenecks pushed prices as much as $15 below the U.S. benchmark

.
But recently that divergence has started to disappear.
And Bakken production is a far ways from overtaking that of the Permian. According to the U.S. Energy Information Administration, Bakken oil production came to 1.3 million barrels per day in September 2018, compared to 3.4 million barrels per day in the Permian.
Mr. Gregoris said some investors started to turn their attention to other shale plays about a year ago, when constraints in Texas began to emerge.
"You can see how that's played out with all these Bakken names," Mr. Gregoris said. "It's a totally different ballgame."
What do you think about the hottest oil trade? Let the author know your thoughts at
stephanie.yang@wsj.com
. Emailed comments may be edited before publication in future newsletters, and please make sure to include your name and location.
The Cboe Volatility Index, or VIX, settled at 15.69 Monday, the highest close since July 3.

Natural-gas prices rose to an eight-month high as traders anticipated colder-than-average weather spreading across the Midwest in the next few weeks. Futures for November delivery gained 3.9% to $3.267 a million British thermal units, their highest close since Jan. 25.

Private-equity firms collectively raised $68.2 billion in the first three quarters of the year, up 18% over the same period in 2017 and already surpassing the $66.2 billion they amassed in all of 2016, according to data from Preqin.
The Chicago Fed's Charles Evans speaks at 10 a.m. ET, the Dallas Fed's Robert Kaplan speaks to the Economic Club of New York at 7:30 a.m., the Philadelphia Fed's Patrick Harker speaks on higher education at 1 p.m., and the New York Fed's John Williams speaks on monetary policy at 9:15 p.m. and joins a press conference with Bank of Indonesia Governor Perry Warjiyo in Bali at 10:35 p.m.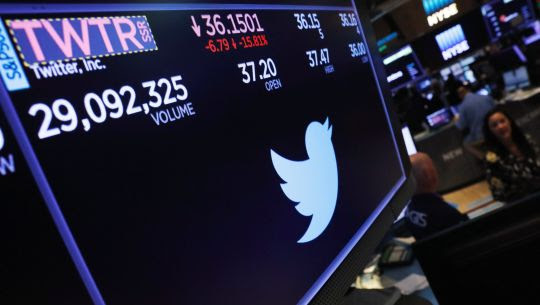 Twitter, Facebook and Alphabet are no longer in the S&P 500's tech sector. PHOTO: LUCAS JACKSON/REUTERS

What We've Heard on the Street
"Rising interest rates mean credit-card companies will instantly earn more on their floating-rate loans. At the same time, the booming economy and tight labor market are keeping defaults low...Yet shares of these companies are performing poorly."
—Heard on the Street columnist Aaron Back