---
Penny Wong says countries risk conflict by closing themselves off from the world and turning inward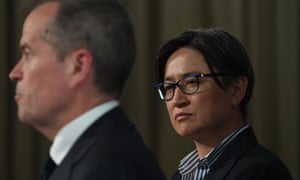 Labor has called on Australia's allies to stop framing foreign policy issues in terms of "globalism versus patriotism", and work towards keeping the international rules-based order intact.
Penny Wong
, the shadow minister for foreign affairs, says countries should not be closing themselves off from the world and turning inward, because it will lead to misunderstanding, tension, rivalry and conflict.
In a speech that may be interpreted as critical of recent foreign policy pronouncements from the US president, Donald Trump, Wong will say on Monday – at the
Perth USAsia Centre
– that the international rules-based order has helped to resolve global tensions and tackle problems, and we should be doing all we can to maintain it.
She will say multilateralism and constructive internationalism are hugely important, and a future Labor government will work hard to maintain them.
"If countries close themselves off, turn inward and disengage from the world, the risks of misunderstanding, tension, rivalry and conflict rise," Wong says in speaking notes seen by Guardian Australia.
"So instead of talking about globalism versus patriotism, let's talk about co-operation. Let's talk of working together to gain collective benefits. This is good for each of us, and good for all.
"It's a contribution Australia has historically made. And it's one we must continue to make."
Wong will make her comments a day after the Labor leader, Bill Shorten, unveiled his election manifesto in a five-point policy agenda.
In a major speech in western Sydney on Sunday, Shorten said if Labor managed to win the election next year, its policy agenda would focus on fixing schools and hospitals, standing up for workers and ensuring a strong economy and investment in cleaner energy.
With Labor setting itself up as an alternative government, Wong will say the Shorten government's foreign policy will be based upon keeping global cooperative democratic institutions functioning.
She says Australia must not forget that, as technology develops, and as countries increasingly push their technologies into outer space, cooperation will be key there also.
"In the 50 years since the outer space treaty, the domain has changed significantly," she will say. "There are more actors, more reasons for space activities, more benefits, and more risks. And in recent years the global community has recognised there's a need to strengthen the rules and norms of international behaviour in space to reflect these changes.
"The five treaties and five declarations and legal principles on space-related activities, developed through the UN Committee on the Peaceful Uses of Outer Space (UN COPUOS) all stress the principle that outer space itself, the activities carried out there, and whatever benefits may accrue from it, should have the objective of enhancing the well-being of all countries and humankind. It is a legal and normative framework which emphasises international co-operation."