What's News
Good Morning
Here's what we're watching as the U.S. business day gets under way:
Brett Kavanaugh and Christine Blasey Ford will testify today. The Supreme Court nominee said his high school behavior was "not perfect," but continued to deny allegations of sexual misconduct as
battle lines were drawn
ahead of the hearing where they'll be questioned by
Rachel Mitchell
.
A third woman made an accusation against Mr. Kavanaugh. Julie Swetnick described in a sworn declaration Mr. Kavanaugh's
behavior at parties
while he was in high school and alleged she was drugged and raped at a party where he was present in 1982.
Another accuser was described as dedicated to her work. Deborah Ramirez led a private life dedicated to helping Colorado's underserved communities before going public with
accusations of sexual misconduct
against Mr. Kavanaugh.
The new kind of fury being unleashed. According to
the Journal's Gerald F. Seib
, the ramifications of the Kavanaugh fight will live on for years to come. In a
separate video
, Mr. Seib explains how the current tumult might affect confirmation processes in the future.
President Trump is set to meet with Rod Rosenstein. Ahead of their planned meeting, the president said he
doesn't want to fire
the deputy attorney general and that he may postpone the sit-down because he didn't want to distract from the Brett Kavanaugh hearing.
The Fed is signaling one more rate hike this year. After raising short-term interest rates by
another quarter-percentage point
, the central bank indicated it would lift them again later this year and through 2019.
Global stocks fell
, as investors parsed the outcome of Federal Reserve's decision.
A criminal trial will cap off a turbulent year for NCAA basketball. The first of
three criminal trials
is set to begin next week, a critical test for an investigation that rattled the sport with charges centered around alleged schemes to bribe the families of top high-school basketball recruits.
What's Trending
PHOTO: DANIEL ACKER FOR THE WALL STREET JOURNAL
Farmers are saying aid won't cover the damage from tariffs. After the USDA said it would pay farmers
nearly $5 billion
to offset losses from trade disputes, many farmers say the payments won't make up for lost sales to China and other foreign markets they were counting on to buy their crops and meat. U.S. farm income is expected to drop 13% this year.
Trump accused China of trying to interfere in U.S. elections. The president said Beijing was
trying to damage him politically
and hurt the Republican Party over growing trade disputes, adding to the expanding grievances between the two global economic powers. Separately, a report set to be delivered to Capitol Hill found that
widely used election systems
are vulnerable to cyberattack.
Yale is under investigation over admissions of Asian-Americans. Both the Justice Department and Education Department opened a probe into whether Yale illegally discriminates against Asian-American applicants, marking an escalation of the Trump administration's efforts to challenge longstanding consideration of
race in admissions decisions
.
The CEO of Calpers is facing short- and long-term liabilities. Heading
the largest pension fund
in the U.S., Marcie Frost faces financial woes with a massive shortfall for future benefits, an upheaval in the executive suite and scrutiny of her own education history.
Tech executives warned of overregulation. At a hearing on Capitol Hill, lawmakers said there is
growing consensus
for legislation to strengthen online users' privacy, while executives from tech giants like Amazon and Google warned that certain types of regulation could limit services.
More young veterans are committing suicide, data shows. Despite efforts by the VA to curb the problem, the rate of suicides among young military veterans has
increased substantially
, jumping in the most recent 2016 report to 45 suicide deaths per 100,000, up from 40.4 in 2015.
Bitcoin mining giant plans to file for IPO. Traditional capital markets and the cryptocurrency world would collide when
Bitmain Technologies
, the world's largest cryptocurrency mining company, pursues its initial public offering in Hong Kong.

Tax Watch

Highlights from our tax coverage

No refund for you, companies. Companies complain the Internal Revenue Service isn't refunding 2017 tax overpayments, instead applying them to a one-time tax on foreign profits that is supposed to be payable over eight years.

Cut taxes, buy stock, boost earnings. Stock buybacks are booming, in part because of last year's tax cut—and that is plumping up reported earnings for a range of large companies.

Following tax rules uncovers accounting flubs. Corporate financial restatements rose in the first six months of the year, likely because companies had to comb through their books to meet requirements under the new tax law—leading them to spot a variety of errors.

— Theo Francis


Chart of the Day




A grizzly hunt has been nixed in Wyoming. A federal judge canceled what was set to be the first grizzly bear hunt in 44 years in the lower 48 states. The ruling was a last-minute setback to those who have argued the animal has not only recovered from near extinction, but poses a growing threat to humans and livestock. An estimated 50,000 grizzly bears once roamed across the western U.S., but hunting and dwindling food supplies nearly wiped the species out in the 1970s.


News From Other Sources

One of the Skripal suspects "was made Hero of Russia" by Putin. A Russian man accused of the Salisbury poisoning is a military officer who received an honour from Vladimir Putin, an investigative website says.

via BBC

Utilities that helped fix Puerto Rico's power grid now face hefty tax bills. Over the summer, some of the utility companies that had sent aid crews opened letters from the towns where they had worked in Puerto Rico to find bills demanding millions of dollars in license and construction taxes.


via the New York Times
JPMorgan widens blockchain payments to more than 75 banks. The banks are joining the Interbank Information Network which JPMorgan, Royal Bank of Canada and ANZ have been testing for 11 months to see if blockchain technology can speed up payments that are not run of the mill.


via Financial Times

This Day in History

Sept. 27, 1979

Department of Education Becomes 13th U.S. Cabinet
"The House, in a major victory for President Carter, gave final congressional approval to the creation of a new Cabinet-level Department of Education," the Journal reported the following day. "The measure, one of the President's top legislative priorities, goes to the White House for his signature. Mr. Carter called yesterday's vote a 'significant milestone in my effort to make the federal government more efficient.' "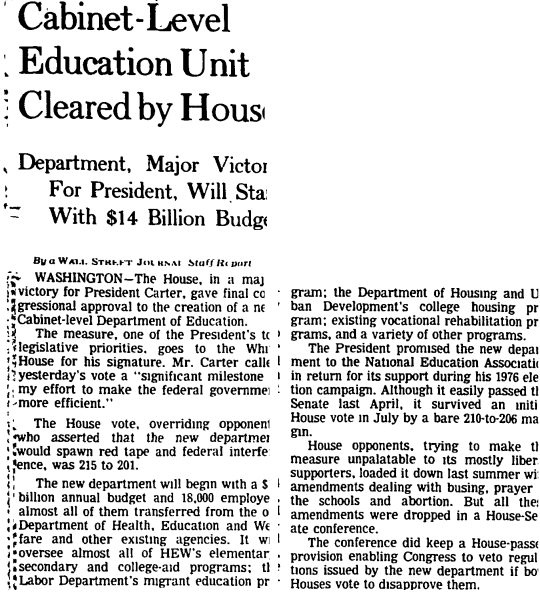 THE WALL STREET JOURNAL