---
Good morning, this is Richard Parkin bringing you the main stories and must-reads on Friday 7 September.
Top stories
US vice president Mike Pence has denied he was the author of an explosive anonymous op-ed piece attributed to a "a senior official in the Trump administration"
that ran in the New York Times on Wednesday and reportedly enraged president Donald Trump. Pence, secretary of state Mike Pompeo, and US ambassador to the UN, Nikki Haley, have all issued public statements denying authorship, while White House press secretary Sarah Sanders has attacked the media's "wild obsession with the identity of the anonymous coward". The Washington Post claims Trump's reaction was "volcanic" anger, with
the president tweeting
that the Times should hand the person responsible over to the government "for National Security purposes".
Meanwhile it's been revealed that
a government photographer edited official pictures of Donald Trump's inauguration to make the crowd appear bigger
following a personal intervention from the president. The photographer cropped out empty space "where the crowd ended" for a new set of pictures requested by Trump on the first morning of his presidency, after he was angered by images showing his audience was smaller than Barack Obama's in 2009.
Burt Reynolds, the star of Deliverance, The Longest Yard and Boogie Nights, has died, aged 82.
The actor, who famously turned down the roles of James Bond and Han Solo,
was currently working on a film with Quentin Tarantino
. Reynolds made his debut in 1961 in Angel Baby, but it wasn't until Deliverance in 1972 that he burst to prominence. The Longest Yard, Smokey and the Bandit and Boogie Nights were also famous movies for Reynolds, with his depiction of adult film director Jack Horner earning him an Oscar nomination. A Michigan native transplanted to Florida, he was an American football player in his youth, but switched to acting after a knee injury was aggravated by a car accident.
Inequalities in gender pay require more women at the top of economic agencies and in parliament,
the shadow assistant treasurer, Andrew Leigh has said
. In a speech to the Women in Economics Network in Melbourne today, Leigh will argue part of the reason the gender gap and inequality in the tax system is not being addressed strategically is because women aren't in sufficiently senior positions such as treasury secretary, Reserve Bank governor, or ACCC boss. "We need to change that," Leigh will say Friday. "Good policies for women are more likely to emerge when there are more women in the room".
Russia has come under a sustained barrage of almost universal condemnation as nations lined up at the UN security council in New York
to decry its role in the novichok poisonings in the UK. Led by the UK ambassador to the UN, Karen Pierce, a host of governments turned on Moscow. She accused Russia of "playing dice with the lives of the people of Salisbury". She said: "This is a direct challenge to the rules-based international system," she said, adding that Moscow worked "in a parallel universe whether the normal rules of international affairs are inverted". Russia's ambassador responded by accusing the UK of putting out "repeated lies" about Russia's development of novichok, and called the British case against the two Russian intelligence officers an "unfounded and mendacious cocktail of facts".
Australia's regional authority and influence is being eroded
by its refusal to address the threat climate change poses to many of its Pacific neighbours,
a leading climate scientist has warned
. Australia faced criticism at the Pacific Islands Forum in Nauru on Wednesday for attempting to water down a collective statement on the severity of the threat, with Tuvalu's prime minister Enele Sopoaga singling out Australia as responsible. "I hear it from Pacific leaders all the time," said Dr Bill Hare, a former IPCC lead author, "they are fighting to save their countries and their people and they cannot understand why the Australian government leadership can't see the problems they've got."
Ninety per cent of government staff believe Australia is failing to meet its domestic and international obligations to protect threatened species,
a survey of relevant department workers has found
. In a submission to a Senate inquiry investigating Australia's high rate of fauna extinctions, the Community and Public Sector Union survey found that staff "generally thought the government's performance was poor or very poor", a finding exacerbated by a reduction in the division's staffing by almost one-third, following a 25% budget cut in May. Less than 40% of Australian species have a national recovery plan, with those that do "often not utilised to the extent they should be", the survey concluded.
Sport
Spanish rider Jesús Herrada of Confidis has blown open the Vuelta a España
on stage 12 taking the overall leader's red jersey,
after finishing in a breakaway nine minutes ahead of previous leader Simon Yates
. The Vuelta now heads into three big mountain stages.
Seven years since an ignominious 186-point loss to Geelong,
Melbourne head into an elimination final with the Cats looking an entirely different prospect,
writes Jonathan Horn
. "The scale of the losses, the haemorrhaging of talent and the all-round awfulness of it all was unprecedented."
Thinking time
Germaine Greer's comments in May on the subject of rape attracted worldwide headlines,
including the suggestion that the punishment for rape should be reduced. Speaking at a literary festival in Hay, the full nuance to Greer's statements was yet to come, and it now has in the form of a small book called On Rape.
Guardian Australia asked four experts in the field of sexual assault to read and respond to Greer's essay
, and they have, with mixed results.
After the Salisbury novichok attack
Nato countries and Australia
need to seriously examine their chemical defence capabilities, especially for attacks on urban areas,
writes chemical weapons expert Hamish de Bretton-Gordon
. "What if the Salisbury attack had taken place in a mega city like Sydney? Let's say for a start the Central Business District is cordoned and unusable for six months. Millions terrified to go into the city and a 35% reduction in business takings, with millions of tourists avoiding visiting."
Nike's ad campaign with NFL player Colin Kaepernick has drawn furious response from many consumers,
but is the marriage between a prominent civil rights activist and a corporation a harbinger of 21st-century activism, or a case study in capitalist co-option,
ask Ben Carrington and Jules Boykoff?
"To be sure, Nike is riding the zeitgeist of athlete activism, not creating it. We're in the throes of what the scholar-activist Harry Edwards has called a 'fourth wave of athlete activism'", they write. "Nike may be amplifying a courageous voice of dissent, but we should also recognise that it's in its economic interest to do so."
Media roundup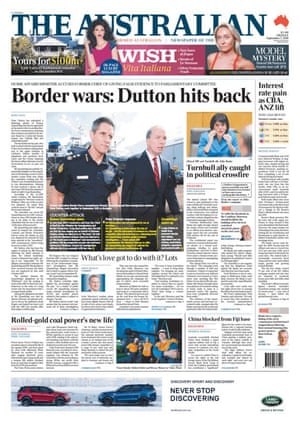 Several major mastheads, including the
Australian
, have led
with the war of words between Peter Dutton and former Border Force commissioner Roman Quaedvlieg
, after Quaedvlieg's submission to a Senate inquiry that Dutton's chief of staff contacted him about an au pair's visa for "the boss's mate in Brisbane".
The
Age
reports that
a man in his 40s died on a construction site in Melbourne
after a tub of concrete fell from a crane on Thursday, with unions calling for the crane company to cease operation.
And, the
Daily Telegraph
features
insider accounts of the darker side of being a super yacht stewardess
, following the death of 20-year-old Sinead McNamara on a super yacht in Greece.
Coming up
A Snap Climate Rally with the slogan Kick Coal Out of Politics will be held in Melbourne tonight as part of the worldwide Rise for Climate protests this weekend.
Nigel Farage will completes his speaking tour of Australia in Melbourne.