---
Good morning, this is Richard Parkin bringing you the main stories and must-reads on Thursday 9 August.
Top stories
The US will impose sanctions on Russia over the use of the nerve agent novichok against the former Russian spy Sergei Skripal and his daughter Yulia in Britain.
The Skripals fell ill in March and the UK accused Russia of being behind the attack, something the Kremlin denies. The
state department said the sanctions would be imposed because the use of a chemical weapon is a violation of international law
.
Two other Britons were exposed to the nerve agent in June, after picking up what looked like a perfume bottle in a park. Dawn Sturgess, a mother of three, died, while the three others recovered. After a 15-day congressional notification period, the US sanctions will take effect on or around 22 August.
Qantas and Virgin Australia face increasing public pressure to refuse to take part in the forced removal of asylum seekers,
as more than 60 high-profile business, human rights and trade union leaders
call on the carriers to follow boycotts by other airlines around the world
. An open statement signed by the former human rights commissioner Gillian Triggs, the author Thomas Keneally and the union leader Sharan Burrows urges the airlines "to discharge their responsibility" to "not participate in deportations where there is evidence that the fundamental human rights to an adequate legal process have been denied". A spokesman for Qantas told Guardian Australia: "The government and courts are best placed to make decisions on complex immigration matters, not airlines."
A dramatic increase in foreign aid has seen China surpass Australia and the US as the largest donor to the Pacific region,
with Beijing pledging $4bn last year for infrastructure projects
, most notably in Papua New Guinea where it has offered $3.5bn for a national roads project. It follows news of a marked reduction in Australian aid to the Pacific, sparking unease about China's growing influence.
Iran's ambassador to the UN has accused the US of violating a security council resolution
after
the introduction of "biting" sanctions that have already earned the ire of the EU and Russia. Donald Trump's measures constitute "a serious breach of [the US's] legal obligations under the United Nations charter", says Gholamali Khoshroo. "The international community must act in the face of this international intimidation and affront towards the international legal order."
The WikiLeaks whistleblower Chelsea Manning has described Donald Trump as "not an aberration" but the "inevitable conclusion" of US politics,
in the lead-up to a speaking tour to Australia next month
. Discussing the "legitimate threat" of rising far-right movements in the US, Manning urged citizens to push back against the extensive powers of police and national security agencies: "The only political decisions we make in our lives are not just voting or signing a petition or going out to a protest – every single thing that we do, in essence, can be a political decision."
Seven high-profile Aboriginal organisations across NSW have banded together to demand a "new agenda" for Aboriginal rights,
with a march on state parliament today
focusing on "self-determination and a better deal". "We want to send a clear message to parliament," the newly appointed chair of the prime minister's Indigenous Advisory Council, Roy Ah See, told Guardian Australia. "Walk with us. Talk with us. Sit with us. Cannot get any simpler than that."
Sport
The English Premier League returns this weekend amid a flurry of transfers,
with Chelsea paying a world-record transfer fee for a goalkeeper
with the £71.6m capture of Atletic Bilbao's Kepa Arrizabalaga
. Manchester United's frustrated transfer window continues
with Jérôme Boateng rejecting a potential move
. Keep up with
all the latest transfer news here
.
A court has heard that English cricket international Ben Stokes was the "main aggressor"
in a late-night street fight in Bristol
that has seen the former vice-captain and two other men charged with affray after Stokes knocked a man out to the ground with a punch.
Footage of Stokes mocking a
gay couple
earlier in the evening has emerged. The trial continues.
Thinking time
"I am so sick and tired of trying to be a 'cheerful' poor person," says Nijole Naujokas,
a 34-year-old from Adelaide
writing in Guardian Australia's Life on the breadline series
. Naujokas thinks the language used regarding those that access Newstart is especially damaging. "It's amazing how much a failure one feels when you hear this kind of language on a daily basis ... I am keenly aware of the words used by politicians and the media that I believe are very deliberately chosen to make the poor feel like shit. It dehumanises us."
Def Leppard may have passed into the heritage rock business but that business is still booming,
writes Michael Hann, who sat down with frontman Joe Elliot,
detailing the band's enduring positivity despite cancer, car crashes and battles with alcoholism. Thanks to their 1987 album, Hysteria, Def Leppard still tour arenas and interest in the band is high once again. Elliot talks through having to sack guitarist Pete Willis because of his drinking, and drummer Rick Allen's path back to music after losing an arm in a car crash.
Paternity leave is a "win-win, for parents and children",
says Sydney's Kevin Co in the fourth of our Men at work series
, whose company's generous paternity leave scheme enabled him to take three months off work with full pay to care for his two daughters. "Friends, people from my generation, were quite envious I was able to take this leave. My parents wanted to know: 'What does it mean for your job?'" he told the Guardian. He was honest about the difficult parts: "The older one is good at sleeping and not good at eating, the younger one is the opposite. The time flies. Before I realise, it's five o'clock in the afternoon and the house is a mess."
Media roundup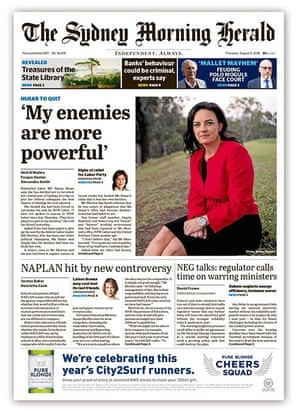 The chairwoman of National Australia Bank's super trustee company Nulis
has faced a torrid second day at the banking royal commission
, with the bank facing potential criminal charges after the revelation it charged more than $3m in fees to dead customers, reports the
Australian
. The beleaguered NSW Labor MP Emma Husar's decision to not contest her seat of Lindsay at the next federal election is
the best the party could hope for amid increasingly rancorous infighting
, writes the
Sydney Morning Herald
. And
five Australians have been stripped of their citizenship
after allegedly engaging in fighting in Iraq and Syria, reports the
Daily Telegraph
.
Coming up
Julie Bishop and Concetta Fierravanti-Wells are in Samoa for the Pacific Islands Forum foreign ministers' meeting.
Refugee supporters will protest at Qantas and Jetstar offices in Melbourne and Sydney.