---
Top stories
The Dutton camp is continuing to foment the Coalition's leadership crisis,
with ministers who supported the former home affairs minister in Tuesday's snap leadership ballot
tendering their resignations as a prelude to a likely second challenge
. The prime minister has accepted the resignation of Peter Dutton and international development minister Concetta Fierravanti-Wells, who wrote a scathing letter saying conservative voters felt their voice had been "eroded". It has not yet been confirmed whether Fierravanti-Wells, Angus Taylor, James McGrath and Zed Seselja will also depart the ministry.
Despite Malcolm Turnbull winning an internal party room ballot 48-35, a second challenge appears a near certainty, although Dutton's path to power could be complicated by crossbench MPs,
who have refused to say whether they would guarantee confidence or supply in the event of a Dutton-led government
.
Away from Canberra, Peter Dutton faces a significant image issue with the Australian people,
with the member for Dickson described by voters from his own electorate as "cruel", "hard" and "uncompromising"
, recent focus groups commissioned by GetUp have found. "The idea that Peter Dutton is popular with Queensland voters is not borne out in his own electorate, and we've seen that in the hundreds of conversations we've had in the electorate and in our focus groups," GetUp's Queensland director, Ellen Roberts, said.
Brexit negotiations between the UK and the EU have entered "the final stage",
with London and Brussels agreeing to hold "continuous" talks
. With an autumn deadline set, new Brexit secretary Dominic Raab has named October as the likely date for final agreement, with his EU counterpart Michel Barnier suggesting November. Discussions on foreign policy and security are "far more advanced" than economic matters, Barnier has said, but the issue of the Irish border remains highly charged. The status of 3 million EU citizens living in the UK also remains unresolved.
Past and present Aboriginal and Torres Strait Islander social justice commissioners have set a concrete timeline for constitutional reform within five years,
saying it's time to stop "endlessly discussing" and commit to "action that would allow Indigenous Australians to take a rightful place in our nation". Current commissioner, June Oscar, and her four predecessors all signed the submission, which calls for the establishment of a national voice and a truth and reconciliation royal commission. "We are hoping our submission, based on more than two decades of advocacy, offers a pathway forward," Oscar said.
Another mass shooting in Australia is "only a matter of time",
according to an official from Australia's largest gun group
. Cyril Peel, a long-standing range officer from the Sydney branch of the Sporting Shooters' Association of Australia, was stood down by the organisation in May over what he says was his decision to raise concerns about the "aggressive" behaviour of another gun club member at a firing range. The NSW Firearms Registry has been warning clubs to be vigilant about reporting new members who seem overly keen to get their hands on a gun or show signs of mental illness since the shooting death of two teenagers by their father in Sydney last month.
Sport
Melbourne Victory have become the latest A-League club to be knocked out of the FFA Cup by amateur opposition,
after
Sydney club Apia Leichhardt's surprise 3-2 victory late Tuesday night
. In Queensland, defending champions Sydney FC also survived a narrow scare, coming from 1-0 down to win 2-1 against Cairns FC. Meanwhile, Olympic champion
Usain Bolt has completed his first training session with the Central Coast Mariners
, in front of a massive media contingent.
England have survived until stumps on day four of the third Test against India at 9/311,
chasing a record total of 521 to win. It's unlikely the home side will go on to win, but
Jos Buttler's maiden century may yet salvage a draw
if inclement weather arrives on day five.
Thinking time
Guy Pearce – who went from Ramsay Street to Hollywood
–
sits down with the Guardian to discuss fame, family pressures, and fatherhood at 50
. These days he splits his time between Melbourne, where he often works, and Amsterdam, where his one-year-old son lives. Since 2012, Pearce has been playing the private investigator Jack Irish on Australian TV, and now he is in a new Netflix drama, The Innocents, a supernatural thriller set in Yorkshire, London and Norway. Pearce reveals he and Jason Donovan, who he starred with on Neighbours, are still "really close" friends. "We went to Kylie's 50th a few months ago, which was the first time the three of us had got together." Do they call her Charlene? He smiles. "No, I wouldn't do that with Kylie. But Jason and I take the piss."
Patients die from their disease but also because of negligence, arrogance and miscommunication.
More than coming to the correct diagnosis or knowing what drug to prescribe, the hardest part of being a doctor is asking for help and not putting presumptions ahead of patient welfare,
says oncologist Ranjana Srivastava
. "To doubt one's every move as a doctor would compromise patient care but to never question it at all would be folly. It's tricky walking this line between the science and art of medicine but we must give ourselves permission to air our doubts, ask for help and never put our presumptions ahead of patient welfare."
Ruth Park's novel The Harp in the South caused uproar when it was first published in 1948.
Sydneysiders who turned a blind eye to the slums of their city didn't think its working-class inhabitants had stories worth telling. More than 70 years later, though, the
Sydney Theatre Company has revisited Park's sharp observations
about gender, class, national identity and racism and adapted Park's novel – and its prequel, Missus, and sequel, Poor Man's Orange – into an epic six-hour production, with a cast of 18 actors, an original musical score and more than 200 costumes. "It's funny. But it's very dark," says playwright Kate Mulvany, "and I think people were just horrified that a woman was out there going, 'This what I've seen; this is what I've lived.'"
Media roundup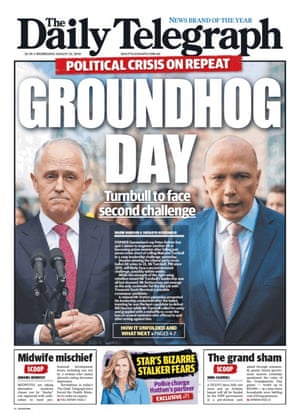 The major mastheads almost all lead with the leadership crisis embroiling Malcolm Turnbull, with the
Daily Telegraph
dubbing the saga Groundhog Day, political crisis on repeat
.
Queensland's Independent Education Union
has complained of a "very evident drift" of teachers
, as a staff-shortage continues to grip the state, reports the
Courier Mail
.
And, the Norther Territory's Gunner government
will attempt to arrest the territory's declining population with a one-off cash grant
to "new Territorians", writes the
NT News
, with more details to be revealed later today.
Coming up
Ride share drivers in Melbourne, Sydney, Brisbane, Perth, Adelaide and Hobart are expected to strike for two hours against Uber.
New Zealand deputy prime minister Winston Peters will address the National Press Club in Canberra.
Supporting the Guardian
We'd like to acknowledge our generous supporters who enable us to keep reporting on the critical stories. If you value what we do and would like to help, please
make a contribution
or
become a supporter today
. Thank you.