By David Goodman and Enda Curran
---
Some of the world's biggest central banks are taking baby steps on the path away from easy money despite uncertain inflation outlooks that suggest they need to tread more carefully.
The Bank of England raised interest rates last week to the highest since 2009, even as Governor Mark Carney fretted about the "uncomfortably high" chance of a hard Brexit. The European Central Bank, while worried about trade protectionism, is ending bond purchases and preparing for a possible rate hike next year. The Bank of Japan is sticking to a massive stimulus program amid feeble inflation but giving bond yields more room to rise.
"You've got three of the world's major central banks raising rates in spite of macro economics," Ralf Preusser, global head of rates strategy at Bank of America Corp. in London, told Bloomberg Television this week. "I struggle to remember a time when we've been in that kind of position. It's definitely new."
Only the U.S. Federal Reserve and Bank of Canada among Group of Seven central banks are facing the kind of economic strength and price pressures that typically warrant tighter money.
The global mood shift suggests officials are keen to start removing the emergency policy settings that dominated the last decade in a bet that solid global growth will soon ignite inflation. They worry that any delay risks creating side-effects in financial markets or leaving them without ammunition in the next downturn.
"We're several years post the financial crisis itself -- in general, central banks want to get back to something considered the new normal," said David Owen, chief European economist at Jefferies Group. "Inflation itself has proved difficult to generate, but there's more evidence of wages picking up. If you believe in the Phillips curve world then you've got to move before wages do decide to accelerate, otherwise you'll be raising rates much further."
The uncertain backdrop means selling any incremental tightening will be tougher for most central banks than for the Fed, which last week described U.S. economic activity as "
strong
" for the first time since 2006.
In the U.K., above-target inflation is a legacy of the pound's drop following the nation's vote to leave the European Union. Price gains were subsiding from their high even before the BOE's rate hike, and the future is clouded by the risk that the negotiations over the terms of the divorce from the EU will break down.
Policy makers reasoned that they had to act because the economy can't expand as quickly as it used to without generating unwanted price pressures. Carney said Britons must "reorient ourselves to the current realities," and there are "a few uncomfortable new normals."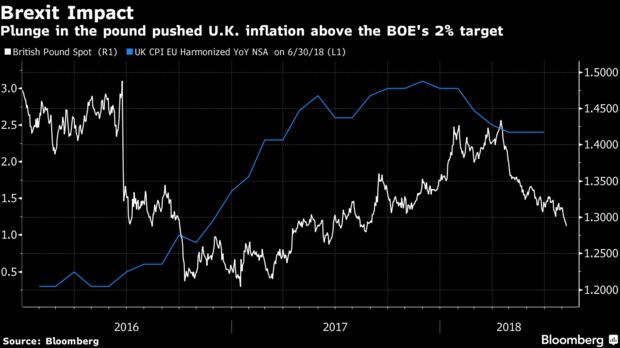 ECB officials are on the road out of crisis measures after years of digging deep into their policy toolkit. Their quantitative-easing program will top out at 2.6 trillion euros ($3 trillion) in December -- so large that it's running into self-imposed constraints in some markets on how many bonds it can buy -- and President Mario Draghi has opened the door to a possible rate increase before his term ends in October 2019. The key rate is a record-low minus 0.4 percent.
The ECB is effectively betting that the economy is finally building sustained price pressures, though that view comes with significant caveats. Much of the recent pickup in inflation is due to energy prices, and the underlying rate is still meager. The U.S. threat of damaging trade tariffs is on hold for now but could erupt again at any time.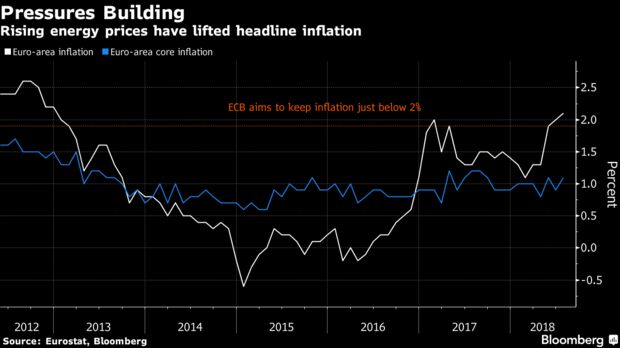 The BOJ has maintained lofty guidelines for bond buying while steadily reducing the pace of its purchases since late 2016. Although it has just added forward guidance to its policy statement for the first time, promising to keep low interest rates for "an extended period of time," it's also added more flexibility into its policy of yield-curve control. The likely outcome is 10-year yields rising as much as 20 basis points above its zero percent goal.
The changes come despite the board seeing the 2 percent inflation target as distant, and one policy maker stating that the possibility of the inflation rate increasing gradually toward that goal is "low."
"The situation is that fundamentally the BOJ should have eased more, but they've instead made adjustments to ease the impact from side-effects," said Nana Otsuki, chief analyst at Monex Inc. in Tokyo. "From here on, it'll be harder for the BOJ to make further changes.'
It could be that policy makers will never reach their goals.
"I strongly suspect that most central bankers in advanced economies have long accepted the new reality that a 2 percent inflation target is difficult to achieve on a lasting basis in a globalized and digitized world," said Joachim Fels, global economic adviser at Pacific Investment Management Co.
— With assistance by Yuko Takeo, and Matthew Miller