theguardian.com
German factory orders slump as trade war intensifies – business live | Business
---
Good morning, and welcome to our rolling coverage of the world economy, the financial markets, the eurozone and business.
Donald Trump's trade wars appear to be biting.
New data show that German factory orders slumped by 4% in June, the biggest fall in almost 18 months.
The decline was driven by weaker overseas demand, with orders from outside the eurozone slumping by 5.9%. Domestic orders dropped by 2.8%, while orders from other euro countries declined by 2.7%.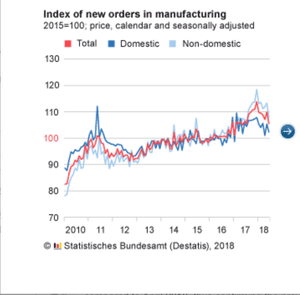 Orders for capital goods and consumer goods were particularly weak, falling 4.7% and 4.5% respectively.
This monthly data can be volatile, but such a big decline suggests that the tariffs imposed by America in recent months are hurting global trade.
Germany's Economy Ministry said that industrial orders fell by 1.6% in April to June, and singled out president Trump's politics, saying:
"Regarding the latest development, uncertainty caused by trade policy probably played a role."
Given the size of Germany's manufacturing base, this data may highlight wider problems building in the world economy...
I'll pull together some reaction now.
Also coming up.
HSBC, Europe's largest bank, has posted strong-looking results this morning. Pte-tax profits rose $10.71bn for the first half of the year, beating analyst expectations.
More on that shortly...
In UK retail, House of Fraser is pressing on with plans to shut more than half its stores after settling a legal row with a group of landlords last night. That breakthrough means the remaining outlets cold still be saved
We're also expecting the latest UK sales, plus a new survey of investor morale in the euro area.
European stock markets are expected to start the new week quietly, as the August lull kicks in.
The agenda
9am BST: UK car sales for July
9.30am BST: Sentix survey of eurozone investor confidence