theguardian.com
French GDP misses forecasts as strikes hold back growth - business live | Business
Graeme Wearden
---
Good morning, and welcome to our rolling coverage of the world economy, the financial markets, the eurozone and business.
France's economy has failed to accelerate.
New growth figures show that the eurozone's second-largest economy only grew by 0.2% in the second quarter of 2018.
That only matches the slow performance seen in the first three months of 2018, and is weaker than the 0.3% which economists expected.
The data highlights how Europe has lost momentum this year, after a rollicking 2017.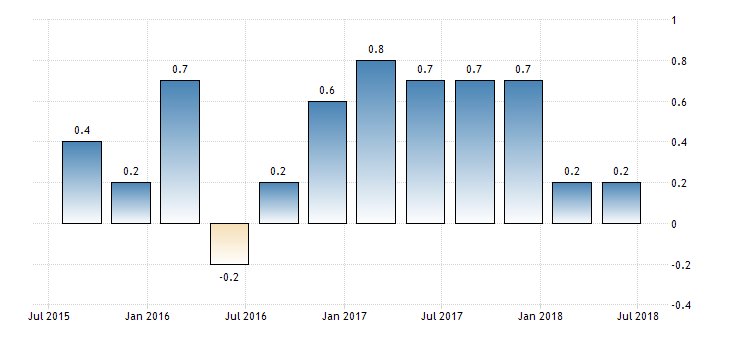 INSEE, the statistics body, says household spending fell in the last quarter.
Trade also held back growth, with imports growing faster than exports:
Household consumption expenditures faltered slightly (−0.1% after +0.2%), whereas total gross fixed capital formation recovered sharply (GFCF: +0.7% after +0.1%). Overall, final domestic demand excluding inventory changes contributed as much to GDP growth as in Q1 (+0.2 points).
Imports bounced back this quarter (+1.7% after −0.3%) as did exports to a lesser extent (+0.6% after −0.4%). All in all, foreign trade balance contributed negatively to GDP growth, −0.3 points, after a neutral contribution in Q1. Conversely, changes in inventories drove GDP on (+0.3 points after 0.0 points).

More details to follow...
Investors are also desperate to learn how well America's economy performed in the last quarter.
US GDP, due at 1.30pm UK time is likely to show impressive growth, as president Trump's tax cuts stimulate the economy.
White House economic adviser Lawrence Kudlow told the markets to expecting a "very good" number - that could mean an annual growth rate over 4%.
Also coming up today
Amazon has brought some calm to the markets last night by beating profit forecasts.
The e-commerce giant racked up record revenues in the quarter, and made twice as large a profit as investors expected.
On a conference call with investors, Brian Olsavsky, the company's chief financial officer, cited growth in Amazon's "most profitable areas", particularly the cloud-computing division, Amazon Web Services (AWS).
Olsavsky also pointed to the company's advertising products as contributing to gross profit while "growing at a rapid clip"
That made up for Facebook's shocking performance a day earlier, which prompted the biggest one-day loss in Wall Street history.
The agenda:
6.30am BST: First estimate of French GDP in the second quarter of 2018
1.30pm BST: First estimate of US GDP in the second quarter of 2018