This week Google proudly announced it was working on a feature that would allow smartphones to make phone calls on behalf of its owner. This will make life easier when it comes to making restaurant reservations while on the go, the tech giant claimed. But Google Duplex, powered by Google's smart natural language processing machines, has prompted heated debate. [The Verge]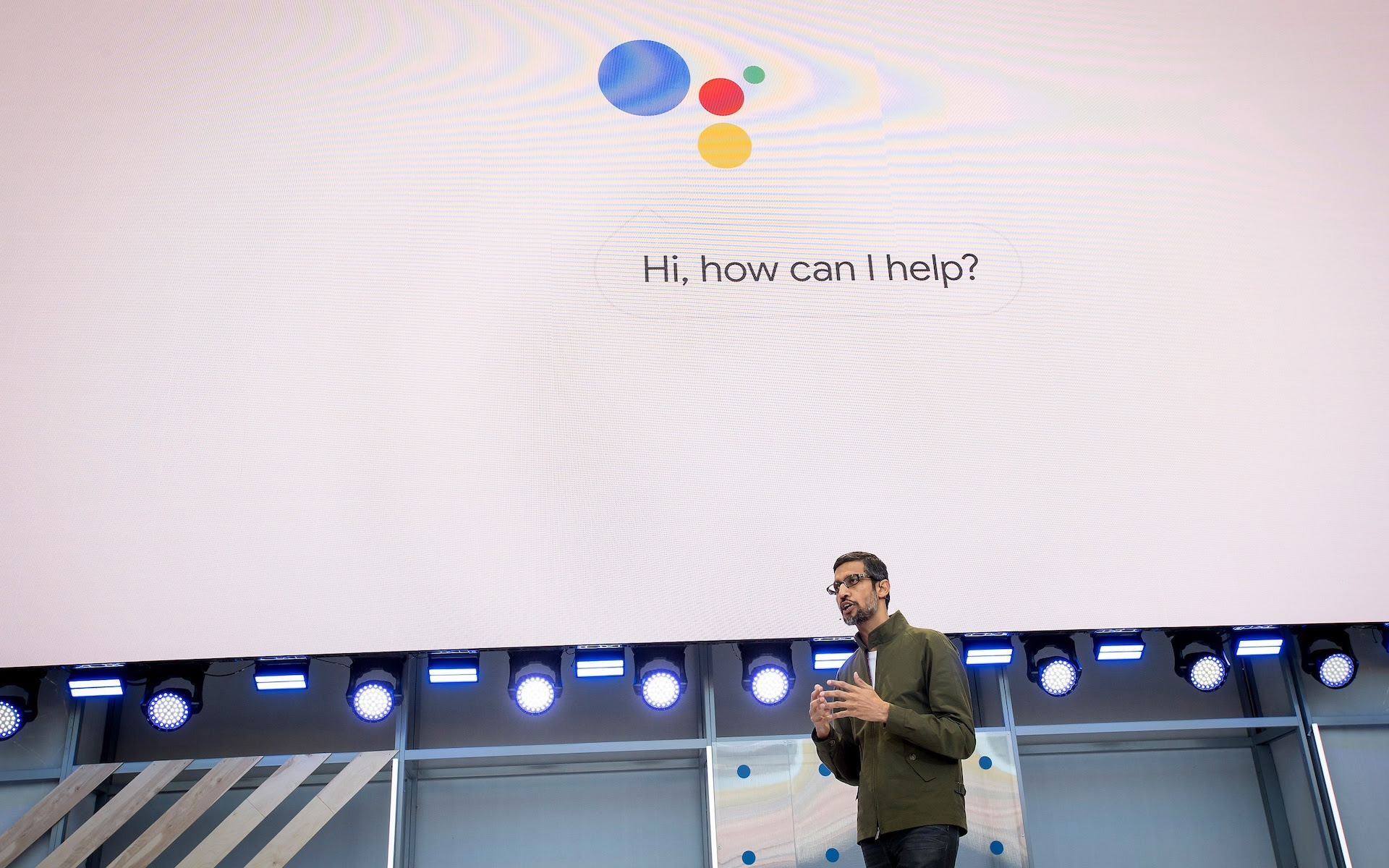 Google chief executive Sundar Pichai reveals new Android features at Google's I/O conference
ALL IN FAVOUR SAY AI Google demonstrated how Duplex could prolong a conversation, potentially fooling the person on the other end of the line by using typical human mumblings and a sprinkling of "umms" and "ahhs". Although impressive, many have questioned the ethics of misguiding staff and accusing the company of eroding the social fabric of society. Why don't restaurant staff deserve our own, human attention, one journalist opined. GOOGLE'S RESPONSE Last night the search giant came out in defence of its product. "We understand and value the discussion around Google Duplex - as we have said from the beginning, transparency in the technology is important," a Google spokesman said. "We are designing this feature with disclosure built-in, and we'll make sure the system is appropriately identified. What we showed at I/O was an early technology demo, and we look forward to incorporating feedback as we develop this into a product."
UK'S LARGEST TECH IPO
The story | Czech-based cyber security firm Avast's London float is the largest of its kind in the City, netting founders £209m [Telegraph]

What's new? | Shares fell by as much as 5pc yesterday as Avast commenced trading in London, even though the company slashed its offer price ahead of its listing.

Further reading | Vince Spreckler, Avast's chief executive was caught up in an accounting scandal in a previous life.
DROPBOX OPENS UP
The story | Dropbox beats forecasts in maiden results as paying subscribers jump 24pc [Telegraph]

Telegraph take | Dropbox said the number of subscribers opting for paid-for versions of its cloud-based software jumped 24pc in the first quarter of 2018, in what was a maiden set of results for the company since going public. The San Francisco-based group said paying users hit 11.5 million in the three month period, up from 9.3 million the same period a year earlier, and it made $114.30 (£85) in revenue from each of those users on average, compared to $110.79 last year. [Dropbox]

Further reading | The debut saw Dropbox's co-founder Arash Ferdowsi's net worth hit $1.1bn, becoming the second billionaire within the Dropbox team, after fellow co-founder and chief executive Drew Houston. Read how Houston turned down Apple to make his own billions. [Telegraph]
HIDDEN MESSAGES
The story | Researchers in China and the US claim to have sent hidden commands that are undetectable to the human ear to Apple's Siri, Amazon's Alexa and Google's Assistant, making them dial phone numbers or open websites. [New York Times]

Telegraph take | The academics were able to hide commands in white noise played through YouTube videos, which forced smart devices to turn on airplane mode or open a website.

Further reading | Cyber criminals of the future could use this to lure those watching videos to accidentally visit malware-laden sites. Or advertisers could send inaudible messages to lead us to online marketing campaigns. Cast your mind back to when Burger King was able to activate Google Home speakers through a TV advert. [Telegraph]
Who wants to live forever?
A startup focused on creating anti-ageing and life prolonging technologies, Forever Labs, has received funding to further its controversial cryogenic freezing plans [Fast Company]
| | | |
| --- | --- | --- |
| Do you know someone who would love this email? | | |
Yesterday Apple announced it would ditch plans to open a datacentre in Ireland, following local opposition. It is the latest is a series of setbacks for the tech giant's plans in the Republic. Here are your comments.
"Why doesn't Apple set up a data centre in the soon to be EU-free UK? "
Michael Garratt
"As if a sovereign country's corporation tax can be decried as state aid. It is absurd as saying a reduction in income tax is a state handout."
David Glover
"Why would we want a company that avoids paying taxes?"
Finn Rancid
Have your say to join the debate
Spotify has removed singer R Kelly's music from all of its playlists under a new hateful conduct policy, stating it would not "actively promote" artists whose behaviour does not "reflect our values". The American artist has been accused of sexual misconduct and assault by a string of women, all of which he has denied. [Telegraph]