theguardian.com
German economy slows as weak trade bites - business live | Business
---
07:34
German growth slows as trade weakens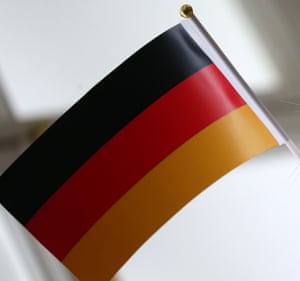 Newsflash: Germany has suffered a growth slowdown after being hit by weak trade.
The eurozone's largest economy expanded by just 0.3% in the first three months of this year, official figures show.
That's a sharp slowdown compared to Germany's 0.6% in the final quarter of 2017. It is also below the 0.4% which economists had expected.
The Federal Statistics Office says:
The German economy continued to grow at the beginning of the year, though at a slower pace.

The slowdown was triggered by
"less dynamic" foreign trade
, as "both exports and imports decreased compared with the previous quarter".
Government spending
also fell, for the firs time in five years, dragging growth back.
But
capital investment
did rise during the quarter, suggesting companies are still investing in equipment and factories.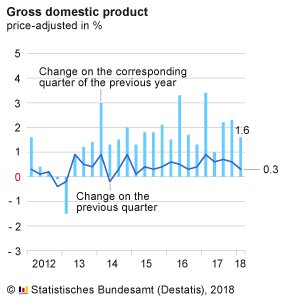 Although Germany is obviously still growing, these figures do indicate that the eurozone economy has lost some steam in recent months.
They also suggests that fears of a trade war, triggered by Donald Trump's tariffs on steel and aluminium, are causing worrying ripples in the global economy.
Reaction to follow....
Updated
07:19
The agenda: UK wage data, eurozone growth update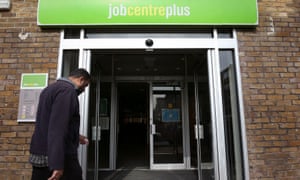 Good morning, and welcome to our rolling coverage of the world economy, the financial markets, the eurozone and business.
Today we get a new healthcheck on Europe's economy, with a fresh estimate of eurozone GDP for the first three months of this year, plus growth figures from
Germany
, Italy and the Netherlands.
Last month's 'flash' data showed the eurozone economy grew by 0.4% - investors will be concerned if this is revised downwards today.
Britain's labour market is also in focus. The latest unemployment figures are expected to show the jobless rate remains at just 4.2%, its lowest level in over 40 years.
But will there be any progress on wages? Economists predict that basic pay growth rose to 2.9% in the first three months of this year - up from 2.8%.
A strong reading might give the pound a lift, and reignite speculation that interest rates might rise in August.
Jasper Lawler
of
London Capital Group
says:
Given that inflation in March was 2.5%, wages growth of 2.9% or higher would be an encouraging sign that domestic inflation will slowly start to pick up, potentially reviving the possibility of a Bank of England rate rise later in the year and pushing sterling back towards $1.37.

Traders will also be tracking events in Italy, where talks to form a new government are still continuing.
The agenda:
7am BST: First estimate of German GDP in Q1 2018
8am BST: First estimate of Italian GDP in Q1 2018
8.30am BST: First estimate of Netherlands GDP in Q1 2018
9.30am BST: UK unemployment and wage growth figures for January-March 2018
10am BST: Updated estimate of eurozone GDP in Q1 2018
10am BST: ZEW survey
Updated