theguardian.com
Carillion roasted over 'rotten corporate culture'; Japan's economy shrinks - business live | Business
---
Good morning, and welcome to our rolling coverage of the world economy, the financial markets, the eurozone and business.
Four months after
UK outsourcing group Carillion spectacularly collapsed
, the people behind its demise are being held to account.
A truly damning parliamentary report released today has concluded that recklessness, hubris, greed and incompetence contributed to the demise of the company, which ran major construction projects and operated public services including school meals and cleaning.
It shows that accounting tricks and a relentless squeeze on contractors also helped
Carillion
to disguise its financial position - until it blew up in January with a £2.6bn pension black hole, and £2bn of debts.
The report says:



Carillion used aggressive accounting policies to present a rosy picture to the markets. Maintaining stated contract margins in the face of evidence that showed they were optimistic, and accounting for revenue for work that not even been agreed, enabled it to maintain apparently healthy revenue flows.
It used its early payment facility for suppliers as a credit card, but did not account for it as borrowing. The only cash supporting its profits was that banked by denying money to suppliers. Whether or not all this was within the letter of accountancy law, it was intended to deceive lenders and investors. It was also entirely unsustainable: eventually, Carillion would need to get the cash in.
The report sweeps aside Carillion's claim that it was a victim of bad luck, and delays to some major contracts. Instead, it labels the company as "a giant and unsustainable corporate time bomb", adding:
My colleague Rob Davies explains:



A damning 100-page report compiled by two select committees, published today, found that directors

prioritised senior executive bonus payouts

and dividends for shareholders even as the firm neared collapse, while

treating pension payments as a "waste of money"

.

Frank Field, who chairs the work and pension committee, said: "Same old story. Same old greed. A board of directors too busy stuffing their mouths with gold to show any concern for the welfare of their workforce or their pensioners."
Almost nobody emerges from this report with any credit.
The directors come out of it particularly badly

. The report is pockmarked with heavy criticism - they are accused of being 'negligent', ' delusional' and reckless in their running of the company.The MPs say Carillion unacceptably used its own suppliers to "prop up their failing business model", while top bosses banked large salaries which will cushion them from the company's collapse. Unlike the rest of the company, who face reduced pensions thanks to the £2.6bn pension black hole left behind.
MPs want the Insolvency Service to give serious consideration to disqualifying them.
Carillion's board are blamed for allowing a rotten corporate culture to develop, and for not challenging management as debts rose.

Carillion's auditors, KPMG, are also in the dock for a string of failures.

They failed spotting the problems at Carillion, and have an unheathily close relationship with their customers, the MPs say.

The regulators are accused of timidity

, and a passive mindset that means they didn't get involved until too late.
MPs also point the finger at themselves - well, successive governments, anyway, who have demanded cheap services from outsourcers, not quality.
But there's one exception: finance director Emma Mercer is credited with speaking the truth and challenging the status quo as she uncovered Carillion's practices in 2017.
They say:



Emma Mercer is the only Carillion director to emerge from the collapse with any credit. She demonstrated a willingness to speak the truth and challenge the status quo, fundamental qualities in a director that were not evident in any of her colleagues.
Her individual actions should be taken into account by official investigations of the collapse of the company. We hope that her association with Carillion does not unfairly colour her future career.
The MP's conclusion is that serious changes are needed, to avoid another UK company - and its customers and staff - suffering Carillion's fate.
They say:



Carillion was the most spectacular corporate collapse for some time. The price will be high, in jobs, businesses, trust and reputation. Most companies are not run with Carillion's reckless short-termism, and most company directors are far more concerned by the wider consequences of their actions than the Carillion board.
But that should not obscure the fact that Carillion became a giant and unsustainable corporate time bomb in a regulatory and legal environment still in existence today.
The individuals who failed in their responsibilities, in running Carillion and in challenging, advising or regulating it, were often acting entirely in line with their personal incentives. Carillion could happen again, and soon. Rather than a source of despair, that can be an opportunity.
The Government can grasp the initiative with an ambitious and wide-ranging set of reforms that reset our systems of corporate accountability in the long-term public interest. It would have our support in doing so.
I'll be mopping up reaction to the report through the day.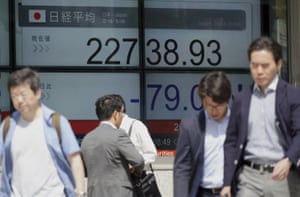 Also coming up today:

Worries about the global economy are

b

uilding after

Japan

suffered its first economic contraction in two years.

Japanese GDP shrank at an annualised rate of 0.6% in the last quarter, new figures show, with consumer spending and business investment both down. It ends Japan's longest expansion since the 1980s.

More on that shortly...

Investors are getting edgy about the prospect of several more US interest rate rises this year. Last night the Dow Jones industrial average shed almost 200 points, as traders worry that the era of easy money is over.

In the eurozone, new inflation figures will probably confirm that prices only rose by 1.2% in the last year - below the target. Plus, new US housing and oil inventory statistics might move the markets
Here's the agenda:
10am BST: Eurozone consumer price inflation figures for April
1.30pm BST: US housing statistics
3.30pm BST: US weekly oil inventory figures