theguardian.com
'I learned a lot. Isn't that a good thing?': Corbyn defends meeting with controversial Jewish group - Politics live | Politics
---
14:41
Summary
Jennie Formby, Labour's new general secretary, has marked her first day at work today by emailing party members saying "the stain of antisemitic attitudes must be completely eradicated within the Labour party". This is from the Independent's Ashley Cowburn.
That's all from me for today, I'm afraid. I need to head off early.
Hopefully I'll be back to normal tomorrow.
14:15
Government announces £170m aid package for Yemen
Ministers have committed to spend £170m over the next year on humanitarian aid in Yemen, the Press Association reports. The Arab world's poorest country is in the grips of a stalemated war and what the UN calls the worst humanitarian crisis, with 22m people needing aid. The new UK aid package will provide life-saving food, medicine, clean water and sanitation to millions of Yemenis facing disease and hunger. The announcement follows pledges by Saudi Arabia and the United Arab Emirates to give $930 million (£505m) to US humanitarian efforts in the country.
Making the announcement at a UN event in Geneva on the crisis
,
Alistair Burt,
the minister for the Middle East, said:
There can be absolutely no room for complacency in tackling the world's worst humanitarian crisis.
With no end to the conflict, the situation will deteriorate with the number of men, women and children at risk of starvation at an all-time high.
That's why UK aid will provide enough food to meet immediate needs for 3.4m people, and buy fuel to mill enough wheat to feed a million people for over a year.
Our support will continue to improve nutrition and access to clean water and sanitation across the country.

As the Press Association reports, the Yemen conflict has so far killed more than 10,000 people over the past three years. The conflict has its roots in the failure of a political transition supposed to bring stability to Yemen following the Arab Spring uprising.
Disillusioned with the transition, many ordinary Yemenis supported rebels, known as Houthis, who took over Sanaa in late 2014. In 2015, an assault by Houthi rebels on the city of Aden prompted a Saudi-led multinational coalition to launch a military campaign.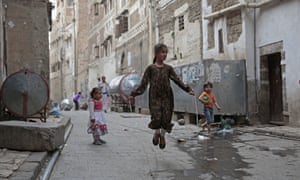 13:38
In the comments
UniversalCynic
recommends
this Huck article
by my Guardian colleague
Owen Jones
on the Labour antisemitism issue. This is how it starts.
A small minority of people on the left hold anti-Semitic views. A wider group of people deny that this anti-Semitism exists at all. Right-wing elements within the Labour Party, as well as the Conservative Party and the right-wing press, are weaponising the issue to attack Jeremy Corbyn's leadership. All three of these statements are true. That doesn't mean the first two statements are not deeply troubling. They are, and together they reveal a crisis of political education in the labour movement and the left as a whole which must urgently be addressed.

12:57
At a crowded lobby briefing, political journalists got their only chance this week to quiz the Number 10 spokesman face-to-face.
Theresa May will embark on a round of shuttle diplomacy to Scandinavia next week, meeting the Danish and Swedish leaders to discuss a range of issues including Brexit and the Russian security threat. The prime minister's spokesman stressed the need for a "proportionate" response to Russia after foreign minister Sergei Lavrov suggested relations with the West were now worse than during the Cold War.
Asked about
the knife crime murder rate,
he said:
These are all tragic cases and thoughts are with the families of the victims. There can be no place in our society for violent crime. The government is determined to do everything can to break the cycle.

He was rather lukewarm, however, about outgoing DPP Alison Saunders, referring only to her "long and distinguished" career with the CPS when asked whether the PM thought she had done a good job.
Marking the second anniversary of the imprisonment of Nazanin Zaghari Ratcliffe in an Iranian prison, the spokesman said:
We remain committed to supporting Nazanin Zaghari Ratcliffe and her family and on the second anniversary of her arrest we continue to approach her case in a way most likely to secure the best outcome.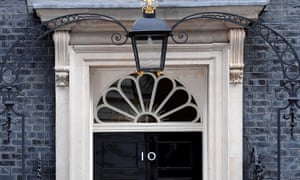 12:51
'I learned a lot - Isn't that a good thing?' - Corbyn defends meeting with controversial Jewish group
Jeremy Corbyn
has been speaking to reporters in Swindon about the Jewdas row. He did not take questions for long, but he defended his decision to attend last night's event. He told reporters:
It wasn't a meeting last night, it was a Seder event, which is a celebration of Passover, which I celebrate with young Jewish people from my own community and my own constituency. It was very interesting talking to a lot of young people about their experiences of modern Britain and I learnt a lot. Isn't that a good thing?

Corbyn was polite, but he did not sound happy about the line of questioning he was facing and he slipped into the passive-aggressive mode familiar anyone who has watched a lot of his encounters with the media. (Ending answers with a question positing his reasonableness is a classic Corbyn tic. It often works quite well.)
He also reaffirmed his commitment to tackling antisemitism. He said:
Anti-Semitism is a vile and evil thing within our society at any level, anywhere, at any time. It has got to be eradicated wherever it arises.
If it arises in my party then we have a process for dealing with it. We examine each case and if someone has committed any anti-Semitic act they are suspended and could be expelled as a result of it.
We are very clear about that and very clear in the whole of our society we cannot accept anti-Semitism in any form or indeed any other form of racism in our society.
Communities working together achieve things together, communities divided don't.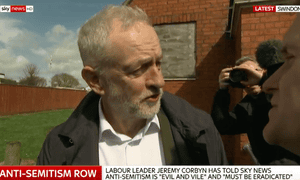 Updated
12:34
What Jewish leaders, activists and commentators are saying about Corbyn's attendance at Jewdas event
Our main story about the row about Jeremy Corbyn;'s attendance at the Jewdas Seder last night is
here.
It contains quite a lot of reaction, but here is some more.
From Jonathan Arkush president of the
Board of Deputies of British Jews
Charlotte Nichols
, Young Labours' women's officer, uses
an article for LabourList,
to commend Corbyn for attending the Jewdas event.
Last night I attended a Seder to celebrate the Jewish festival of Pesach (Passover), held in Islington by a group called Jewdas. Before the fourth cup of wine had even been drunk, a story appeared on the right-wing

Guido Fawkes

blog, painting those who attended as extremists and the Twittersphere went into meltdown. Why? Because

Jeremy Corbyn

came to celebrate with us.

Jeremy could not have been a more gracious guest. Anyone who knows anything about the Passover Seder knows that it is not a quick event. It lasted over four hours, with Jeremy an active participant from start to finish, leading the prayer for Elijah's cup, singing along with us as best he could, and even bringing along beetroot from his own allotment for our (vegan) Seder plate. He made an effort to speak to anyone who wanted to speak to him, about anything, and stayed long after the event to make sure that no one who wanted a picture left without one despite being obviously tired.

Now, with everything happening in the

Labour

Party, including Jeremy's own inability in the past to identify and challenge antisemitism, and the party's institutional failing to get a grip on it, you would think this would be something to be commended. While Jewdas are a left-wing group of predominately young Jewish people, those wishing to demonise Jeremy Corbyn have painted a deeply offensive and misrepresentative picture of the group as somehow antithetical to the "mainstream Jewish community".
Stephen Pollard
, editor of the Jewish Chronicle, says
in an article
that Corbyn's attendance at the Jewdas event undermines his claim to be serious about tackling antisemitism.
Already, the Corbynites are pushing the idea that this is much ado about nothing. The official line is that he was on a private visit meeting friends in his constituency.
Again, he is entitled to have dinner with whoever he wishes.
But he isn't just anyone. He is no longer an insignificant backbencher. He is Leader of the Labour Party – at a time when his party is, by his own admission, facing serious questions over antisemitism and its dealings with the Jewish community.
Which means that who he chooses to meet and when he chooses to meet them is and should always be of intense interest and significance. And so his decision to break unleavened bread with a group that has made a loud and angry attack on the mainstream community's concerns about Labour antisemitism is of deep concern.

A thread by the legal blogger
Adam Wagner
(which has been described as "very sensible" by the Jewish Chronicle editor Stephen Pollard)
From the Financial Times columnist
Robert Shrimsley
(who in the past has been very critical of Corbyn)
From ITV's
Paul Brand
From the actor and comedian
David Schneider
From the New Statesman's
Helen Lewis
From
Rhea Wolfson,
a Corbyn-supporting member of Labour's national executive committee
She was referring to t
he John Woodcock tweet
quoted at
11.54am.
From the singer and activist
Billy Bragg
Bragg was commenting on a
tweet from the Labour MP Angela Smith.
From the Open Democracy editor
Adam Ramsay
From the comedian
David Baddiel
That last tweet was responding to this from
Alex Wickham
from the Guido Fawkes website, which broke the story about Corbyn's attendance at the Jewdas event.
11:54
Jon Lansman
(who is Jewish) has also used his Twitter feed to rebuke the (non-Jewish) Labour MP
John Woodcock
for criticising
Jeremy Corbyn for attending the Jewdas Seder
(Passover feast) last night. Last night Woodcock posted this on Twitter.
And this morning Lansman responded with this.
11:48
In an interview with the BBC's Victoria Derbyshire programme, the Momentum founder
Jon Lansman
suggested that members of Labour's ruling national executive committee, including Jeremy Cobryn, should attend a training course on "unconscious bias". He said:
Unfortunately in the Labour party it seems, and maybe elsewhere, many people do not seem to be willing to confront this unconscious bias in themselves. We need a big programme of education and training to make people aware of that.

He said that "all people who participate in making decisions about the cases" should go on a course. He went on
People use words like Zionism without understanding how those words are seen by some people. Some people use the word Zionism to mean the politics of Benjamin Netanyahu but most Jews in Britain see Zionism as meaning support for a state of Israel living in peace and security, rather than a discrete ideology.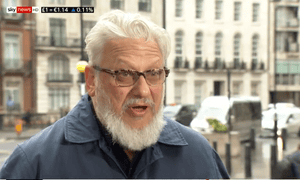 11:21
Here is PoliticsHome's
Kevin Schofield
on the Dan Jarvis story. ( See
11am.)
11:12
You don't hear much from Tory MP
Jacob Rees-Mogg
on radio or TV these days, do you? Thankfully (or not), LBC have come to the rescue. They have offered the backbencher and chair of the European Research Group (which represents around 60 Tories pushing for a harder form of Brexit) a fortnightly phone-in, starting on Monday 16 April at 9am. Rees-Mogg said:
I am greatly looking forward to conversing with LBC's listeners every fortnight. In the programmes I have done already, the good sense and wisdom of the callers has educated, informed and challenged me while furthering polite political discourse. I hope for more of the same.

11:00
Labour's NEC drops bid to force Dan Jarvis to stand down as MP as he fights mayoral election
Good morning. I'm sorry for the late start - I'm juggling blogging and childcare today, for unexpected domestic reasons, and will be wrapping up early too - but parliament is in recess, and there is not a huge amount going on.
My colleague
Jessica Elgot
has written up the morning developments in the latest instalment of the Corbyn/antisemitism saga and you can read her story here.
And within the last hour another
Labour
story has broken; Labour's national executive committee has abandoned its bid to force
Dan Jarvis
to stand down as an MP because he is standing in the Sheffield city region mayoral election. This is from the Press Association.
Labour's ruling national executive committee has bowed to pressure to allow

Dan Jarvis

to stand in the Sheffield city region mayoral election while remaining Barnsley Central MP.

The NEC had previously ruled that the former Paratroop Regiment officer would have to stand down from his parliamentary seat if he wanted to run.

A Labour source revealed that both parties had come to an agreement over the weekend and Jarvis would be able to remain an MP.

Previously the Yorkshire and Humber parliamentary Labour group, which includes 36 MPs in the region, had written to John Cryer, chairman of the parliamentary Labour party, asking the NEC to "reconsider their position as a matter of urgency".

The post of the Sheffield city region mayor has been mired in controversy because, unlike similar roles in Manchester and the West Midlands, no devolution and funding deal has yet been agreed to go with the appointment.

Two of the four South Yorkshire councils - Doncaster and Barnsley - have rejected a devolution solution centred on the county in favour of joining a pan-Yorkshire proposal.

Last month, 18 of the 20 local authorities in Yorkshire agreed to back a proposal to the government to deliver a One Yorkshire devolution deal.

Sheffield and Rotherham were the only Yorkshire councils not to sign up to the plan.

Jarvis is the overwhelming favourite to win the contest as all of the 14 South Yorkshire constituencies which will take part in the election were won by Labour at the last general election.

Nominations for candidates for the May 3 election close on Friday April 6.
In a statement Jarvis said:
I am honoured to be Labour's candidate for the Sheffield city region mayoral election and I am looking forward to the campaign.
This is an important role at a crucial moment and we must ensure that we elect a Labour mayor who will deliver a bold and radical plan for delivering real change for the people of South Yorkshire.

As usual, I will be covering breaking political news as it happens, as well as bringing you the best reaction, comment and analysis from the web. But I'm afraid I will be wrapping up early.
You can read all today's Guardian politics stories
here.
Here is
the Politico Europe round-up of this morning's political news from Jack Blanchard.
And here is
the PoliticsHome list of today' top 10 must reads.