bloomberg.com
Grant Smith More stories by Grant Smith
---
Keeping curbs through March will 'do the trick,' Al-Falih says

Brent crude falls on lack of additional action from group
OPEC extended oil production cuts for nine more months after last year's landmark agreement failed to eliminate the global oversupply or achieve a sustained price recovery.
Members meeting in Vienna agreed to prolong their accord through March, Kuwait's Oil Minister Issam Almarzooq said. Nigeria and Libya remain exempt from making cuts and Iran, which was allowed to increase production under the original accord, retains the same output target, he said.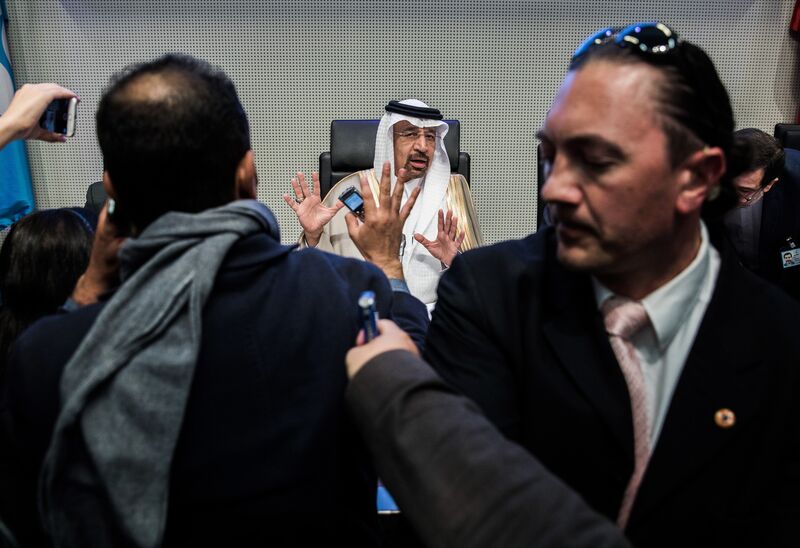 Six months after forming an unprecedented coalition of 24 nations and delivering output reductions that exceeded expectations, resurgent production from U.S. shale fields has meant oil inventories remain well above target. While supplies are shrinking, ministers acknowledged that the surplus built up during three years of overproduction won't clear until at least the end of 2017.
"The market seems to be a bit disappointed as there is no 'something extra' the markets waited for," said Jan Edelmann, a commodity analyst at HSH Nordbank AG. "It seems as though OPEC fears letting the stock-draw run too hot."
Benchmark Brent crude traded at $53.82 a barrel as of 3:14 p.m. in London, down 0.3 percent, after earlier sliding 2.3 percent.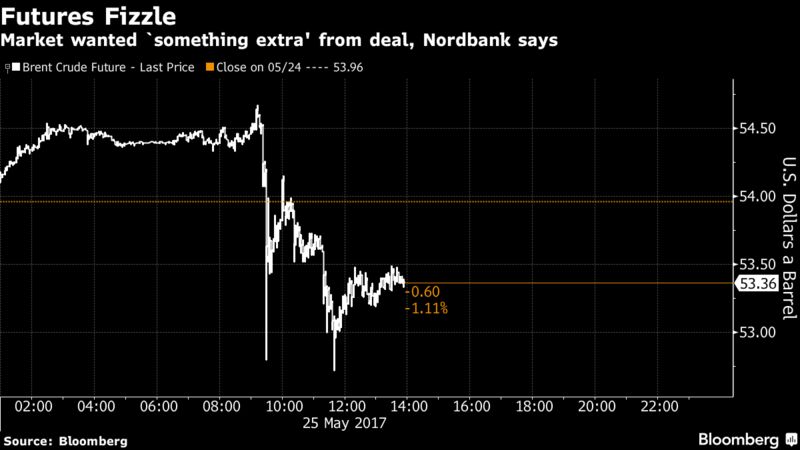 The Organization of Petroleum Exporting Countries has submitted its extension proposal to its non-member partners before talks on their continuing participation take place later Thursday, according to one delegate. Eleven non-members including Russia
joined
the original deal in December, bringing total supply-reduction pledges to about 1.8 million barrels a day.
The curbs were intended to last six months from January, but confidence in the deal, which boosted prices as much as 20 percent, waned as inventories remained stubbornly high and U.S. output surged.
Saudi Oil Minister Khalid Al-Falih insisted Thursday that the cuts are working, saying stockpile reductions will accelerate in the third quarter and inventory levels will come down to the five-year average in the first quarter of next year. While he expects a "healthy return" for U.S. shale, that won't derail OPEC's goals and a nine-month extension will "do the trick," he said.
Rare Alliance
The
extension
prolongs a rare period of collaboration between OPEC and some of its largest rivals, including Russia. The last time both sides worked together was 15 years ago, and the agreement fell apart soon after it began. The current accord encompasses countries that pump roughly 60 percent of the world's oil, but excludes major producers such as the U.S., China, Canada, Norway and Brazil.
Without a steer on what will happen beyond March, there's concern that OPEC could return to the free-for-all production that caused prices to slump from 2014 to 2016, though Al-Falih has insisted the organization will maintain control.
"We have said we will do whatever it takes," the minister said.
Al-Falih later announced that OPEC is welcoming a new member, Equatorial Guinea, to its ranks. The African nation will be one of the group's smallest producers, pumping about 270,000 barrels a day, a little more than neighboring Gabon.