Welcome to the Guardian's weekly Brexit briefing, a summary of developments as Britain edges towards the EU exit. If you'd like to receive it as a weekly email, please sign up
here
(and check your spam folder if you don't see it in your inbox).
Producing the Guardian's independent, in-depth journalism takes a lot of time and money. But we do it because we believe our perspective matters – and it might well be your perspective too. If you value our Brexit coverage,
become a Guardian Supporter
and help make our future more secure. Thank you.
The big picture
So it's happy new year, then, and welcome one and all to 2017, the year when Brexit – assuming Theresa May keeps her promise to trigger article 50 by the end of March – finally gets real.
It's already got quite real for some people, of course. The Home Office
came under strong pressure
over the holidays to do something about its plainly inadequate, and at times inhumane, application process for permanent UK residency.
A Dutch software engineer who has been in the UK for 24 years
and a
German neuroscientist living in Britain since 1999
received letters telling them to "make arrangements to leave" because of minor paperwork issues.
MP
Sarah Wollaston also urged
ministers to scrap an obscure rule that bars EU citizens who are not working – such as full-time parents – from obtaining permanent residency
unless they have taken out private health insurance
.
The government has repeatedly said the rights of the 3 million-plus EU citizens in the UK have not so far changed and that the issue, along with UK citizens' rights in
Europe
, would be a priority in the article 50 Brexit negotiations.
But Wollaston highlighted the case of one of her constituents who was told his Dutch wife of 30 years was in the UK illegally because she had never been in full-time employment, and said a whole new system was needed:
This topic is just one of the many looming complexities of Brexit that – There needs to be something that is very quick, efficient and low cost … There are real people caught up in this. It is totally unacceptable. It is up to politicians to put themselves in people's shoes and see the anxiety it is causing and do something about it."
according to Dave Penman, the head of the senior civil servants union
– risk overwhelming Whitehall as staff struggle with an immense workload on limited resources:
Ministers lack the political courage to admit how complex and time-consuming this will be ... The politics around Brexit are the biggest risk to Brexit. The government is clearly in a situation where they are trying to deny the complexity of it."
The view from Europe
Europe was pretty much on holiday, but just before Christmas Eleanor Sharpston QC, an advocate general at the European court of justice,
delivered herself of an opinion
that could have major implications for the UK's post-Brexit future.
In a ruling on an EU trade deal with Singapore, Sharpston argued that any sweeping trade deals the EU wants to sign with other countries can only be finalised by the EU and its member states, not by Brussels institutions acting alone.
If the Luxembourg court follows its advocate general's opinion (as it generally does) that would mean any future UK-EU trade deal will need to win the approval of at least 38 national and regional parliaments.
And as the the Walloons in Belgium recently showed when they
threatened to veto a deal with Canada
that took seven years to negotiate, that may not be as straightforward as some may hope.
Meanwhile, back in Westminster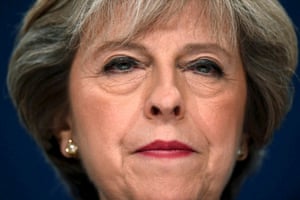 Westminster, too, was in recess. But after campaign group Leave Means Leave wrote to the PM saying Britain must be ready to "walk away" from the single market and the customs union if the EU won't play ball,
May used her Christmas message
to say she wanted a Brexit for "every single person in this country", not just leave voters:
We all want to see a Britain that is stronger. We all want a country that is fairer. We all want a nation that is safe and secure. These ambitions unite us, so we are no longer the 52% who voted leave and the 48% who voted remain, but one great union of people and nations with a proud history and a bright future.
Tim Farron, the Liberal Democrat leader, called her out
, saying that after months of platitudes "and driving us headlong towards a hard Brexit out of the single market, threatening jobs and our economic security … a few empty words are utterly meaningless".
And the Labour leader,
Jeremy Corbyn, in a wide-ranging interview with the Guardian
, accused May of behaving like an autocratic monarch by continuing to refuse to pledge she would put a final Brexit deal to a vote in parliament:
She cannot hide behind Henry VIII and the divine rights of the power of kings on this one. The idea that on something as major as this the prime minister would use the royal prerogative to bypass parliament is extraordinary."
You should also know:
Read these ...
In the Guardian, leading economist Jonathan Portes complained after a Twitter spat with Michael Gove that far from welcoming an evidence-based debate, the
former minister, when challenged, simply resorts to "ad hominem attacks on the supposed 'motives' of experts" who are trying to do their job:
In the New Statesman, If we're going to have a constructive, sensible debate on these issues, we need proper analysis, by real experts, not propaganda ... If Gove – and others on both sides of the argument who seem more interested in refighting the referendum – actually want to play a constructive role in what comes next, then maybe they will engage properly, rather than insisting on some sort of loyalty test.
Andrew Marr produced an Optimist's Guide to Brexit
, arguing that remainers may be paralysed by fear of leaving the EU but that Brexit actually offers "huge opportunities" for change:
This proved rather controversial. Amid a number of others, Jon Worth, who has been blogging on EU affairs for more than a decade, felt the article – which was welcomed by many prominent leavers – was, to say the least, disappointing. He explains why The defeated centre has spent a lot of time since the referendum asking whether the Great Disaster was "really" all about ingrained racism, fear of the modern world or media manipulation. Wouldn't it be healthier to decide that the leave side's victory was about what it said on the tin – reclaiming political control – and then ask ourselves what we can now do with that extra freedom?
here
and
here
.
Back in the Guardian,
John Harris argues that the underlying lesson
of Trump and Brexit is that a society that becomes too complex for its people generates resentment that is being expertly exploited by the populists. He quotes the US anthropologist and historian Joseph Tainter:
The simpler past seems more attractive than today's complex reality, and so people vote thanks to inchoate frustrations. They choose simplicity and locality over complexity; identity over internationalism. Politicians promote themselves by giving voice to this.
Finally, in case you missed it in the pre-Christmas rush, you can catch the second episode of Brexit Means… , our new Brexit podcast,
here
: Jolyon Maugham QC, professor of EU law Philip Syrpis, and the Guardian's Owen Bowcott and Jennifer Rankin join me to decipher what article 50 is all about.