bloomberg.com
by Lorcan Roche Kelly
Get caught up on what's moving markets.
by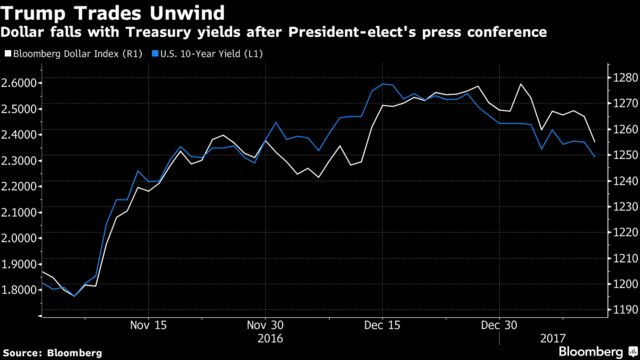 Want to receive this post in your inbox every morning? Sign up here.
There are signs that the Trump trade is unraveling, UniCredit is looking to raise $14 billion, and Volkswagen agrees to plead guilty. Here are some of the things people in markets are talking about today.
Trump trade
The dollar
slumped against major peers
and the yield on 10-year Treasuries touched its lowest level since November, in the wake of President-elect Donald Trump's
first press conference
since his election. While the PEOTUS's comments during the media gathering sent
biotech shares tumbling
, U.S. stock indexes finished the day higher, with the Dow Jones Industrial Average closing within 1 percent of 20,000 for the 18th session in 20. The director of the federal Office of Government Ethics said that Trump's plan to step down from a leadership role
while retaining ownership
of his multi-billion-dollar businesses is "meaningless from a conflicts-of-interest perspective."
UniCredit cash call
Italy's largest bank is
seeking investor backing
for a 13 billion-euro ($14 billion) rights offer, at a shareholder meeting in Rome today. The cash call, which is close to UniCredit SpA's current market value, is for the purposes of carrying out a turnaround plan which was presented by Chief Executive Officer Jean Pierre Mustier
in December
. Analysts are not expecting a re-run of last month's failure by Banca Monte dei Paschi di Siena SpA's to raise funds. For the wider Italian economy, tomorrow's decision on the country's rating by DBRS could prove important, for if the agency downgrades the rating it would increase the haircuts on Italian sovereign debt at the European Central Bank.
Volkswagen says fair cop
Volkswagen AG agreed yesterday to
plead guilty
in the U.S. to an emissions-cheating scandal and pay $4.3 billion in penalties. The scandal, which at one stage
threatened the viability
of one of the world's largest carmakers, can be put behind the company now, even if the reputational damage may take longer to heal. Shares in the automaker are over 13 percent higher so far in 2017.
Markets slip
Overnight, the MSCI Asia Pacific Index
gained 1.1 percent
, while Japan's Topix index closed 1 percent lower, as drugmakers there were dragged lower by Trump's press-conference comments. In Europe, the Stoxx 600 Index was
0.3 percent lower
at 5:27 a.m. ET, as shares headed towards the lowest level of the year, with pharmaceutical companies again leading the declines. S&P 500 futures
slipped 0.3 percent
.
Central Bank talk
Later today the European Central Bank will publish an account of its December meeting. Analysts will scrutinize it for signs of divisions on the governing council, following the decision to extend quantitative easing that was taken at that gathering. There is plenty for Fed-watchers today too, with Philadelphia Federal Reserve Bank President Patrick Harker speaking at 8:30 a.m. ET, Atlanta Fed President Dennis Lockhart at 11:30 a.m., St. Louis Fed President James Bullard at 1:15 a.m and Fed Chair Janet Yellen at 7:00 p.m.
What Bloomberg has been reading
This is what's caught our eye over the last 24 hours.