bloomberg.com
by Lorcan Roche Kelly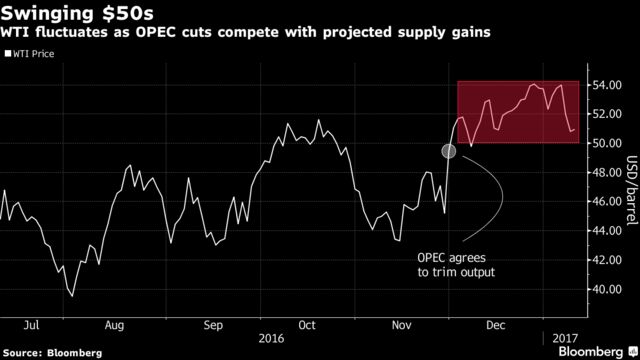 The Turkish lira's tumble drags down emerging-market currencies, big oil stages a big comeback, and Gundlach joins Gross in calling the end of the bull market in bonds. Here are some of the things people in markets are talking about today.
Lira drag
The Turkish lira fell to another
new record low
this morning, and was trading at 3.8456 to the dollar as of 5:15 a.m. ET. Investors see an
interest-rate hike from the central bank
as both needed to stop the decline, and unlikely, which is making the currency an easy short. The wider
MSCI EM Currency Index dropped
, with Egypt's pound the next worst performer, retreating 0.5 percent against the U.S. dollar, for the second day of losses.
Big oil
Should prices remain above $50 a barrel in 2017, oil majors are set to
reap the rewards
from investments made before the rout in crude, according to analysts at Sanford C. Bernstein. West Texas Intermediate, which hit a one-month low yesterday, was
trading at $51.24 a barrel
by 5:18 a.m. ET after Saudi Arabia was said to
curb exports to Asia
as part of the OPEC production-cut deal.
Bond bull market end
Investors are looking for the end of the 30-year bull market in bonds. They're just not in agreement on when that will be. Bill Gross said that a yield of
more than 2.6 percent
on 10-year U.S. Treasuries would mark the end of the run. Meanwhile, DoubleLine Capital's Jeffrey Gundlach thinks the signal would be a
yield that tops 3 percent
. The instrument was yielding 2.390 percent this morning, well below the post-election peak of 2.5967 percent.
Markets rise
Overnight, the MSCI Asia Pacific Index
added 0.4 percent
, while Japan's Topix index closed 0.5 percent higher. In Europe, the Stoxx 600 Index had
gained 0.2 percent
by 5:25 a.m. ET with London's FTSE 100 Index on course to continue its
record-breaking
start to the year. S&P 500 futures were
broadly unchanged
.
Trump denial
President-elect Donald Trump is due to give his first press conference since July at 11 a.m. ET today, with the event likely to be overshadowed by news that he was briefed by intelligence officials about reports that Russia has
compromising information about him
. The Kremlin this morning
denied those reports
, with Dmitry Peskov, a spokesman for President Vladimir Putin, describing them as "pulp fiction." Trump took to Twitter to issue his own denial, describing the events as a "
witch hunt
."
What we've been reading
This is what's caught our eye over the last 24 hours.