bloomberg.com
More stories by Lorcan Roche Kelly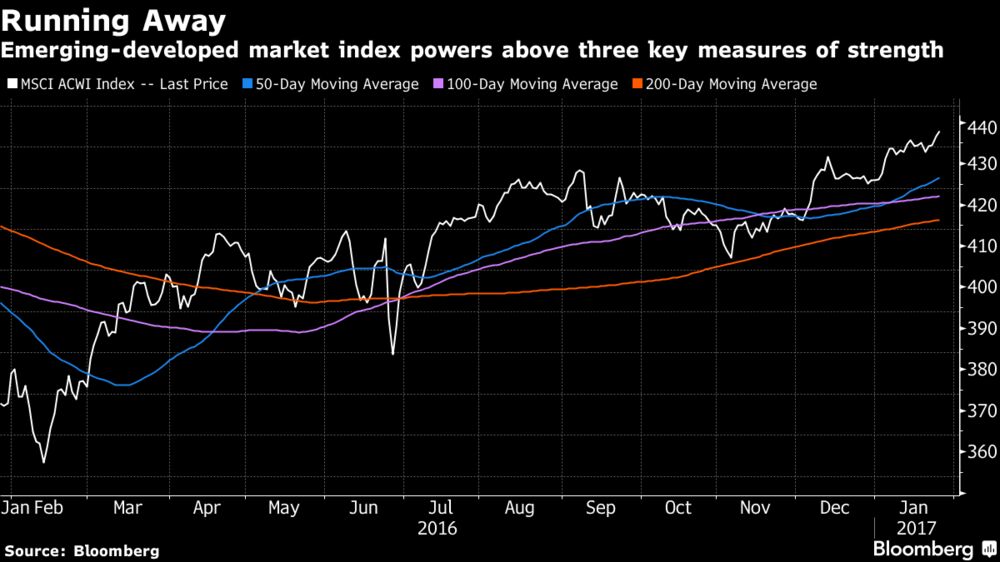 Want to receive this post in your inbox every morning? Sign up here.
Trump fulfills more policy promises, Intesa weighs a deal that would reshape Italian finance, and stocks are rallying. Here are some of the things people in markets are talking about today.
Policy moves
President Donald Trump is using his first week in office to make good on some campaign promises. Yesterday he took steps to
advance the construction
of the Keystone XL and Dakota Access oil pipelines, while encouraging the use of U.S. manufactured products in their completion. Today, he is expected to unveil plans for a
border wall
between the U.S. and Mexico, as well as curbs on refugee programs. In the early days of the administration, CEOs of major manufacturers are finding that the rule seems to be -
make a deal with the president
, or else.
European finance
Intesa Sanpaolo SpA has broken its silence after days of speculation that the bank was preparing an offer for Italy's largest insurer, Assicurazioni Generali SpA. The company confirmed this morning that it's
considering a merger
. Shares in Generali were trading 1 percent higher in Milan at 5:07 a.m. ET, bringing gains for the week to over 13 percent. Banco Santander SA, meanwhile, reported fourth-quarter earnings of
1.6 billion euros
($1.72 billion), ahead of analyst expectations. Its shares were 3.6 percent higher by 5:25 a.m. ET.
Business confidence
German business sentiment unexpectedly slipped to
109.8 in January
, according to Munich-based Ifo institute's business climate index. With Germany heading into a potentially turbulent year ahead of
elections in September
, uncertainty may dampen economic prospects. There are also worries over inflation, something the European Central Bank took on today when it published
14 new academic papers
on the causes of recent price trends.
Markets rally
Overnight, the MSCI Asia Pacific Index added 0.5 percent while Japan's Topix index
closed 1 percent higher
as the yen weakened. In Europe, the Stoxx 600 Index had
gained 1 percent
by 5:40 a.m. ET with miners and banks leading the gains. S&P 500 futures
climbed 0.3 percent
, while investors look to today's global rally in the hopes of finally getting a chance to don their 'Dow 20,000' hats.
Brexit worries
Corporate concerns about the challenges of the U.K. leaving the European Union have not been eased much by the strong
performance of the economy
since the result of the Brexit vote. It does not look like plain sailing for Prime Minister Theresa May either ollowing yesterday's Supreme Court judgement, as lawmakers line-up to
add amendments
to what she had hoped would be a short bill in parliament.
What we've been reading
This is what's caught our eye over the last 24 hours.