bloomberg.com
by Lorcan Roche Kelly
Get caught up on what's moving markets.
by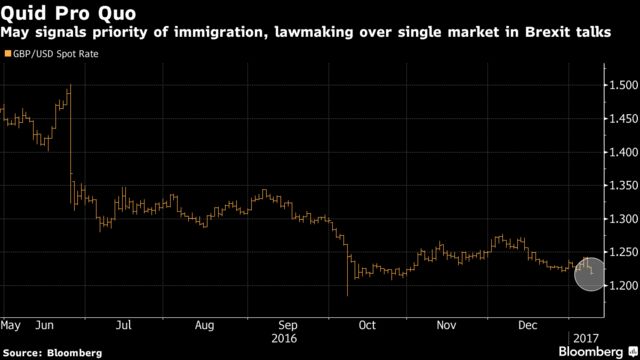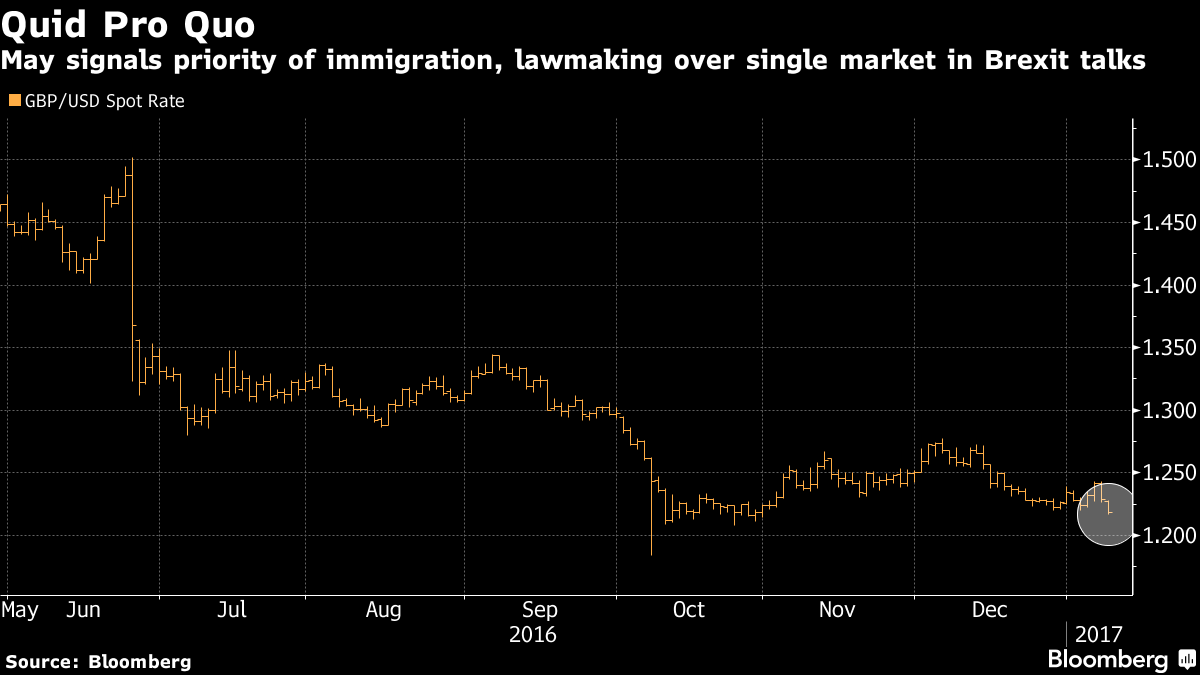 The pound drops, the yuan falls, and Fed hawks circle. Here are some of the things people in markets are talking about today.
Sterling slides
The British pound was trading
1.1 percent lower
at $1.2148 as of 4:55 a.m. ET following comments over the weekend from Prime Minister Theresa May which stoked fears that the U.K. will lose access to Europe's single market. In an interview with Sky News she said that
regaining control
of immigration and lawmaking are a greater priority than membership of the single market. Meanwhile, data from Halifax this morning showed U.K. home prices
had a strong end to 2016
, but the U.K. mortgage lender warned growth is likely to slow in 2017.
Yuan volatility
The Chinese currency's lively start to the year continued overnight, with the offshore yuan dropping 0.4 percent by 5:20 a.m. ET, adding to a
0.9 percent fall
on Friday. Last week, a short squeeze helped the currency to a record weekly advance. Over the weekend, the People's Bank of China revealed that the country's foreign reserve holdings fell for a sixth month in December
to $3.01 trillion
, down from a record $4 trillion in June 2014. Fan Gang, an adviser to the People's Bank of China, said that additional measures to stem capital outflows
are unlikely
.
Fed hawks
With just over a year remaining on Janet Yellen's current term as chair of the Federal Reserve, comments from three of her potential successors at this this weekend's annual American Economic Association meeting are noteworthy. Glenn Hubbard of Columbia University, along with Stanford University's John Taylor and Kevin Warsh, are all seen by Fed watchers as potential future chairs should President-elect Donald Trump decide not to re-nominate Yellen. All three criticized the U.S. central bank for
trying to do too much
, and suggested interest rates would be higher if they were in charge.
Markets mixed
Overnight, the MSCI Asia Pacific excluding Japan Index
gained 0.1 percent
, with Japanese markets closed for a holiday. In Europe, the Stoxx 600 Index was
0.4 percent lower
at 5:22 a.m. ET while U.K. stocks traded higher as the pound fell. S&P 500 futures dropped
0.1 percent
.
U.K. woos Trump
British Foreign Secretary Boris Johnson is in Washington this week as the U.K.
seeks to strengthen ties
with the incoming administration. The president-elect
tweeted yesterday
that he is looking forward to meeting Theresa May following his inauguration. Meanwhile, speculation is mounting that the PEOTUS will follow through on threats to label China a
currency manipulator
at the new review in April, despite the country only meeting one of the three criteria specified by the Obama administration.
What we've been reading
This is what's caught our eye over the weekend.