theguardian.com
What happens next?
Leaders of the Group of Seven countries should begin their summit in central
Japan
today feeling spiritually cleansed after their morning visit to Ise Jingu, Japan's most sacred Shinto shrine.
Their trip to the shrine, set in a 2,000-year-old forest, risked sparking the first controversy of the summit, with academics and other religious groups warning that Shinzo Abe could use the presence of Obama, Cameron and co at the site to further his conservative political agenda.
After their morning stroll, discussions among the leaders of Japan, the US, the UK, Italy, Canada, France and
Germany
will quickly turn to the parlous state of the global economy – although one of the chief countries of concern, China, will not be present, of course.
There is disagreement on how to pull the global economy out of its difficulties, with Japan persevering with a combination of pump-priming and monetary easing, while counties such as Britain retain their faith in austerity.
There is little agreement on how to tackle recent fluctuations in the currency markets, with the US opposed to attempts by Japan to weaken the yen and give its exporters some much-needed breathing space.
In the end, the
G7
leaders will probably make do with a diplomatic fudge. With agreement on concerted action unlikely, the communiqué, due to be released on Friday, is expected to encourage flexibility and allow member states to adapt economic policies to their own circumstances in the search for growth.
The official G7 programme has begun with a visit to Ise Jingu shrine on an overcast and humid morning in central
Japan
.
Japanese prime minister
Shinzo Abe
was greeted by Ise Jingu's head priest priest at shrine entrance.
Abe and other world leaders will cross Ujibashi bridge, leaving the temporal world and entering the spiritual on their way to the revered centre of Japan's indigenous Shinto religion.
A gravel path will taken them to main sanctuary, home of
Amaterasu Omikami
, the mythological empress from whom all Japanese emperors are said to be descended, although they will not be permitted to enter the inner sanctuary itself.
Japanese officials said the leaders would not be taking part in any religious rituals. The idea, said a foreign ministry spokesman, is to give them a sense of the "air, water, nature and atmosphere" of the shrine.
"Ise is the place to present the beauty of nature and the richness of our culture and long tradition," the spokesman said.
Jean-Claude Juncker
, president of the European Commission, has arrived – along with
Donald Tusk
, president of the European Council, he is at the summit to represent the EU alongside the
G7
leaders.
G7 summit begins at Ise Jingu shrine
Canadian prime minister
Justin Trudeau
seems to be displaying his sensitive side - post-
elbowgate
- since arriving in Japan on Monday. He and his wife,
Sophie Grégoire Trudeau
, celebrated their 11th wedding anniversary – which is actually on Saturday – on Tuesday with a trip to Meiji Shrine in Tokyo and a night at a traditional ryokan inn.
Yesterday they went hiking in a forest near the
G7
summit venue. Trudeau told reporters:


This is the kind of work-life balance that I've often talked about as being essential in order to be able to be in service of the country with all one's very best, and that's certainly something I'm going to continue to make sure we do.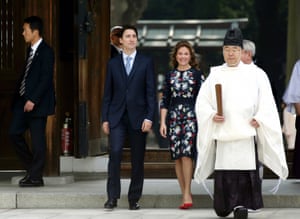 Japan
.
The leaders of seven countries – US president
Barack Obama
, Japanese prime minister
Shinzo Abe
, German chancellor
Angela Merkel
, UK prime minister
David Cameron
, French president
François Hollande
, Canadian prime minister
Justin Trudeau
and Italian prime minister
Matteo Renzi
– will meet on Thursday and Friday for two days of talks on a wide-ranging agenda including:
the global economy and trade
international terrorism
the refugee crisis
climate change
North Korea's nuclear weapons programme
On Friday, Obama will make history as the first sitting US president
to visit Hiroshima
, where he will lay flowers at a cenotaph to the 140,000 people who died after the US dropped an atomic bomb on the city in August 1945.
For G7 Live Please Go To:
http://www.theguardian.com/world/live/2016/may/26/g7-summit-obama-merkel-cameron-abe-japan-live
http://www.theguardian.com/world/live/2016/may/26/g7-summit-obama-merkel-cameron-abe-japan-live