Good morning, and welcome to our rolling coverage of the world economy, the financial markets, the eurozone and business.
Monte dei Paschi di Siena has been through a lot since it was founded back in 1472, twenty years before Columbus discovered America.
And the world's oldest bank finds itself in the undignified position of needing a bailout this morning, after efforts to persuade private investors to provide desperately needed fresh capital floundered.
Monte dei Paschi di Siena admitted last night that Qatar's sovereign wealth fund had not been persuaded to become the "anchor investor" to underpin its €5bn cash call.
So a saga that has been dragging on for months could finally be resolved today, when the cash call closes at lunchtime today.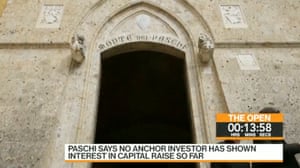 Without private sector capital, MPS is now likely to miss an end of year deadline imposed by the
European Central Bank
to raise fresh funds. So the Italian government is now under serious time pressure to step in and put in fresh capital itself.
As we wrote last night, MPS is running out of time and options.



Shares in the bank, Italy's third largest, gyrated wildly in Wednesday's trading session, plunging 18% to record lows before closing 12% lower amid rumours that the fund-raising effort would fail.
"The idea that Qatar could be an anchor investor has vanished and without an anchor investor there is no demand from anyone else," one source told Reuters.
In the last few minutes, the bank reported that it had only raised €2bn in new capital through the debt-for-equity swap, far short of the €5bn target.
Yesterday, Italy's government prepared for a rescue bid by approving a €20bn fund for bank recapitalisation.
Ministers have also insisted that there will be a "minimised or non-existent" impact on savers. But shareholders, and those who hold MPS's junior, and riskier, bonds could suffer losses.
The Dow Jones industrial average
will have another tilt at smashing through the 20,000 point mark, after faltering and falling back from record highs yesterday.
We get a flurry of US economic data, including new personal consumption and durable goods orders at 1.30pm GMT, plus the latest weekly jobless report.
And rumours continue to swirl that Deutsche Bank might be close to a settlement with the Department of Justice, over misconduct before the 2008 financial crisis
For Updates Click:
https://www.theguardian.com/business/live/2016/dec/22/italys-monte-dei-paschi-bailout-rescue-bid-business-live