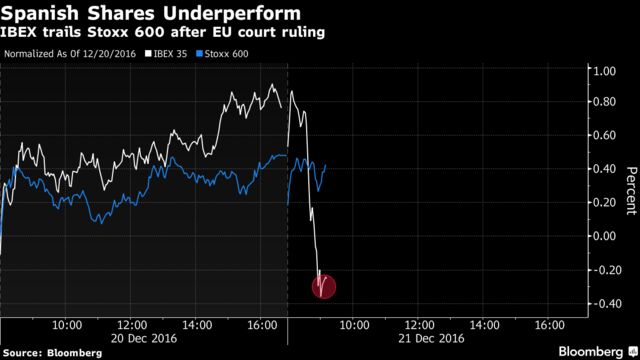 It's a bad day for European banks, Blackstone ends its 'endless' fund, and oil's rising again. Here are some of the things people in markets are talking about today.
Euro banks hit
Struggles continue in the Italian banking sector, where at least
52 billion euros
($54 billion) is needed to clean up balance sheets, according to data compiled by Bloomberg. This is
far above
the scale of the rescue package proposed this week by the government, and comes amid concerns that Banca Monte dei Paschi di Siena SpA will fail in its efforts to attract 5 billion euros of private-sector funds. Shares in the embattled lender lost 18.2 percent in trading this morning. Spanish lenders' shares were also hit — falling
as much as 10 percent
— after Europe's top court ruled against the institutions on a mortgage interest-payments case that means customers may be entitled to billions of euros in compensation.
Blackstone closes Senfina
Blackstone Group LP is closing its Senfina hedge fund after it
lost 24 percent
this year. Two-year-old Senfina — which means 'endless' in Esperanto — was one of the
top performing funds in 2015
, according to data compiled by Bloomberg. But a bad performance
early in 2016
, coupled with some wrong-way bets around the U.S. election, meant Blackstone did "what was in the best interest of our investors" and closed the fund, according to a spokesperson.
Oil rises
A barrel of West Texas Intermediate for February delivery was trading at
$53.56 at 5:13 a.m. ET
, as data showed U.S. stockpiles declined last week. On the supply-side, Libya is set to load its first crude cargo in two years from its largest export terminal, with the war-torn country expected to
double output
in 2017. In North America, Canadian Prime Minister Justin Trudeau joined U.S. President Barack Obama in
freezing new offshore leases
in Arctic waters.
Markets slip
Overnight, the MSCI Asia Pacific Index was
little changed
, while Japan's Topix index dropped 0.5 percent as the yen strengthened against the dollar. In Europe, the Stoxx 600 Index was
0.2 percent lower
at 5:20 a.m. ET, with losses in bank shares pulling equities lower. In the U.S., where investors are still waiting to see Dow 20K, S&P futures
were unchanged
.
Brexit plans
The Confederation of British Industry outlined what
different sectors want from Brexit
, with many responses along the lines of "as little Brexit as possible, please." For the U.K. prime minister, who said the country may seek to make a
transitional deal
to ease departure from the EU, a
court ruling in Luxembourg
on a proposed trade deal between the union and Singapore highlights the difficulties the U.K. could face in the future. The implication from the ruling is that the country will have to negotiate with 27 other national parliaments, and in some cases their regional lawmakers, in order to put a trade deal in place. There was some good news this morning, as
borrowing data showed
Britain's budget deficit narrowed marginally in November.
What we've been reading
This is what's caught our eye over the last 24 hours.