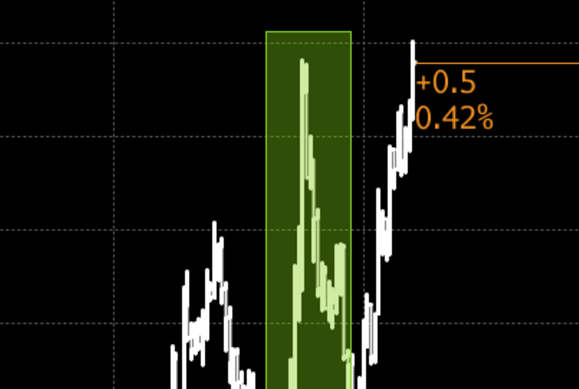 Want to receive this post in your inbox every morning? Sign up here.
The Bank of Japan upgrades its economic outlook, there were multiple attacks in Europe, and Italy gets its bank rescue fund together. Here are some of the things people in markets are talking about today.
Bank of Japan
The yen was
trading at 118.12 to the dollar
at 5:09 a.m. ET after the Bank of Japan's first meeting since Donald Trump's U.S. election victory, at which the bank
upgraded its assessment of the economy
while keeping its policy stance unchanged. The Japanese currency has weakened by more than 10 percent against the greenback since Nov. 8, a move that should help lift inflation.
Terror attacks
German Chancellor Angela Merkel said this morning that her nation must assume that last night's
truck crash at a Berlin Christmas market
, which killed 12 and injured 48, was a
terrorist attack
. The incident came within hours of a
shooting in an Islamic center in Zurich
, which left three injured, and the
assassination of Russia's ambassador to Turkey
in Ankara. For Merkel, facing an election in Germany next year, the terror attack on her home soil is likely to
increase pressure from the right
on her immigration policies.
Italy bank fund
The Italian government has paved the way for a potential rescue of the country's troubled banks by seeking permission from parliament to
increase the nation's public debt
by as much as 20 billion euros ($21 billion). While the new prime minister has wasted no time in facing up to the problems in some parts of the Italian banking sector, analysts are not certain the
move will be successful
.
Markets mixed
Overnight, the MSCI Asia Pacific index
slid 0.3 percent
, while Japan's Topix index closed 0.2 percent higher following the Bank of Japan decision. In Europe, the Stoxx 600 Index had gained
0.3 percent
by 5:23 a.m ET as deal activity pushed the index to its highest level in almost a year. S&P 500 futures
added 0.1 percent
.
Obama to block oil rights
President Barack Obama is set to use a provision in a 1953 law to
block the sale of new offshore drilling rights
in much of the U.S. Arctic, and parts of the Atlantic. The move, which could come as soon as today, is almost certain to be challenged in court as the law does not include a mechanism for a reversal of the decision by a new president. Meanwhile, Bridgewater Associates founder Ray Dalio has said changes under the Donald Trump administration may be more significant than those brought about by
Ronald Reagan and Margaret Thatcher
.
What we've been reading
This is what's caught our eye over the last 24 hours.