bloomberg.com
by Lorcan Roche Kelly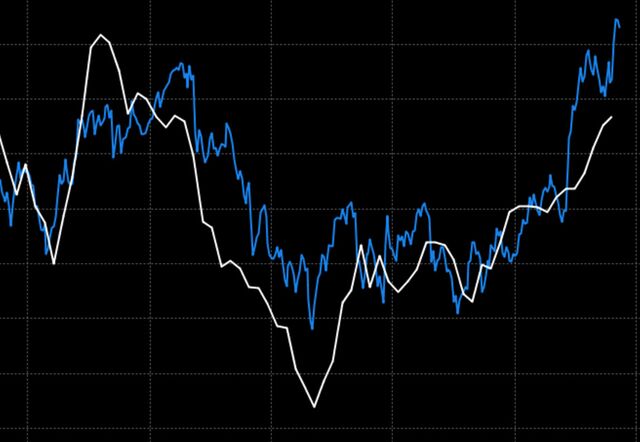 Optimism breaks out in the oil market, Scotland says access to the single market is more important than a united kingdom, and trading is quiet ahead of the holidays. Here are some of the things people in markets are talking about today.
Oil's future looks bright
Bets on rising oil prices have surged to their
highest levels since July 2014
as investors give the supply-cut deal between OPEC members and non-OPEC countries the thumbs up. In trading this morning, the price of a barrel of West Texas Intermediate for January delivery
rose to $52.18
by 5:00 a.m. ET. Over the weekend, BP Plc announced it has
gained a stake
in an Abu Dhabi oil concession that will provide 160,000 barrels a day, which the company is paying for with $2.2 billion of its own shares.
Scoxit?
Scottish First Minister Nicola Sturgeon said that the country will
hold a new referendum
on its place in the U.K. should Britain lose access to the single market at the conclusion of Brexit negotiations. In a weekend interview, International Trade Secretary Liam Fox said the U.K. could try to
stay in the customs union
in a deal similar to Turkey's arrangement with the EU. Uncertainty over the future is starting to
weigh on employer decisions
in Britain as they seek to increase employees now to 'lock in' talent they may have difficulty attracting port-Brexit.
Barclays cuts customers
Barclays Plc is looking to
cut 7,000 clients
who aren't trading with the bank enough to provide high returns. As new capital rules make dealing with many smaller firms less cost-effective, investment banks are concentrating their efforts on the large clients that generate the best profits. Citigroup Inc., Morgan Stanley, HSBC Holdings Plc and Deutsche Bank AG have all changed how they deal with smaller clients.
Markets quiet
Overnight, the MSCI Asia Pacific index
advanced 0.1 percent
while Japan's Topix index slipped 0.1 percent ahead of tomorrow's Bank of Japan monetary decision. In Europe, the Stoxx 600 Index was
0.2 percent lower
at 5:24 a.m. ET in thin trading ahead of the Christmas break. S&P 500 futures
added 0.2 percent
.
Sub tweet
China rejected President-elect Donald Trump's
comment on Twitter
that the country had "stolen" a submersible drone, saying the country removed it to protect shipping in the South China Sea. Trump's anti-China rhetoric has rattled relations between the two nations, with leaders in Beijing
biding their time
ahead of Trump's presidential term that begins on Jan. 20.
What we've been reading
This is what's caught our eye over the weekend.