bloomberg.com
by Lorcan Roche Kelly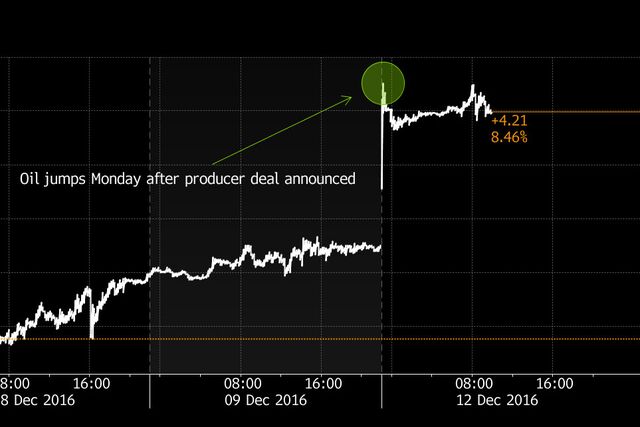 .
Oil surges on production deal, global bonds are selling off, and will Trump appoint Tillerson as secretary of state? Here are some of the things people in markets are talking about today.
Oil jumps
A barrel of West Texas Intermediate for January delivery was trading
5 percent higher
at $54.07 at 4:41 a.m. ET. The surge comes after non-OPEC countries including Russia pledged to
cut output next year
, and Saudi Oil Minister Khalid Al-Falih said he was willing to
cut the kingdom's production
even more sharply than already promised. Oil analysts are upping their price forecasts for the commodity with $60 a barrel seen as early as this week, and
$70 by mid-2017
as U.S. shale production could take up to 12 months to increase output enough to recalibrate the dial. Goldman Sachs Group Inc., however, expects a much quicker response from shale producers, and sees
crude at $55
a barrel in the first half of next year.
Bonds sell off
The yield on benchmark 10-year U.S. Treasuries climbed
above 2.5 percent
for the first time since October 2014, as traders remain convinced that the Federal Reserve will hike interest rates at this week's meeting. A Bloomberg survey of economists, meanwhile, suggests the era of negative yields on 10-year German bonds may be over, with
not a single respondent
expecting the instrument to achieve that level between now and 2018. In China, government debt was caught up in a broad-based selloff overnight, with the one-year sovereign yield
rising 15 basis points
.
Italian banks
UniCredit SpA's asset sale continues, with Amundi SA agreeing to
buy Pioneer Investments
in a deal that will give the Italian lender a net capital gain of 2.2 billion euros ($2.3 billion), lifting its common equity Tier 1 ratio by 78 basis points, the Milan-based institution said. This follows closely on the bank's sale of a stake in Bank Pekao SA of Poland last week, providing a
55 basis points
CET1 boost. Shares in Unicredit were trading 3.8 percent higher at 5:12 a.m. ET. Banca Monte dei Paschi di Siena SpA is pressing ahead with a 5 billion-euro capital increase as it tries to avoid a state rescue. It is seeking investor support for an
extended debt-to-equity swap
. Shares in the bank were trading 7.7 percent higher at 5:16 a.m. ET.
Markets slip
Overnight, the MSCI Asia Pacific Index
fell 0.5 percent
, while Japan's Nikkei 225 Stock Average rose 0.8 percent to
erase its losses for the year
. In Europe, the Stoxx 600 Index was
0.4 percent lower
at 5:25 a.m. ET as a rally in energy producers wasn't enough to lift the wider market. S&P 500 futures
slipped 0.2 percent
.
Tillerson for secretary of state?
Exxon Mobil Corp. Chief Executive Officer Rex Tillerson has emerged as President-elect Donald Trump's leading pick for the
secretary of state role
, with an announcement expected in the next few days. Tillerson, who has close ties to
Russia
, would be a controversial choice for the leading diplomatic role. Trump's transition team was
dismissive of concerns
over Russian meddling in the election, saying it was time to 'move on' after the big victory.
What we've been reading
This is what's caught our eye over weekend.