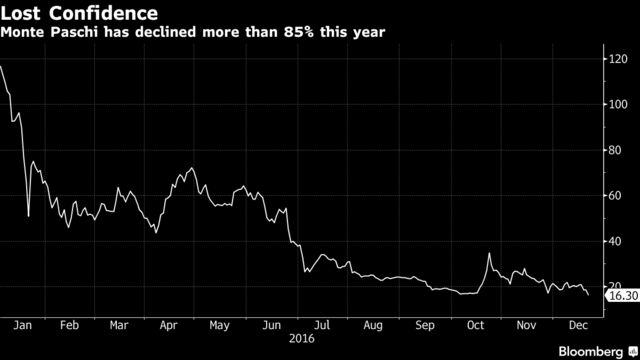 The world's oldest bank is likely headed for nationalization, Trump picks Icahn as a special adviser, and Actelion and Johnson & Johnson are back in exclusive talks. Here are some of the things people in markets are talking about today.
Monte Paschi
Banca Monte dei Paschi di Siena SpA has failed to find an anchor investor for its stock sale, and will probably be unable to lure sufficient demand for a 5 billion-euro ($5.2 billion) capital increase, meaning the bank is
headed for nationalization
. In parliament yesterday, the Italian government won support to
boost public debt by 20 billion euros
, which should be more than enough to rescue Monte Paschi, but could fall short of the amount needed should a
more systemic bailout
be required for the country's banking system.
Icahn adviser
President-elect Donald Trump named Carl Icahn as a
special adviser
to help him overhaul federal regulations with the aim of promoting business growth. Democratic National Committee spokesman Eric Walker said that Icahn, the 20th richest man in the U.S., would face conflicts of interest as the companies he controls could benefit from any regulatory changes. Trump's transition team announced that Peter Navarro, a University of California at Irvine economics professor and a
frequent critic of China's trade practices
, will lead a new trade council and become an assistant to the PEOTUS.
Actelion negotiations
In a surprise move, Switzerland-based Actelion Ltd. and Johnson & Johnson are back at the negotiating table, in
exclusive discussions
about a possible transaction. The news comes as a blow to French drugmaker
Sanofi
who was also looking to takeover the Swiss company. Shares in Actelion were 3.7 percent higher at 5:14 a.m. ET.
Markets quiet
Overnight, the MSCI Asia Pacific Index
dropped 0.4 percent
as shares in the region dropped for the third straight day. In Europe, the Stoxx 600 Index was
slipped 0.2 percent
by 5:21 a.m. ET with trading volumes about a third lower than the 30-day average. S&P 500 futures were
down 0.1 percent
.
Data due
The final print of U.S. third-quarter GDP is due at 8:30 a.m. ET, with a revision higher to 3.3 percent expected. At the same time, durable goods orders for November and initial jobless claims for last week are released. At 10:00 a.m. personal income and spending data are published, with expectations for 0.3 percent growth in both for November.
What we've been reading
This is what's caught our eye over the last 24 hours.