theguardian.com
The Vietnamese government has agreed to allow restricted access to the Long Tan Cross site with strict conditions.
As the Malcolm Turnbull and Bill Shorten joined hundreds of war veterans and their families to mark the anniversary at the Australian War Memorial in Canberra on Thursday morning,
the ceremony planned in Vietnam for later in the day remains cancelled
but small groups of 100 people or less will be able to travel to the site.
The concession follows high-level consultations between the Australian and Vietnamese governments, the Department of Foreign Affairs and Trade's
Smartraveller website
said.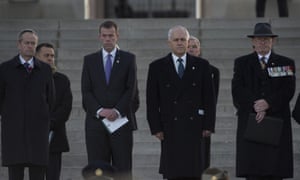 The veterans' affairs minister, Dan Tehan, said it was a good outcome the prime minister,
Malcolm Turnbull
, was able to negotiate.
"Obviously we were all shocked and disappointed yesterday with the news that had come from
Vietnam
," he told the Nine Network. "Our hope is now that our veterans and their families will be able to travel to the site and pay their respects to the fallen and to all those who served in a very dignified way."
Tehan said Australian officials would do their best to make sure everyone could get access. Restrictions to wearing medals were consistent with past practice.
"There is still sensitivities in Vietnam regarding the war," he said.
The Vietnam Veterans' Association of Australia's national president, Ken Foster, worries the news might not filter through to veterans who are busy getting ready for their own commemorations.
"A lot of them will still be very distressed at the thought that their mates that are over there at the moment won't be able to visit the site," he said. "So there's going to be potentially some fallout from this."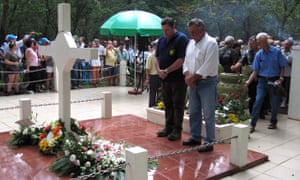 He reminded veterans in Australia and those returning from Vietnam counselling services are available for them.
Governor-general Peter Cosgrove, who served in Vietnam, was among the dignitaries who joined the prime minister, opposition leader and veterans for the memorial event in Canberra.
"We recollect a famous battle and a long-ago war," Sir Peter told the stand-to service. "The simplicity is that it quickly became a battle for survival.
"It was complex in that the indefatigable efforts of others particularly the artillery, kept those men from being over-run."
Sir Peter laid a wreath along with Graham Smith, representing Long Tan veterans, and Cecil Wales, brother of Private Maxwell Wales, representing families of those killed in action.
Australia lost 521 troops in Vietnam including 18 at Long Tan, and their names and ages of death were read out in a honour roll call earlier on Thursday morning.
War memorial director Brendan Nelson said it was important to look beyond the broad brush strokes and headlines of history to remember the individual sacrifices.
"The soul of the nation is here," he said.