| | | |
| --- | --- | --- |
| Friday, August 5, 2016 | | |
| | |
| --- | --- |
| | Friday, August 5, 2016 |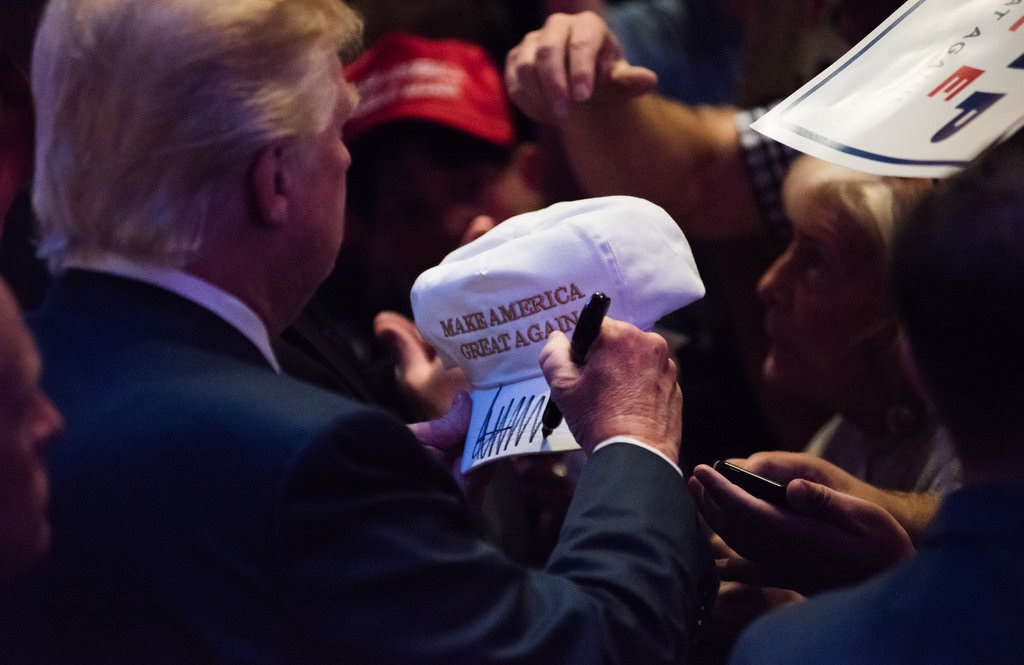 Donald J. Trump signing autographs on Thursday after his speech in Portland, Me.
Brendan Bullock for The New York Times
Donald Trump and Mike Pence Again Diverge on Endorsements
By ALEXANDER BURNS AND NOAH REMNICK
Good

Friday

morning.
Facing urgent calls to stabilize his candidacy and declining poll numbers, Donald J. Trump struggled

on Thursday

to refocus his message after threatening to withhold his endorsement from top Republican officeholders, including Paul D. Ryan, the speaker of the House.
Snarling Mr. Trump's efforts to move past the controversy, he and his running mate,Gov. Mike Pence of Indiana, broke ranks for the second time

in two days

on questions of party unity. Having already split with Mr. Trump over his refusal to endorse Mr. Ryan, Mr. Pence went his own way again

on Thursday

, telling WTKR, a television news station in Norfolk, Va., that he supported senators running for re-election whom Mr. Trump had snubbed, John McCain of Arizona and Kelly Ayotte of New Hampshire.
Mr. Pence at first gave an equivocal answer regarding the senators

on Thursday

. But when asked by the television station to clarify whether he supported them, he said, "Well of course I support John McCain and Kelly Ayotte."
There is mounting pressure on Mr. Trump to regain his footing in the race and repair some of the damage he has sustained in swing states. Trailing Hillary Clinton in national polls, Mr. Trump has also fallen badly behind in a battery of state-level surveys released over the course of the week.
He trailed Mrs. Clinton by six percentage points in Florida, according to a Suffolk University poll, and by 11 points in Pennsylvania in a poll by Franklin & Marshall College. This dire polling may further undermine Mr. Trump's deteriorating relationship with Republicans in Washington.
Mr. Trump played down the friction between him and Mr. Ryan at a campaign stop in Maine

on Thursday

, calling the speaker a "good guy" and discouraging a supportive crowd from booing Mr. Ryan's name. In turn, Mr. Ryan said he continued to support Mr. Trump, calling it a matter of respect for the will of the voters.
Mr. Trump told supporters that Mr. Pence had come to seek his permission before endorsing Mr. Ryan. "He said, 'I like him, he's a friend of mine, would you mind if I endorsed him, and I will not do it if you say no,' " Mr. Trump said. "I say, 'Mike, you like him? Yes. Go ahead and do it.' "
| | |
| --- | --- |
| • | Mr. Trump and Mr. Pence reunite on the campaign trail for two events in Iowa and Wisconsin after a week of differing opinions of Mr. Ryan. Mr. Pence has also had to issue tempered statements after controversial remarks by his running mate about Russian cyberespionage and a Gold Star military family. The joint appearance will be their first since going separate ways (as is frequent for a presidential ticket) after the Republican National Convention. NICK CORASANITI |
| • | Senator Tim Kaine of Virginia will be in Grand Rapids, Mich., where he will help open a campaign office. |
Scott McIntyre for The New York Times

By ALEXANDER BURNS, NOAH REMNICK AND NICK CORASANITI

Interviews with voters showed that many were steadfast in their support of Mr. Trump, but his crude remarks about the armed services clearly present an obstacle.

Clockwise from top left: Brooks Kraft LLC/Corbis, via Getty Images, Stephen Crowley/The New York Times, Diana Walker/Time & Life Pictures, via Getty Images, Bettmann Archive/Getty Images, Diana Walker/Time & Life Pictures, via Getty Images, J. Scott Applewhite/Associated Press, Ron Edmonds/Associated Press

By WILLIAM J. BROAD AND DAVID E. SANGER

There are no checks on a president's power to wage nuclear war, though history suggests that there may be ways to slow or derail the process.
Hillary Clinton to Address a Rare Audience: Journalists
By AMY CHOZICK
Mrs. Clinton, who speaks frequently to black and Latino groups but has given only a few news conferences, will deliver remarks to an annual convention of minority journalists.
With Billionaires Backing Her, Hillary Clinton Must Confront How to Deploy Them
By AMY CHOZICK
Members of the ultrawealthy such as Mark Cuban, Warren E. Buffett and Michael R. Bloomberg are finding varied roles in a campaign focused in part on income inequality.
Questions and Answers on Voter Fraud
By ALAN BLINDER
Donald J. Trump, denouncing recent rulings against voter identification laws, suggested that fraud at the polls is common. Experts say that is wrong.
Gerry Broome/Associated Press

By NOAH REMNICK

The Indiana governor was asked whether his role in a Trump administration would be to basically clean up after his commander in chief's statements.

Ruth Fremson/The New York Times

By TRIP GABRIEL

Secret Service agents briefly surrounded the Democratic nominee as she was interrupted at a campaign event in Las Vegas.
What Is the #PalletsOfCash Debate?
By MICHAEL D. SHEAR AND DAVID E. SANGER
The United States sent the first installment of $1.7 billion to Iran to settle a financial dispute at the same time Iran released American prisoners.