Wednesday, June 15, 2016
| | |
| --- | --- |
| | Wednesday, June 15, 2016 |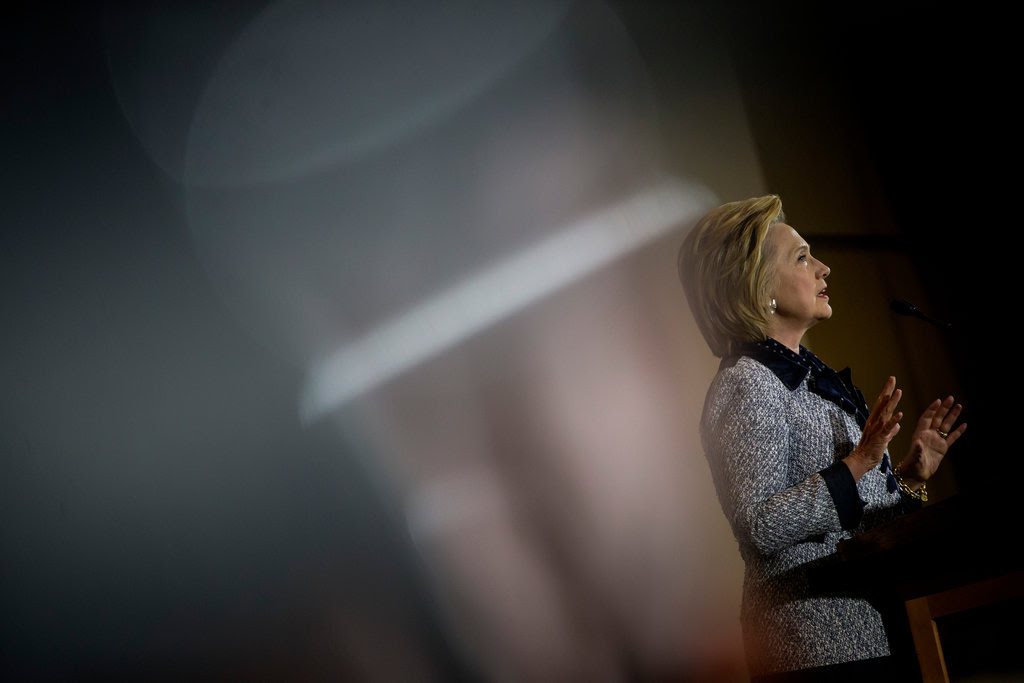 Hillary Clinton speaking at a campaign event in Pittsburgh on Tuesday.
Eric Thayer for The New York Times
Trump Takes Heat From Clinton and Obama as a Poll Hints at Trouble
By MAGGIE HABERMAN
Four significant things happened in the last 24 hours of the 2016 presidential race:
President Obama forcefully denounced Donald J. Trump, the Republican running to succeed him, for playing to the nation's worst fears in the wake of the deadly mass shooting in Orlando, Fla. Mr. Trump stood by his insinuations that Mr. Obama is sympathetic to terrorists.
Hillary Clinton, defending Mr. Obama, whom she also wants to succeed, painted Mr. Trump as something of an oddball in addition to criticizing his statements about immigration and aggressively profiling Muslims. And yet another national poll, this time from Bloomberg Politics, showed Mrs. Clinton opening a double-digit lead over Mr. Trump.
According to the survey, 63 percent of women said they could never vote for Mr. Trump, a staggeringly high number that presents him with a daunting challenge.
Mr. Trump's drop in some national polls is most likely connected to self-inflicted wounds, including his comments that the Indiana-born federal judge overseeing a case against Trump University could not be partial because he was "Mexican." But there is another explanation.
Since shortly after Mr. Trump became the presumptive nominee in early May, the "super PAC" supporting Mrs. Clinton, Priorities USA, has aired ads in battleground states portraying him as disrespectful and even offensive to women.
Those ads have gone unanswered by Mr. Trump's campaign for a month now, as his team, plagued by internal battles, has struggled with fundamental staff moves, like naming a political director, and with raising money as donors decline to lend their names to fund-raising events.
| | |
| --- | --- |
| • | Mrs. Clinton will give another national security address in Hampton, Va. |
| • | Mr. Trump will hold a rally in Atlanta, where a developer is trying to persuade a Trump hotel group to take on a proposed tower downtown. |
| • | Mr. Obama will meet at the White House with the Dalai Lama. |
Damon Winter/The New York Times

Political Memo

By PATRICK HEALY AND THOMAS KAPLAN

At a time when other leaders would avoid divisive language and seek unity, Mr. Trump has intensified the power of fear in presidential politics in the aftermath of national crises.

Stephen Crowley/The New York Times

By JULIE HIRSCHFELD DAVIS AND MATT FLEGENHEIMER

The president said Mr. Trump's remarks after the mass shooting in Orlando, Fla., recalled the most shameful periods in American history.
Eric Thayer for The New York Times

By YAMICHE ALCINDOR AND PATRICK HEALY

Mrs. Clinton and Mr. Sanders spoke privately

on Tuesday

night as they began exploring what kind of alliance they might build against Donald J. Trump.

Todd Heisler/The New York Times

Mediator

By JIM RUTENBERG

The presumptive Republican nominee defended his campaign's ban of several news organizations, saying he was reacting to "dishonest" coverage.
By MATT APUZZO AND ERIC LICHTBLAU

The nightclub shooting in Orlando, Fla., has focused unusual attention on the mundane process of investigating thousands of people accused of terrorist ties.

Sam Hodgson for The New York Times

By SHERYL GAY STOLBERG AND RICHARD PÉREZ-PEÑA

"The guilt of feeling lucky to be alive is heavy," one woman said as the inquiry continued into the massacre at the Pulse nightclub.
Brendan Smialowski/Agence France-Presse — Getty Images

By DENISE GRADY

A rise of mass shootings reveals the challenges facing emergency medicine, and doctors are re-evaluating how best to save lives.

Ángel Franco/The New York Times

By LIZETTE ALVAREZ

Demetrice Naulings, 34, survived the deadly rampage at Pulse nightclub, but his friend Eddie Justice was killed.
ADVERTISEMENT