Our Mission is to keep our audience with an interrupted stream of financial information from serious sources, with the objective to provide the tools and sufficient knowledge about investments in the financial markets. we inform you, for example, closing market reports(Asia Europe & U.S.) CNBC Selected News, The Guardian, Washington Post, New York Times Selected News, selected financial news and videos, the Fed, FDIC, SEC, FTC press releases and enforcement actions.
Dec 1, 2015
theguardian.com
Mal Brough apologises to parliament for statement about 60 Minutes
The Brough statement just now on indulgence



Yesterday during Question Time I said: "In relation to the 60 Minutes interview, what was put to air was not the full question."
Mr Speaker, my recollection of the interview was that the question was put to me in a somewhat disjointed manner, and I answered the question without clarifying precisely what part of the question I was responding to. This is confirmed by the tape provided by 60 Minutes and that was the reason for my answer yesterday.
Mr Speaker, I have taken the opportunity to review the tape and transcript, and apologise to the House if my statement yesterday unwittingly added to the confusion rather than clarifying the matter.
Brough attempts to clean up yesterday
The man of the hour, Mal Brough has just entered the chamber to retract what he said yesterday. I didn't catch the precise formulation but I'll chase it.

The foreign minister

Julie Bishop

has been stopped by reporters after leaving a function in the building.

Q: Is it tenable for Mal Brough to remain as special minister of state?
I believe the Labor party should be aware of what's called due process. And in my view due process in relation to this matter should be allowed to run. Therefore the matter should be part of this investigation. Due process, allow it to run.
(I suspect this reasoning means nothing should happen until the police have finished their deliberations.)
Q: Did Brough mislead parliament yesterday?
No, I do not believe he did.
Q: Why not?
Because I don't believe he did.
(So much to love about our modern 'choose your own facts' world.)
I'm sorry but we simply must have another one.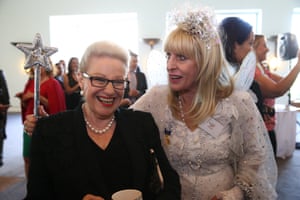 Our work here is done.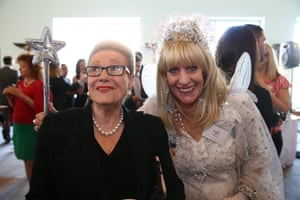 One more story I haven't had time to get to – this time the Daily Telegraph.
The terror reports the foreign minister
Julie Bishop
"had an empty government VIP jet fly from Canberra to Perth to pick up her and her boyfriend from a charity dinner."
Reporter
Daniel Meers
says the flight would have cost upwards of $30,000
. "Ms Bishop and partner David Panton were the only passengers on the taxpayer-funded RAAF Challenger Jet on an overnight flight to Canberra on October 18. The deputy Liberal leader had represented prime minister Malcolm Turnbull at a private­ dinner for WA Telethon donors that evening but had completed her official public commitments a day earlier by announcing $1.5 million in government funding and playing a starring role in the WA Telethon."
As I said, ratcheting up.
The shadow treasurer,
Chris Bowen
, now out of the chamber and in a parliamentary courtyard with fifty or so of his live filing friends, is continuing variations on a theme.



In any country which has the Westminster system, a minister must not mislead the parliament. If a minister accidentally misleads the parliament, they must correct it at the first available opportunity. That principle has taken a beating from the Turnbull government over the last 24 hours.
Not only do we have the Brough saga but we had the treasurer yesterday in the House claiming that the only people who have modelled an increase in the GST is the former Labor government.
Bowen reminds me too that we have new GDP figures today. We do indeed.
Now, scenes from a censure.
The man of the hour, Brough in the rough.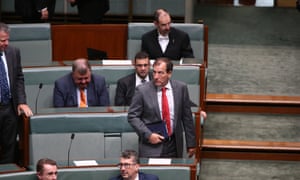 Haters gonna hate.
Tony Abbott
.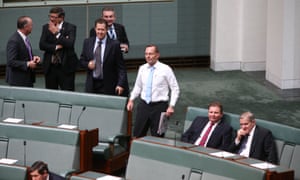 And the chamber view.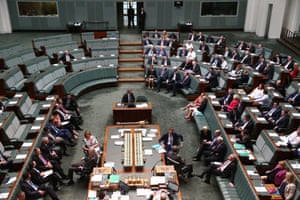 Now we can breathe briefly, a selection of
Mr Bowers
best work from round and about this morning.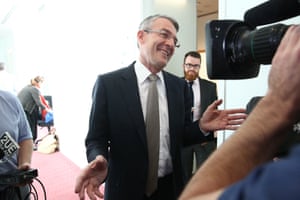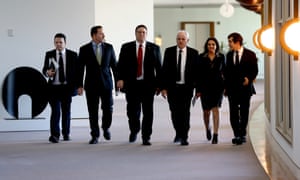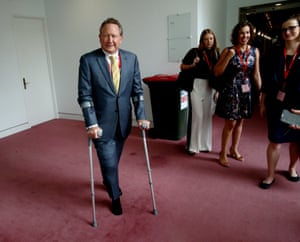 It's pretty obvious what's happening here but let me decode to make sure it's clear: Labor is attempting to ratchet up pressure on Brough with the aim of claiming his scalp before the parliament breaks for the summer. Preferably now.
It's hard to say right now whether Turnbull will move against his minister or whether he'll sit this out – at least until the summer recess. Either way, it's going to be an interesting day.
Now Labor has moved on to a second alleged mislead of the House – the shadow treasurer
Chris Bowen
says the treasurer
Scott Morrison
has misled the House too concerning the GST. He's referencing a
Fairfax report
this morning that
Joe Hockey
proposed to increase the GST to 15% when he was the treasurer. That one is being shot down too.
Let's call this session: practice for question time.
This is the guts of the motion.
Yesterday in Question Time when the special minister of state was asked about statements he had made in relation to the Ashby affair, the minister said "In relation to the 60 Minutes interview, what was put to air was not the full question".
On Channel Nine Television News last night, in a story by journalist Laurie Oakes, the original vision of the 60 Minutes interview was played and makes it clear that there were no words omitted which could in any way be considered part of the question the minister was asked.
As a consequence, the minister clearly misled the House of Representatives during Question Time yesterday; and at no stage did the minister take the opportunity to correct the record in the parliament despite the House of Representatives sitting until 9.30pm last night.
The minister has misled the parliament and has failed in his obligation under clause 5.1 of the prime minister's statement of ministerial standards to correct the record as soon as practicable; and the member for Fisher's commission as special minister for state and minister for defence materiel and science must be terminated forthwith.
(This motion) censures the prime minister for his atrocious judgement in appointing the member for Fisher as minister with responsibility for government integrity; and for his complete and utter failure to show leadership and sack or even stand aside the special minister of state from his ministerial responsibilities.
Labor's
Tony Burke
, seconding the censure motion.
Are ministers now allowed to lie to the parliament? Will the manager of government business defend the minister in the next speech? I want to hear that!
Pyne then gags Burke.
The motion censures the prime minister for his atrocious judgment in appointing the member responsible for government integrity and his complete and utter failure to show leadership and sack or even stand aside the special minister of state from his ministerial responsibilities.
Manager of government business, Christopher Pyne, is now moving the gag.
Labor opens the Brough bombardment early
Dreyfus has walked into the House this morning to launch a censure motion against the special minister of state, Mal Brough and the prime minister Malcolm Turnbull.
The motion calls on Turnbull to sack Brough, or stand him aside.
With Turnbull home, I'm relieved of the duty of covering politics in two hemispheres but I remain acutely interested in events in Paris. My colleague
Lenore Taylor
is keeping us all in touch with key developments at the UN-led climate summit.
The first of two news offerings this morning is the Australian environment minister Greg Hunt telling an OECD event that the government approved Adani's controversial $16bn Carmichael coalmine because it was not a "neo-colonialist" power that tried to tell poor countries what to do. "I hope you would agree the poorest countries should be able to decide their own energy future. I am not a neo-colonialist. I think the poorest should be able to make their own decisions," Hunt said.
As developments come to hand, I'll keep you posted.
There's an interesting story in The Australian this morning that suggests Australia has taken a significant step towards enhancing defence cooperation with China but forgotten to tell anyone about it. The Australian's defence correspondent
Brendan Nicholson
happened upon the development
via Chinese sources.
Australia and China have agreed to upgrade defence and security co-operation to tackle counter-terrorism jointly in the region, train together for peacekeeping operations and exchange senior military personnel. The enhanced military-to-military relationship was agreed at "candid and friendly" talks in Canberra this week between ­defence chiefs from both countries, Chinese government sources told The Australian last night.
As Brendan points out, closer defence ties with Beijing comes at a time when there are significant regional tensions over China's posture in the South China Sea.
Malcolm Turnbull
at the recent Apec summit in Manila said
Australia supported the US
. America recently sent a warship through disputed territory in the Spratly archipelago in a direct challenge to China's territorial claims. But Turnbull
has declined to say
whether Australia would support the US practically by joining any future freedom of navigation exercise.
is a police raid in western Sydney
. Police have this morning raided at least one home in Merrylands. A statement from NSW police said the searches were being conducted under the powers of firearms prohibition orders "which were previously served on a number of men linked to the addresses being searched". Police did not confirm the raids were related to counter-terrorism, but the
ABC reported
the raid was in the same street where raids took place in October following the
shooting of police employee Curtis Cheng
. The house in Lockwood Street is understood to have been raided several times before.
Super governance bill – out the back door
I mentioned in the first post there are a couple of contentious bills on the agenda that may not have the numbers to clear the senate – one being a superannuation governance bill.
Right on cue, the crossbench, Labor and the Greens have confirmed it's thumbs down for this proposal. They've issued a joint statement.
A coalition of senators has today confirmed it will not support the government's proposal to change the structure of superannuation boards. The Superannuation Legislation Amendment (Trustee Governance) Bill 2015 was introduced to parliament soon after Tony Abbott was replaced as prime minister in September, and would force not-for-profit industry funds to implement a number of changes to their governance arrangements which would impose additional administrative costs and other burdens on the funds. Cross-bench and opposition senators think this Bill goes too far. Senator John Madigan, Senator Glenn Lazarus, and Senator Jacqui Lambie have suggested an alternative to imposing these changes by legislation, and instead propose an industry review of not-for-profit fund governance.
There will be a press conference in a little bit. The bill remains on the senate red today. I don't know if the bill will proceed to a vote or whether the government will pull it.
Updated
Mark Dreyfus
was stopped by reporters after his interview on Radio National just a few moments ago.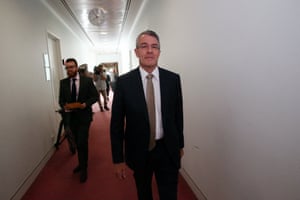 Mark Dreyfus:



It appears that Mal Brough has misled parliament. He said yesterday that the 60 Minutes interview in which he gave clear answers to clear questions had been selectively edited.
I was invited by Channel 9 to listen and to watch the unedited version of that interview, and it's absolutely clear that the question he was asked was what he answered, that there wasn't a selective editing.
That appears then that he has misled parliament.
Q: What does it say about Malcolm Turnbull's judgment that he appointed Brough to a role safeguarding integrity?
Whatever else one can say about Mal Brough, he's clearly good at plotting. This was a reward from Malcolm Turnbull to him, on Mal Brough's role - as yet undisclosed - in the plotting that took place over this year to remove Tony Abbott as prime minister of Australia.
Good morning
Hello good people and welcome to Wednesday. The
Warren Truss
power grab has come to its inevitable conclusion. The eagle has landed. After a hectic summit season,
Malcolm Turnbull
is back in the national capital, and can now stow his passport until after Christmas.
The prime minister's homecoming sees him flying into the history wars. After promising not to be a wrecker,
Tony Abbott
has proceeded in quick order
to shirt fronting
thought criminals, most particularly his former deputy,
Julie Bishop
.
You bet you are, you bet I am
.
Turnbull also needs to consider the immediate prospects of his special minister of state,
Mal Brough
. As my colleague
Daniel Hurst
reports
, Brough faces fresh parliamentary pressure over his role in the downfall of the former speaker
Peter Slipper
, after his attempt to walk away from a key admission was undermined by 60 Minutes releasing the unedited interview exchange. The Nine Network late yesterday published transcripts of its interview with Brough and released video after the special minister of state accused the program of selectively editing a question about his contact with Slipper's former staffer
James Ashby
.
The shadow attorney-general,
Mark Dreyfus
, has been on the ABC this morning.
Q: Is this a sacking offence?
Mark Dreyfus:
He appears to have misled parliament. We've said all along he shouldn't have been appointed, but at the very least, he must step aside.
Q: Why? Specifically what are you accusing him of?



(Brough) is under investigation by the Australian Federal Police. Extraordinarily, the Australian Federal Police executed a search warrant at his house. I cannot remember the last time a serving minister in the Commonwealth – government of the Commonwealth – was the subject of a search warrant executed on his own house.
He is the minister for government integrity, Fran. Perhaps you might argue for another minister he doesn't have to stand aside just yet but the minister for government integrity, the person that is responsible for standards in the electoral commission, in the parliament, in relation to the staff of members of parliament, that is one of his responsibilities – there is a long list – we need someone that is absolutely beyond reproach.
I am afraid that Mal Brough has shown himself to be not that.
In addition to double double toil and trouble, we have the inevitable run to the door in terms of final session legislation.
We expect the citizenship bill to clear the senate today. It didn't last night because the crossbenchers expressed many objections. It will also be interesting to see what business gets bowled up for the final 48 hours. There are a couple of contentious bills including one on multinational tax avoidance and another on superannuation governance – which are supposed to be priorities – but the government may not actually have the numbers to get through.
We wait, we see. You don't have to wait.
You can dash in the direction of the comments thread, which is open for your business. Mikearoo and I are also up and at 'em on the Twits. He's
@mpbowers
and I'm
@murpharoo
Pour yourself a stiff single malt. It's never too early. Here comes Wednesday.
Updated